Even,
1969.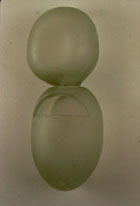 My Old Books Closed,
1969.





























I walked into the gallery wondering if Wilmarth's work would still move me. I saw Wilmarth's last show at Janis in a rush, two years ago, during the final few minutes of closing day. I remember seeing the art historian Dore Ashton there. She had once written an interesting essay about the influence of Stephane Mallarme's poetry on Wilmarth's work. She was looking a little lost that day, ambling about the reception counter by herself.

Another lady, with a heavily made-up face, followed me into the elevator as the door was closing. Foundation Lady, said aloud and undirected, "Oh God, in the `60s everybody went Minimal. Minimal, Minimal, Minimal," she said, while fly-casting her monkey-paw hand back and forth above her shoulder. Then, looking at me with her chewy mascara eyelashes stuck above the cut crystal edge of her fancy eyeglasses, she said, "I mean, how long can you look at it, it's not like Michelangelo or anything." That's not the point, I thought to myself in the tinny silence. If anything, Wilmarth's work was always more humanist than Minimalist, and I was waiting for her final refrain, "Nothing modern moves me."

This current show at Sidney Janis is a classic 57th Street estate show. A strange mix of early and late work, the show presents 35 pieces in all, ranging from student efforts from his years at Cooper Union to watercolors on paper, maquettes for larger pieces, painted reliefs and super-clean Park Place Gallery-era sculpture. It's all odds and ends, exactly the kind of unedited free-for-all show no artist ever allows while alive. Of course, that's what makes this show very interesting, and seem more creative in a sense than the previous posthumous shows of Wilmarth's work held, for example, at Hirschl & Adler Modern. It's also a curious complement to the carefully installed mini-retrospective that Wilmarth had at MoMA back in 1989. This show presents the long stretch of a developing artist rather than a pruned and packaged segment of the best collected work. Which is good because Wilmarth's art matured at an early age, so to see something not fully formed in his case makes it appear all the more unfamiliar and insightful.

The installation is crammed but lively, which helps, considering the serious and sometimes morose nature of Wilmarth's work. Missing are many of the classic Wilmarth sculptures, like those from the Gnomon or Clearings series, which are usually composed of large sheets of green cast glass etched with hydroflouric acid and set away from upright planes of steel. These works appear haunted, always. I think some of them, like New Ninth, are the most moving sculptures ever made. Wilmarth's late work, such as Self Portrait With Sliding Light, 1987, which is included in this show, and the painting Toast strike similar chords, but in a more overtly symbolic way.

In My Old Books Closed... the glass physically represents a head, or a skull, but Wilmarth still manages to maintain the figure's ephemerality by frosting the glass with acid, and thereby transforming the material into something that might appear like a frozen corona of the soul. This show also includes whimsical works such as the flip Tic-Tac-Toe floor piece called Gye's Arcade, and the very early, tinkered Invitation. It is extremely interesting to watch Wilmarth's work as it develops from early assemblage through `60s-style constructivism to an atmospheric Minimalism, ultimately leading towards a more personal and gasping expressionism. Wilmarth was influenced by Brancusi, Matisse and Roebling, and like the reinforced cable Roebling invented, Wilmarth spun an art of stunning beauty and durability. I like the way Wilmarth's mentor, the sculptor Tony Smith, put it:
"For sculpture Chris Wilmarth has practically invented an entirely new material -- glass. What has heretofore existed in other contexts as a substitute for nothing, he has made palpable. In the fact that each piece is unique and elegant, he manifests the true mark of poetic genius."
Christopher Wilmarth at Janis Gallery, Mar. 18-Apr. 19, 1997, 110 W. 57th St., New York, NY 10019.
MICHAEL BRENNAN is a New York painter who writes on art.