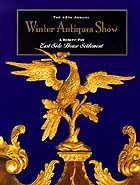 The catalogue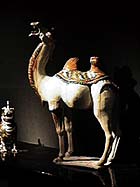 T'ang Dynasty Camel,
at Keverne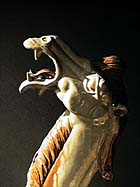 T'ang Dynasty Camel,
(detail)




Lady Polo Player
T'ang Dynasty
at Keverne





Belbello da Pavia
Saint Augustine
(detail)
c. 1440
at Les Enluminares





Ukita Ikkei
Autumn in Sagano
(detail)
hanging scroll




Tamara de Lempicka
Portrait of de Montaut
1933
at Barry Friedman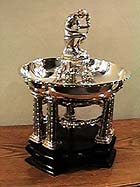 Harry Wilson
silver presentation dish
1904
at Silber Keller




Harry Wilson
silver presentation dish
(detail)




Taino ceremonial dagger
at Throckmorton




New Hampshire
lift top chest
1830
at Old Hope Antiques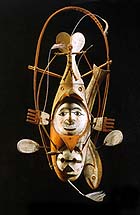 Dance Mask
Yupik
19th century
at Donald Ellis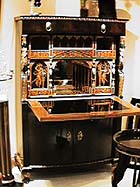 Empire full front secretaire
Vienna
ca. 1810
at Bucheit






Double Saddle Blanket
Navajo
ca. 1900-1910
at Joshua Baer





Boudé
Oblong blue enamel and gold suffbox
1790
at A la Vielle Russie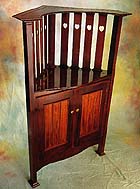 C.F.A. Vosey
Dining Room Sideboard
1898
at Geoffrey Diner





Bronze piebald horse with silver inlay
Japan
19th century
at Michael Goedhuis





Sunqua
Canton: the 'Western Factories'
ca. 1840
at Martyn Gregory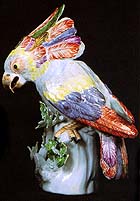 J.F. Eberlein
Meissen Cockatoo
1737
at Michelle Beiny
How important is the Winter Antiques Show at the Seventh Regiment Armory on Park Avenue and 67th Street? Ask the thousands of visitors who stream through its portals to see the delicious wares on offer from 72 exhibitors from around the globe.

The best shows keep evolving over the years, becoming better and better, and the Winter Antiques Show is one of the best. Classic American furniture and decorative arts are still at the core of the show. G.K.S. Bush of Washington, D.C., for instance, offers a superb Chippendale black-front bureau, circa 1760-1780, with double scrolled returns. Leigh Keno of New York also features highboys of the Connecticut River Valley and Boston.

But different voices are heard, making this a splendiferous show in impeccable taste. Oriental art, European silver, French Books of Hours glowing in their luminosity, Biedermeier furniture, Wiener Werkstaetten pieces by Josef Hoffmann, French furniture by designer Emile-Jacques Ruhlman, American and Alaskan Indian masks and fine Taino carvings from the Caribbean, carpets from Isfahan, works on paper from France and the Netherlands, Louis XVI secretaries and much more.

As is the tradition, the Winter Antiques Shows is a benefit for the East Side House Settlement in the Bronx. The special exhibition presented this year is from Historic Deerfield in Massuchusetts. The selection of furniture, paintings and decorative arts was made from more than 25,000 objects in the collection, which are displayed year-round in the 14 museum houses in this New England village.

The layout of the show's 72 booths gives the impression of different shops. The entries that follow are intended as a guide to some of the exhibitors. The Winter Antiques Show is open till Jan. 25 from noon to 8:30 p.m. daily. General admission is $16 and includes a catalogue.

Roger Keverne, London
An outstanding collection of Chinese art from the Late Shang Dynasty, IIth century B.C., to fine famille verte porcelain vases is the main domain of this old line company headquarted in London. A huge T'ang Dynasty Camel in excellent glaze is earmarked at $275,000 and shares the company of a T'ang Dynasty Lady Polo Player slotted at a much lower figure. Ming and Qing Dynasty porcelains in all their glory share space with fine celadon jade carvings.

Les Enluminures, Paris and Chicago
Located in the famed Louvre des Antiquaires in Paris is Les Enluminures, with its "Schatzkammer" of illuminations, Books of Hours and ornamental initials dating back to the late Middle Ages. Painted in vegetable dyes on animal skins, protected from light and exposure, these illuminations survive in perfect states of preservation. Beginning collectors in this field can work their way up slowly from an expenditure of less than $l,000 to upwards of $l00,000. Around 30-40 percent of sales are to museums and other institutions, the rest go to collectors.

Joan B. Mirviss, New York
The fabulous world of Japanese art comes alive in the Mirviss booth. Here you will encounter the great artists of the Floating World (Ukiyo-e) including early woodblock prints by Utamaro and Hiroshige. Featured as well are four fusuma-e (sliding door panels) by Ikeda Baison of rimpa-style flowers and trees of the spring through early autumn seasons, dating to the third quarter of the 19th century. Also exciting are bronze incense burners in the shapes of small animals, particularly rabbits.

Barry Friedman, New York
Art Deco, Art Nouveau, Bauhaus are the passions of this gallery. The Ruhlmann chiffonier in ebony with bronze decorations is marked at $85,000. An icon of the Viennese Werkstaetten by Josef Hoffman is the famous "Sitzmaschine"(seating machine) in pristine condition from l905. Originally designed for Kohn & Kohn in Vienna, the unit sells for $25,000. A portrait by the famed Polish artist Tamara de Lempicka (l890-l980) is of her brother-in-law, Pierre de Mountaut. It adorns the outside of the booth.

Silber Keller, Munich
Here at the Winter Antiques Show for the first time, this renowned Munich gallery offers superb silversmith creations of the early part of the century. The presentation dish designed by the architect and Arts and Crafts era artist Henry Wilson (l864-l934) was created especially for the Golden Wedding Anniversary of Susan and Charles Trask in l904. It is topped by an allegorical figure of Fate, who is spinning out her thread, and is adorned with signs of the zodiac corresponding to the birthdates of the Trask children. A small golden butterfly, in ancient times a symbol of the resurrected human soul, memorializes their dead son. The piece is offered at $225,000. Among other outstanding designs shown by Silber Keller is an art deco soup tureen with aventurine handles by Fouquet Lapar, Paris, circa l920. The tureen is offered at $225,000.

Throckmorton Fine Art, New York
Among the most striking displays of the show are the masks, stone sculptures and other art objects of the Taina of San Salvador at Throckmorton. On display as well are Olmec vessels, tunics from Peru and textiles from other Latin countries. One startlingly beautiful presentation was an open work gauze of alpaca wool from Peru, circa 400-600 A.D. The sculpture illustrated above is $l8,000.

Olde Hope Antiques, New Hope, Pa.
Self-described as "A Gallery of Country Americana," Olde Hope Antiques features carvings of all types, folk art, weather vanes and decoys. Especially stunning is a four drawer lift-top chest in its original paint, decorated front and cherry pulls. Also outstanding are glazed redware serving bowls, circa l830, in glowing colors with black and white decorations.

Philippe Perrin, Paris
A member of the renowned Antiquaires de Paris group, Perrin features in his elegant booth an ormulu mounted mahogany secretaire of Louis XVI vintage, circa l750, at $75,000, as well as mirrors and other furniture of pre-revolutionary France. The Falconnet cast is inspired by a l758 drawing by Francois Boucher and has a well known provenance, the David-Weill Collection.

Aronson of Amsterdam
Founded in l88l, this firm is well known for its superb collection of early Delft pieces from the l7th century and its vast array of polychrome animals, figures, plaques and chargers from the l8th century. High quality Chinese famille verte and famille rose (l662-1795) provide a stunning backdrop to a colorful and mouth-watering booth. Two of the fine famille rose vases are offered at $50,000 the pair.

Donald Ellis Gallery, Dundas, Ontario
This incredible dance mask from the l9th century offered at $225,000 is among the breathtakingly beautiful objects in this starkly illuminated booth. Over the years the Ellis Gallery, one of Canada's foremost, has offered moccasins, antler carvings of Canadian and other high North Indian and Eskimo groups, including a fantastic Naskapi hunting coat made of superbly pigmented caribou hides at $l85,000.

Rita Bucheit, Chicago
Biedermeier furniture from the early part of the l9th century in Austria, Germany and Sweden is fast becoming a favorite of today's collectors. Using only precious hardwoods and veneers, Biedermeier is distinguished by its hand-polished shellac in the highest gloss finish. Construction was usually accomplished with pegs and dove tails. Nails were almost never used. Secretaries, cabinets and bookshelves, caned chairs and beds were the favored Biedermeier pieces. The elaborate secretary pictured here, priced at $88,000, was among the first items sold at the fair.

Morning Star Gallery, Santa Fe
Navajo textiles, Pueblo pottery, jewelry of the Southwest, Plains and Great Lakes beadwork are some of the objects illuminating the creative genius of the North American Indian. Among Morning Star's offerings is a Pueblo shield composed of two layers of buffalo rawhide laced together, with a horned figure and radiating bands in red and black painted on the front. Navajo rugs of the l930s and somewhat earlier are in the $8,000 range. A Navajo serape dating from l865 is slotted at $58,000. Navajo concho belts range from $ 2500 to $7500, and Indian jars range from $7,000 to $14,000.

Hill-Stone, New York
One of the finest old master drawings and print galleries in the world, Hill- Stone also features a vast selection of modern offerings. Among the names in the roster are the leaders of Dutch, German and French school. Works range from low four figures to museum-sized prices for world class selections.

Malcom Franklin, Chicago
Superb Queen Ann, Regency, Chippendale and Victorian furnishings grace this "Antiques from England" gallery. A l2-fold Coromandel screen dominates one side of the booth, while a William and Mary oak gateleg table sits at the other, along with Georgian Walnut Kneehole desks and wonderfully carved Chippendale mirrors with elaborate foliate cartouches. The l7th-century carved and panelled oak four-poster features a multitude of carved headboard ornamentations and finely turned supports. Its price is $l6,000.

Joshua Baer, Santa Fe
This gallery features a galaxy of beautiful Navajo blankets, saddle blankets, horse fetishes, Olmec and Tino prehistoric objects and Mexican colonial painted dolls stretching from l850-l940. Most famed for its series of Navajo saddle blankets, the selection ranges from the simple geometric designs of the early blankets to the more elaborate and artistic designs with opposing windows and floral pictorials of the period around l900.

A la Vieille Russie, New York
The elegance of a Boude not withstanding, no other silver- or goldsmith has attained the standing of Carl Faberge, the legendary silversmith to the modern Czars. Faberge gained international fame for his Faberge eggs, a regular annual Easter Gift from the Czar to the Czarina Alexandra. Eventually these bejewelled masterpieces formed a major part of the Forbes collection. A la Vieille Russie features a wide collection of Faberge, as well as a substantial selection of French and British work.

Geoffrey Diner Gallery, Washington, D.C.
The Arts and Craft movement in America and its counterpart in Britain loomed large on the art horizons of the late l9th and early 20th centuries. One of the outstanding representatives was C.F.A. Voysey, who designed the phenomenal dining room sideboard pictured here, which sells for $l50,000. More modest offerings in dining room tables and chairs of the period as well as Tiffany lamps and other objects make this a most interesting stand.

Peter Pap Oriental Rugs, San Francisco
Bessarabia, Persia, the Caucasus and Anatolia have long provided the world with its most fabulous rugs. Some of the offerings here go back to the 17th century. Small rugs from Tibet, saddle bags and textile hangings augment a luxurious, eye-filling booth. The prices range from low four figures into the tens of thousands.

Michael Goedhuis, London
Chinese and Japanese offerings of superb design and esthetic appeal are characteristic of the London dealer. Scholar's utensils and brush-rests from the Meji period never cease to astonish the eye. A superb piebald bronze horse with silver inlay ($34,000) presents 19th-century Japanese art at its best. A gilt bronze Bianhu with cover of the Han Dnasty with vivid patination on both sides at $14,500 is highly seductive. Ornate Ming dynasty pieces -- especially a cloisonne enamel vase with gilt bronze dragon handles ($18,000) -- could spark a collector's love affair with Chinese object d'art.

Martyn Gregory, Hong Kong and London
Specialist and scholar, Martyn Gregory presents paintings, watercolors, gouaches and drawings of historic importance documenting the views and experiences of mostly western artists in China from l760 almost up to the present. Among the great painters of the period are the two Roberts, uncle and nephew, George Chinnery, August Borge and many others. Prices range along all levels. The works make fabulous settings with Chinese and Chinese style furnishings.

Michelle Beiny, New York and London
This gallery specializes in l8th and early l9th Century English and Continental porcelain. Best known for its Meissen figurines it shows an early hard paste production of around l740 designed by J.F.E.Eberlein.

Richard Green, London
A frequent visitor to our shores, Richard Green always presents a ravishing bouquet of paintings spanning many schools and as often as not containing some rare masterpieces. The Dutch still life painter Ernst Stuven is right at home with British sporting and marine paintings and French impressionists.

FRED STERN is a New York art writer.