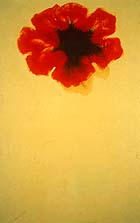 José Mar&iacutea
Sicilia
Red Flower
1996-97











José Mar&iacutea Sicilia
Grisaille, Greyness











Installation view,
Palacio Velàzquez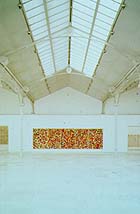 Installation view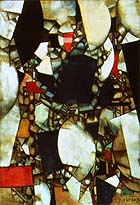 Fernand Léger
Woman in Blue
1912











Léger
Composition with
Three Figures
1932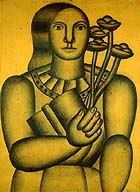 Léger
Woman with Bouquet
1923










Marina Nuñez
s.t., serie la locura
1997











Marina Nuñez
s.t., serie la locura
1997











Robert Capa
The Death of a
Spanish Loyalist Militiaman,
Cerro Muriano (Cordoba
Front), September 5, 1936
at Caja Madrid










Robert Capa
Hankou
1938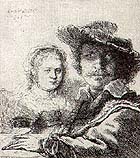 Rembrandt
Self-Portrait with
Saskia
1636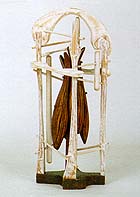 Subirá-Puig
Fish Trap
1997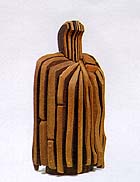 Subirá-Puig
Eagle with a
Head
1990
José María Sicilia is the whiz kid of Spain's contemporary art scene. Not yet counting a single grey hair on his curly-top head, Sicilia had the luxury, honor and burden of being commissioned by Madrid's Reina Sofía Art Center to produce a show specifically for the art center's Palacio Velázquez. Titled "l'hora baixa" (the twilight hour), the exhibition contains some 300 works that imbue garden images with pure color, archetypes and mysticism.

Four years in the making, the show is a joint project of the Reina Sofía and the Palais des Beaux Arts in Charleroi, Belgium, whose expositions director is Laurent Busine. Busine played a major role in creating the tight framework in which the artist's works are allowed to ... flower. For one thing, visitors must walk through nearly a half-mile of gardens in El Buen Retiro, Madrid's answer to Manhattan's Central Park, before arriving at the Sicilia show, where they find themselves in a kind of interior art-garden.

A close look at the paintings in the first gallery -- large floating red poppy-like flowers, whose shapes defy form while creating it at the same time -- reveals that they are made of wax. The result is rich, rewarding color and a mysterious, even downright spooky texture that invites touching. Sicilia makes images with the wax, makes hand-prints on its surface and embeds objects in its depth, including insects and manuscript pages.

Sicilia's monumental free-form blossoms look like something Georgia O'Keeffe might have created in this versatile, mysterious medium. The flowers have an undulating, suspended quality and seem to swim in the pale ripples that compose them and their backgrounds. No garden is complete without insects. In Sicilia's austere Rockdrille, assorted beetles and bees appear to be submerged in and emerge from the wax.

The most interesting work, oddly enough, was not done specifically for this show. The Manuscript of Sanlúcar de Barrameda includes pages of the eponymous poems by Saint John of the Cross resting in pairs under wax impregnated with insects, hand-prints, the skin of a small snake and other objects, making the mystic words approachable yet unreachable. It is an arresting work that took the artist four years to complete.

The show's hardcover catalogue is exceptional, thanks to Busine's poetic prose, which contributes a garden of verses to the exhibition. Though Sicilia's works may not encourage long contemplation, the show's fluid color and harmonious installation do encourage a thoughtful, quiet tour through his exhibit-garden. It is a garden inside a "moving dream," as Busine puts it, where "the painter only lightly brushes things."

Itinerary: Palacio Velázquez, Madrid, through Jan. 11, 1998; Palais des Beaux-Arts, Charleroi, Belgium February-May 1998; Museum of Modern Art of Buenos Aires, Argentina, September 1998.

Heavy Dose of Léger
Fernand Léger is the pioneering modernist to see this winter, in both Madrid and New York. Nearly 150 works are included in this retrospective, the maiden collaboration between the Reina Sofía, the Centre Georges Pompidou in Paris and the Museum of Modern Art. According to exhibition coordinator Marta González, Léger was dedicated to "objectivity and monumentality" and the show demonstrates "his instinct for the plastic, his sense of humor and his flirtation with Surrealism." One of the show's strengths is its inclusion of 56 preparatory drawings.

Léger's work was called "tubist" (not Cubist), a label he understandably never wanted it to wear. And though Surrealism is evident in works such as Woman with a Rose and Still Life #1, and the artist's humor shows in pieces such as The Mona Lisa with a Set of Keys, the tubes are undeniable. The Léger torso is a tube, as is the Léger arm, leg, finger, toe and nose. Léger was inspired by the sleek tubular shapes he saw in an aviation exhibition, while the destructive power of the tubular canon he fought behind in WWI filled him with awe and fear. But the tubes have yet another, less conscious source. Léger's face is the same visage that appears on his swimmers, his mother and child, his dancing couple, and the family at leisure on a red background. In the center of this French face is a tube of a nose -- the same nose that appears on all of the above. The tube was a part of him.

The exhibition provides a deep, comprehensive look at a painter whose work is both more profound and more subtle than it first appears. His large canvases move from undiluted primary combos to blended blue-greens and ochre-gold-brown. Yet color, no matter how grand, was ultimately an aside for the artist, who wrote, "I move in two absolutes, black and white. Everything else is orchestrated between these two." Léger is at his best in Acrobats and Swimmers, where glowing grey torsos orchestrate a luminous middle ground between art's primordial pair of opposites.

Itinerary: Reina Sofía, Oct. 28, 1997-Jan. 11, 1998; MOMA, New York, Feb. 11-May 27, 1998

At the Reina Sofía's Espacio Uno
One of the Reina Sofía's many long grey-and-white tubular halls takes visitors to Espacio Uno (Space One), the art center's new gallery dedicated to experimental art. Espacio Uno is small, just two exhibition rooms connected by a doorway. For its premiere this September, a show by Marína Nuñez called "Locura" (Craziness), the walls were covered in dense black, making Nuñez's paintings of floating or levitating women's bodies look like they were suspended in a state between a normal Here and an insane There.

The images were a bit hackneyed, unfortunately. A woman's body floating inside a stone circle; fearful faces colored red, stretching out their tongues; women dreaming, on fire, tortured, with closed eyes. One work -- an image of a woman floating above a duplicate of her head, which rested in a white bowl -- did carry a dose of mystery.

For its first video and sculpture installation, Antoní Abad's Emergency Measures, Espacio Uno changed its walls from black to antiseptic white. Abad, a Catalán artist, began his career as a sculptor. Later he turned measuring tools into art objects. The measuring metaphor has now taken over completely. "Everything is measured," says Carlota Alvárez-Basso, the Reina Sofía's video art curator. "Objects, distances, our daily activities . . . the body itself, which measures our perceptions and obsessions."

A video of a man's hand measuring space, opening then closing, moves like a spider across one wall of the darkened room. The vision is hypnotic and seems to measure both time and space at once. Next to the video is a sculpture, a row of silver hands frozen in the gestures on the videotape. Next to the sculpture is a list of the artist's daily activities, notated by how many "hands" of time it took to complete them. The list is mundane, but assures us that Abad brushes his teeth and goes to the bathroom.

The second, darkened gallery is full of images and the noises of rats. A ceiling projector casts hundreds of rainbow-hued images of rats around the room. They run, disappear, re-appear, congregate, isolate and screech. This installation is called Natural Sciences. It has an odd magnetism to it, even if its message is not so clear.

A third work from 1995, a video called Sísifo, was shown in a space outside of Espacio Uno. In it a male nude of classic Greek proportions confronts himself in a mirror, an ideal facing its own image. Abad's other Sisyphian images include a nude male walking a tight rope, and a nude male pulling a large rope toward him with great force, a rope whose source and end the viewer cannot see. "Sisyphus entered my work when I felt down," Abad says. "Somehow, I realized I did not need to fight with myself."

For Abad online: http://www.iua.upf.es/abad/sisif

At the Foundations
You'll find some of the most interesting art in Madrid in exhibitions tucked away in various foundation buildings. When traveling here, it pays to look carefully at newspapers for ads for these shows, as well as in Ocìo magazine, available at all newsstands. Otherwise, publicity is scant.

The extensive retrospective of Robert Capa, organized by the Aperture Foundation in New York, has now arrived at Caja Madrid, Dec. 2, 1997 through February 1998. Born in Hungary, Capa obtained his first professional recognition with his gripping photos of the Spanish Civil War -- photographs that have already begun to stir comments and newspaper columns. The retrospective features photos from his assignments for Life, Collier's, Picture Post and the Saturday Evening Post as well as images of Hemingway, Gary Cooper, Picasso, and Ingrid Bergman. The audience can look forward to seeing the work of a photographer who "documented with the skill of a journalist, saw with the eye of an artist, and carried inside him the heart of a thoroughly decent human being." Capa died in Vietnam in 1954.

The Carlos Amberes Foundation recently sponsored an exhibition of Rembrandt etchings called "The Natural and Human Landscape." The jewel of a show was perfectly lit -- essential to properly view the Dutch master's smaller works. The self-portraits are all drawn around a powerful, confrontational and -- has someone said this before? -- seductive gaze. His Biblical scenes are far removed from the 1950s-style illustrations that much of America was raised on --and equally removed from the large, color-saturated crucifixions of earlier centuries.

The exhibition includes a tiny, two-by-four-inch book written in Spanish and Hebrew that had Rembrandt's etchings as illustrations. His Death Appearing before a Married Couple shows the palest lines of any work in the show, a reminder that the artist lost three children and his wife. This is the first exhibition of Rembrandt etchings ever to tour Spain -- overcoming the historical religious differences between the Protestant Dutch and Catholic Spain. His work accomplishes exactly what Léger wanted to do: orchestrate in black and white and make drawings of light. It's just not right to call Rembrandt an "old" master.

Subirá-Puig: Wood Gatherer
Didn't your mother tell you? "Despise not the day of small things," is one folk saying here. Another is "Destiny depends on which side of the street you're on." In the case of José Subirá-Puig, the small thing was the stave of a wine barrel. The ceramic studio where he worked as a young man was on the right side of Mouffetard Street, close to the market where the duelas, or staves in the aged wine barrels, caught his eye. It was on this day, Pierre Cabannes writes, that Subirá-Puig became "a man of wood."

Subirá-Puig's recent show at the Foundation of Art and Technology in Madrid was simply a remarkable experience. Every piece is exceptional, thought-provoking, thought-rewarding. All of his sculptures are assembled. Carving is present, but takes a back seat to the assemblage process. Once complete, the sculptures can also be disassembled.

José Subirá-Puig began his artistic training in music, a training evident in the visual rhythm of his work assembled from "staves" of oak, nogal and other woods. He lost his three brothers and father in the Spanish Civil War, an experience evident in his dark sculpture Great Eagle Warrior with its audience of armored and shielded presences.

Bishops from the Inquisition, a blackened war-weary Trojan Horse, a totem, Ulysses and a nameless saint are some of his subjects. A Menina stands erect, face hidden. A conquistador's helmet rests on a stand -- empty? Doubtful. There is no emptiness here, only heroism and a silent song.

YSABEL DE LA ROSA is a writer and artist living in Madrid.