Mudéjar

Mona Lisa's Daughter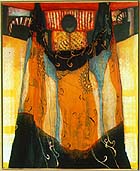 Incognito in the Night
Silence of a Certain Hour
Memories of Lost Loves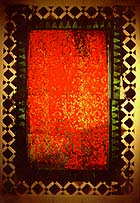 Patio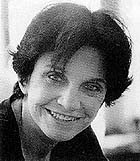 Mil Lubroth
Getting to Mil Lubroth's studio is a classic Madrid experience. The map shows the right number, but on the wrong street. Above the completely correct address, two arrows point to each other under a sign that reads "Mil Lubroth This Way." Another arrow leads up a tree-sheltered stairway to a doorbell with a sign that says, "No funciona -- Not working." Doesn't matter -- the door's open.

An inviting sitting area with low-slung furniture has antique print files lining two walls that lead to a nook of a kitchen. In the center of the studio, under bright lights, stands the work table, dark and worn. On the table is a large bowl, enameled with years of colorful dried paints, a swirl of swimming-pool blues in its center. More than one person has wanted to buy it. The last artifact collector settled for Lubroth's color-coated hammer. The bowl stays.

Beside the bowl rests a new hammer, plus paper, canvas, images, paints and screens. On the adjacent wall are four large works in progress. I recognize the techniques involved: painting, drawing, collage, serigraphy, photography and batik. But even looking at the pieces "undressed," it's hard to tell how Mil Lubroth arrives at her finished paintings.

She responds to questions about technique with a Cheshire-cat smile. "My work has no category," she says. She does confess that paper was her first love, but in order for the Spanish art world to take her seriously, she had to commit to canvas.

But back up for a minute. Madrid artist Mil Lubroth started life as Millie Schleifer, star pupil at New York's La Guardia High School of Music and Art. After obtaining a B.A. from Southern Cal, an M.A. from Kansas State, and studying with de Kooning and Albers at Black Mountain College, she became a Fullbright Scholar destined for Vienna. "Once I landed in Europe," says the artist, "I knew I was home. My parents were Polish and Russian, so the East-West blend in Vienna felt right for me." Afterward, she joined her husband for a year in Paris, before transferring with him to Madrid in 1955.

Three children later, Lubroth found herself in a tiny house, complete with chickens and potato patch, in a field outside the capital. Mother-artist cooked on a coal-burning stove in the coal-heated dwelling and washed all the laundry by hand -- lots of diapers, lots of coal dust. She also gave birth to a fourth child, built a studio and began teaching art full time. She really took to Madrid, both personally and artistically.

Once again, she felt drawn to the East-West blend. "Scratch the surface in Spain," she explains, "and you still find a Jewish-Arab culture beneath the Western one with its Catholic rituals." Lubroth's success in this country can be attributed to her deft weaving of Jewish, Islamic and Western imagery with an openness that can only be described as American. Among influences, she names Klee, Rauschenberg, Twombly and Kitaj, and most importantly, one Mr. Blumstein, the high-school art teacher who still attends every show Lubroth has in New York.

When cultures mix, they create an in-between world that defies definition. This is the world Lubroth lives in and the world her works depict. For example, her painting Mona Lisa's Daughter captures the spirit of the original Giaconda yet gives her imagined offspring a vivid life and an utterly international look, part Arab, part Flemish and Italian.

More archetypically Spanish is Mudéjar, a key work in Lubroth's 1987 solo show titled "Thirty Years in Spain." The image of a vertical Oriental carpet both shields and reveals a dark space enclosed by deep-blue Islamic arches. The center pattern of the carpet also turns the arches into a chalice that receives light pouring from above -- or is the light issuing from the chalice at the center of the carpet inside the mosque? Is it a mosque? This intentional ambiguity is why Lubroth says, "You have to give my paintings time. They don't hit you between the eyes right away." Oh, but they often do -- Lubroth's skilled use of colors, bright splashing against dark, is welcome to those who wish fireworks could stay in the sky an hour or two.

Spain is not all red-and-black, fire-and-rose drama, however, Lubroth's work also takes the viewer into quiet spaces with subtle, rich layers of tone and color, such as her recent Memories of Lost Loves. Its East Indian red background, with faint images of Roman arches and half-hidden twin flowers produce a subtle effect not unlike the patterning found in 16th-century Catalán painting.

In short, the pictorial weaving of this American creates what may be the single most inclusive artistic representation of the influences that still live and breathe beneath the surface of contemporary Spain. Spain could not resist looking at its complex self in the mirror created by its adopted daughter. The self-conscious, closed-circuit art world in Madrid broke two major rules when it let this (1) American and (2) woman inside its circle. She was the first North American to exhibit at the prestigious Ateneo Cultural Center in Madrid and has since shown her work steadily in Madrid, Seville, Granada, Barcelona, Burgos and other Spanish and European cities.

Lubroth recently had a solo show at Artopia in New York, has work in the Fullbright Show in Washington, D.C.'s Meridian International Center (through Oct. 21), and will contribute ten paintings to a show focused on the Alhambra in Dubai, U.A.E., in November. Gallery representation includes Madrid's Torculo Gallery and Zyw Gallery in Edinburgh, Scotland.

"What do you miss most, living away from the U.S.?" I ask.

"I would like to buy my art supplies in New York," she muses. Then, glancing around her studio: "I work well here, that's what's important." She adds with certainty, "Had I stayed in the U.S., my work would never have taken the directions it has taken in Spain."

Directions: East-West, those two arrows pointing to each other.

YSABEL DE LA ROSA is a writer and artist in Madrid, Spain.