Athens 2004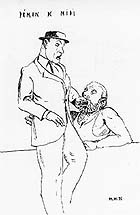 Michel Würthle
invite at
Gallery Unlimited





Helmut Middendorf
Monkey Business
1997
at Eleni Koroneu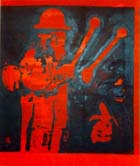 Monkey Business
(detail)




Rebecca Cahmi's
gallery space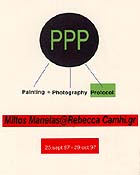 Miltos Manetas
invite to
Rebecca Cahmi




Wim Delvoye at
the Soap Factory





Maria Papadimitriou
(l.) and Maria Lindl




Katarina Würthle
(l.) and Papadimitriou





Nikos Kessanlis




Aliki Palaska




Anthony Reynolds with
works by Georgina Starr
(l.) and Keith Tyson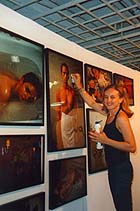 Rebecca Cahmi
installing Nan Goldin




James Reilly at
Lament Delaye




Tommaso Corvi Mora
and art historian Sania Papa





The British Group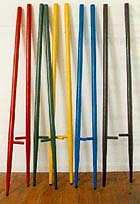 Angela Bulloch
Stilts
1997





Padraig Timoney
What's So Special on Saturday Night
1995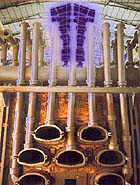 Catherine Yass
Gazi: Athens
1997
lightbox photo
Greece is a fantastic place, but does it have a contemporary art scene? Does it have that mysterious conjunction of politics and economics that causes the international art world to descend upon -- say -- the tiny, tidy German village of Kassel, or to jet halfway around the world to places like Johannesburg and Kwangiu?

It did happen in Athens last year, briefly, thanks to mega-collector Dakis Joannou and dealer-deluxe Jeffrey Deitch, who organized "Everything That's Interesting Is New" within the huge and renovated exhibition space of the Athens Academy of Fine Arts. The exhibition surveyed Joannou's massive holdings of '80s art, which ranges from Baldessari and Boetti to Cindy Sherman and Louise Lawler, from David Salle and Peter Halley to Charles Ray and Mike Kelley -- though the pivotal figures of his collection are Robert Gober, Meyer Vaisman, Kiki Smith and, above all, Jeff Koons. Along with the exhibition catalogue (300 color pages designed by Interview hand Richard Pandiscio) was a handout by Joannou himself, an interesting text titled "The Collection as a Landscape."

A year and a half later I'm back in Athens and the local art landscape has gone through some changes. The city is chaotic as always, even more so now that Athens has been elected to host the next Olympic Games. The confidence that has led to Athens 2004, as the games are called, also seems to be spreading to the art world. The local art fair, "Art Athina," is now in its fifth year, new galleries have opened and, according to rumor, there is even a new generation of collectors coming of age.

New Galleries and Old
Not two hours after I had arrived I found myself at the opening of an exhibition by Michel Würthle at Unlimited, the newest gallery in Athens. Proprietors Vassili Balatsos and Ghislaine Dantan are both veterans of the curatorial program at Villa Arson in Nice, and a certain Frenchness can be recognized in their stable. They collaborate with the Niçoise gallery Art:Concept and have hosted exhibitions by French artists Michel Blazy and Jean Luc Blanc. Untitled has also shown work by Kay Rosen, David Shaw and Maria Roosen.

Würthle's show, titled "Le demon de midi," had been previously seen at the Modern and Contemporary Art Museum in Geneva. His drawings depict a whole theater of people and personal situations with irony and humor. Würthle's sketches, which he calls "the solitary and painful work of sublimation," seem absolutely intertwined with his own life.

The next day I visited three other galleries that have done much to put the local art scene on the map. Senior in the group is Jean Bernier, which had a group show of newer gallery artists -- Andreas Gursky, George Lappas, Juan Muñoz, Thomas Schütte, Boyd Webb, Sue Williams and William Wood.

Eleni Koroneu Gallery is located right under the Parthenon and, while Unlimited offers a tranche of French artists, Koroneu exhibits mostly German ones, such as Martin Kippenberger, Helmut Middendorf and Axel Hütte, plus Christopher Wool and Jack Pierson and a few Greek artists. At my visit the gallery had up a show by the old "Neu Wilden," Helmut Middendorf, who has moved to Athens in search of a more relaxed life. The show was full of renewed energy and some paintings, like Monkey Business, seemed to be homages to the recently dead Martin Kippenberger.

The Rebecca Cahmi Gallery opened three years ago with a stable of artists from Greece and elsewhere: Rita Ackermann, Konstantin Kakanias, Nan Goldin, Karen Kilimnik, Martino Coppes, Guy Limone, Miltos Manetas, Ross Bleckner and Takis. The gallery space in itself deserves a visit by any art-tourist. Located at the top floor of an old hotel in the very old center of the city, its windows overlook Omonia Square, the food market, and the Parthenon.

Cahmi's most recent show featured Miltos Manetas, a pivotal figure in the new Greek art scene, who though he lives in New York has worked with artist Maria Papadimitriou to organize exhibitions and generally help make things happen. Manetas exhibited paintings depicting electronic games, laptops, joysticks and Sony play-stations. He also had some interesting computer prints that looked abstract, but that were in fact stills from computer games such as Doom and Tomb Raider.

The Soap Factory
The big evening event was the opening of "Loops," a group show of Greek artists in a new space called the Soap Factory, former home to the Zervos Bros. soap company. Belgian curator Els Hanappe has transformed the place into a peculiar alternative art space, surrounded by a huge garden filled with pistachio trees. It opened in summer 1996 with work by Costa Rican artist Priscilla Monge and the Belgian Wim Delvoye, who is known for his kitschy sculptures made by covering existing objects with tiles, pottery and varnish.

"Loops" included nine artists: Diamantis Aidinis, Anna Horn, Ioanna Mirka, Sotiris Panousakis, Maria Papadimitriou, Manthos Santorinaios, Dimitris Tsoumblekas, Dimitra Vamiali and Katerina Würthle. Mirka placed her slide installation in a room so small that people had to stoop in order to watch it.

Würthle and Papadimitriou have already collaborated on the very interesting painting exhibition titled "Living Spaces" (with venues in Venice, Athens and Thessaloniki). For the exhibition at the Soap Factory they had a little room for themselves in the middle of the garden. They installed two paintings, both derived from an old photograph belonging to Würthle, facing each other. After "Loops," Hanappe is organizing an exhibition of Dutch photographer Anton Corbijn. The Soap Factory can be reached by email at greekciv@compulink.gr

Art Athina
On Oct. 10, Art Athina opened its gates. Launched in 1993 with 18 galleries participating, Athens' own contemporary art fair now has reached 42 participants, a respectable result in a country like Greece, where an "art gallery" is often enough just a space in a jewelry or pottery shop.

Only about 10 percent of the galleries at Art Athina come from abroad, so the fair is far from being an international one -- though for the Greek art world it is enough that the fair has survived this long. The fair featured works by some major Greek artists, one being Nikos Kessanlis (the subject of a concurrent retrospective in Thessaloniki organized by Yorgos Tzirtzilakis), but its most outstanding revelation is that Greek art has finally gotten rid of its Kounellis-look of artfully arranged Minimalist junk. And I also have to admit that I saw fewer fish than last time (painted, sculpted or otherwise installed). Instead, I dare say, a new figurative painting trend is causing, with few exceptions, a blind-alley local conformism.

The most interesting booths at Art Athina were those of Athenian Ileana Tounta (photographs of Lia Nalbantidou and a smart piece by Aliki Palaska), Eleni Koroneu (who had a great selection of Jack Pierson photographs, a beautiful lacquer on aluminum by Christopher Wool and a new series of paintings by Maria Papadimitriou), Britisher Anthony Reynolds, Gallery Kalfayan from Thessaloniki (with a solo show by Tassos Pavlopoulos) and Rebecca Camhi (with works by Miltos Manetas, Rita Ackermann, Nan Goldin and Karen Kilimnik).

Also notable is the highly conceptual booth of Tommaso Corvi Mora (alias Robert Prime, London), with works by Angela Bulloch, Eva Marisaldi, Dominique G. Foerster and Liam Gillick. Also impressive was Laurent Delaye, a new gallery that opened in London in early 1996. Their booth provided works by interesting artists that do not (yet?) suffer from the hype that surrounds other Britons: Simon English, Chad McCail, Wendy McMurdo, James Rielly and Tony Bevan.

Private Face
The notion of hype leads us to the last event which took place in Athens on Oct. 11, an exhibition of young British artists titled "Private Face, Urban Space" in a renovated city-owned factory space called Gazi (Old Gasworks Building D7). As curators Henry Meyric Hughes and Katerina Gregos write in their catalogue preface, "We have been uncomfortably aware, from the outset, of the promotional hype which has sometimes attended the packaging and reception of 'Young British Artists' over the past two to three years." The publication also contains a pair of texts that are a thoughtful investigation into the last 20 years of British art ("Past" by Henry Meyric Hughes and "Present" by Katerina Gregos). The artists included are Richard Billingham, Angela Bulloch, Mat Collishaw, Willie Doherty, Tracey Emin, Anya Gallaccio, Douglas Gordon, Alex Hartley, Mona Hatoum, Gary Perkins, Georgina Starr, Padraig Timoney, Keith Tyson, Gillian Wearing and Catherine Yass.

The exhibition is a combination of photography, installation and video works that explore the eroding boundary between the public and the private. A quick survey: "private" family photographs by Richard Billingham and Mat Collishaw; a pair of two soft sofas, placed facing each other to further conversation, by Turner Prize finalist Angela Bulloch; Gary Perkins' scale models of rooms monitored by surveillance cameras; Captain Kirk's slo-mo kiss with a female alien in Douglas Gordon's video; computer-aided paintings by Keith Tyson; an ephemeral flower installation by Anya Gallaccio; You Stole My Look, a foolish video-performance by Georgina Starr.

Padraig Timoney's works (he just opened his solo show at Laure Genillard in London) acted as a kind of balance between the private and public spheres: 11th July 1996 is an extremely dramatic photograph of a riot in Derry, a particularly explicit entry in the discourse about Northern Ireland. Opposite this photo Timoney placed an array of 13 broken bottles collected outside his Liverpool studio. Willie Doherty, another artist from Derry (the inclusion of two Irish artists in a survey of British art was important), contributed his famously emblematic photographs of the left-over "Minimalist" accoutrements of borders and political conflicts.

GIANNI ROMANO is an art critic living in Milan.