Pierre et Gilles
La petite fille des
HLM (Soraya)
1992







Logo of the
Photo biennial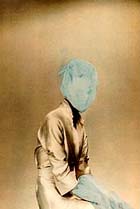 Susy Gomez
Untitled
1997








Carlo Benvenuto
Untitled
1996








Luisa Lambri
Untitled
1997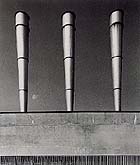 Gabriele Basilico
Ritratti di fabbriche
1978-80








Maurizio Cattelan
installation at Laure Genillard Gallery,
London, 1996







Logo for
Artissima '97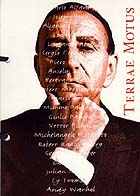 "Terra Motus"
catalogue







Andy Warhol
Vesuvius
1985
acrylic on canvas








View from the
Palazzo Re Rebaudengo,
Guarene







Stefano Arienti
Turbine
1989
printed paper,
dimensions variable







Simone Berti
Project for the construction
of a wooden lake-dwelling carved
from a single block
1997








Mario Airo
Lightning Room
1992







Sarah Ciracì
Not Even Background Noises
1996
The photography boom has finally hit Italy. One survey of the state of the art can be found online in my own "Collezionare Immagini," which includes contributions (in Italian) from critics, dealers and artists. The complaints are familiar: a lack of exhibition spaces, a lack of government support, a lack of tax rules that would help foster contemporary culture in Italy. But the international success of artists like Cindy Sherman and Nan Goldin has gone a long way toward instigating some local excitement about the work of local photographers.

This fall several exhibitions dedicated to photography opened in Turin, which increasingly is viewed as one of Italy's cultural capitals, thanks to a positive conjunction between public and private institutions. The major photo events are: the 7th edition of the Biennial of Photography; a survey of the photo holdings of Foundation Sandretto Re Rebaudengo (which also opened a new space in Guarene); a solo show at the Castello di Rivoli by Maurizio Cattelan; and the 3rd edition of "Artissima," the local contemporary art fair, at the former Fiat factory called the Lingotto.

Photo Biennial
This year's International Biennial of Photography, dubbed "Romantica: Images of Love and Shame," is overseen by curator Denis Curti, who previously organized a very popular exhibition of Magnum photographers in Milan and Rome entitled "Americani." From the family album to images of excess and passion, "Romantica" takes the visitor on a comprehensive journey through love and guilt in Western society. Mounted in the Palazzo Bricherasio, a space in the city center usually devoted to modern art, the exhibition is designed for a popular audience.

"Romantica" includes a historical section that ranges from Maxime Du Camp to photos of Wallis Simpson and the Duke of Windsor; a modern part with images by Lewis Hine, Weegee, John Heartfield and others; and a rather more extensive contemporary zone, featuring photographers such as Diane Arbus, Jane Evelyn Atwood, Robert Frank, Per Barclay, Ernesto Bazan, Duane Michals, Cindy Sherman, Carlo Benvenuto, Daniel Blaufuks, Sophie Calle, Florence Chevallier, Larry Clark, Paola De Pietri, Nan Goldin, Susy Gomez, Luisa Lambri, Marzia Migliora, Pierre et Gilles, Andrea Pistolesi, Alessandra Spranzi, Scott Thode and Valentin Vallhonrat.

The Biennial is also surrounded by satellite exhibitions in private galleries. Turin doesn't have quite the lively scene that can be found in Milan, but this event came close, with excellent photo shows at Giorgio Persano (Spanish photographer Susy Gomez), Alberto Peola (Luisa Lambri's first solo in Turin) and Photo & Co. (the impressive installation by Gabriele Basilico and architect Stefano Boeri from the 1996 Architecture Biennale in Venice).

Photo Foundation
The day after "Romantica" opened, the Italian Foundation for Photography -- the same institution that organizes the Biennial -- hosted in its own headquarters the exhibition "Italian Photography for a Collection," curated by Antonella Russo. The show presents about 150 vintage photos from the Collezione Re Rebaudengo, one of the first organizations to archive contemporary Italian photography. The exhibition features historical maestros like Avigdor, Ghirri, Giacomelli, Jodice, Mulas, Scianna; works by established photographers such as Gabriele Basilico and Guido Guidi; and two samples of younger photographers "born in the '60s" -- Luisa Lambri and Raffaella Mariniello. Next at the foundation galleries is a survey of Depression and New Deal photos by Dorothea Lange, Oct. 23-Dec. 14, 1997.

Rivoli Castle
Turin also means a visit to the Castello di Rivoli, the only public museum of contemporary art still active in Italy. Despite the negative critical response to the recent Venice Biennial -- whose creative staff was supplied by the castle -- the Rivoli forges ahead fearlessly. Germano Celant remains on the scene, and director Ida Giannelli has just signed on for another three-year stint.

After an exhibition of Anton Corbijn, curiously entitled "Star Track," and just before an exhibition from the Whitney collection titled "Twenty Years of American Art 1975-1995" (opening Oct. 20), the Rivoli Castle organized the first museum exhibition of bad-boy Maurizio Cattelan. Cattelan is the provocateur who placed stuffed pigeons in the rafters of the Italian Pavilion at the last Venice Biennial. At Rivoli he inaugurated the museum's new series of "Anteprima" shows dedicated to young international artists. Though the event was of some importance, the noble galleries of the Castle were rather negatively used. The artist installed four artworks in rooms that were already filled with crates and wrapped works from the previous show, waiting to make the space vacant for the Whitney collection.

The Fiat Factory
The Lingotto is the name of the old Fiat factory, converted into fair pavilions some time ago and in the last three years home to Artissima, an art fair welcoming about 100 galleries, mostly Italian. Though designed to provide a quality review of contemporary art, the pavilion is cramped and attendance is low. I don't have the official word yet, but I was there for two days and I can guarantee that its corridors were empty, with dealers spending time talking to each other.

At least Artissima provided the material for a one-day scandal: the fair administration donated 100 million Lira (about $60,000) to be spent among the top dealers at the fair for acquisitions for the Castello di Rivoli and the local Galleria Comunale (another public space in Turin, mostly devoted to modern art). The directors of the two museums were in charge of the purchases, and after strolling on different routes among the booths for a couple of hours, both acquired works by Richard Long and Tony Cragg. What's worse, both artists are already represented in both collections, and both purchases were made from the same dealer! A bit more of the budget went to buy some photos by Nan Goldin.

Some welcome for gallerists who emphasize experimental works by younger artists! It is a shame that this fair isn't finding its way, because the experimental and contemporary dealers here make it an important appointment for Italian collectors and an instructive opportunity for the general public as well.

Terrae Motus
Within the Artissima pavilion were works selected by Achille Bonito Oliva from "Terrae Motus," a 1982 exhibition organized by the late Neapolitan gallerist Lucio Amelio (who died of AIDS in 1992) after a terrible earthquake hit Naples and its surroundings. The selection is of the highest caliber and included works by Beuys, Boetti, Cragg, Fabro, Sergio Fermariello, Piero Gilardi, Kiefer, Lavier, Mapplethorpe, Mario Merz, Paladino, Paolini, Pisani, Pistoletto, Rauschenberg, Richter, Salle, Schnabel, Twombly and Warhol.

Palazzo Re Rebaudengo
The final event in the first month of Turin's fall season was the premiere on Sept. 27 of the renovated Palazzo Re Rebaudengo in Guarene (a little village 45 minutes from Turin by car, in a marvelous region known for its wine and white truffles). The antique mansion has been transformed into a new contemporary art space by the architect, artist and collector Corrado Levi and his staff. Levi is well known in the Italian art scene for his support of a new generation of artists in the mid-'80s (Arienti, Martegani, Pusole), for his own exhibition space in Milan (closed four years ago), for his books and exhibition catalogues and, last but not least, for his own artworks. New Yorkers will remember him for a show of provocative photographs at Wessel and O'Connor gallery, as well as for his support of young artists on the short-lived East Village scene.

The opening in Guarene served as the publishing party for a retrospective catalogue of the work by Stefano Arienti (Skira Editore, Milano, 1977), containing essays by Levi and Dan Cameron and a long interview with the artist by Angela Vettese. Arienti's work is eclectic, a continuous puzzling, cutting, scratching and adding (notably, plasticine) to ready-made images. "Because Arienti seems thoroughly unconcerned with presenting a stylistically consistent image of himself to his viewers, it has been particularly difficult for most commentators to come to terms with the fact that his artistic ambition is easily as great as that of most practitioners, who manage to forge a recognizable set of stylistic modes early in their career and do not subsequently stray far from those initial working parameters," writes Cameron.

Palazzo Re Rebaudengo opened with "Che cosa sono le nuvole?" (What are the clouds?), curated by Francesco Bonami, former New York editor of Flash Art. The show is made up of a selection of works from the collection by Italian artists from the `60s to the present: Accardi, Manzoni, Castellani, Paolini, Kounellis, Boetti, Fabro, Fadda, Airo, Arienti, Bartolini, Beecroft, Boggio Sella, Caira, Cattelan, Ciracì, Della Vedova, Gabellone, Lambri, Manzelli, Marisaldi, Martegani. There also was an exhibition of eight young artists selected by eight museum directors and curators. I don't have to tell you that such shows seldom make much impression on the audience. Simone Berti did present a notable proposal for the construction of a "wooden lake-dwelling carved from a single block."

Bonami's exhibition is well pondered and seasoned with a professional touch, a rarity in an art scene that seems to think that anyone can be a curator. A show like "Che cosa sono le nuvole" promotes both a general awareness of contemporary art in Italy and a certain poetry -- clouds can provide ... meaning. As usual here, it takes private initiative to get healthy results in the public domain, which is otherwise devoted to useless enterprises and the massive waste of money.

GIANNI ROMANO is an art critic living in Milan.