Cologne announcements: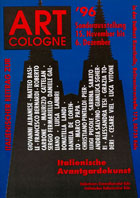 Avanti at
Otto Schweins.
Renee Green at
Christian Nagel.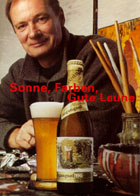 Matti Braun at
Luis Campana.

Daniel Buchholz.
letter from cologne 

by Stefan Roemer

Now that the dust has settled from our 

city's biggest annual art event, Art 

Cologne (Nov. 10-17, 1996), we can see 

whether the 30th International Art Fair--

"Art of the 20th Century," as it was 

titled, has helped or hurt Cologne in its 

battle to remain Germany's leading "art 

city." In recent years, Berlin has asserted 

a cultural importance that parallels its 

new political status as the capital of a 

united Germany. Many art dealers and 

artists have left Cologne for Berlin in the 

last three years. And Art Cologne has been 

ill-fated in recent years. After the last 

fair the national association of German 

galleries split up. A group of younger 

galleries, including the founders of UNFAIR 

(an alternative art fair, pursued for two 

years from 1992 to '93, that was designed 

"to establish new concepts of 

presentation"), finally rejected the 

traditional fair framework, claiming that 

it was hypocritical and obsolete. Whereas 

during the UNFAIR hundreds of different 

events were held in conjunction with the 

main exhibition, these alternative events 

do not take place today.



This year the Cologne Art Fair took place a 

week after Berlin's new art fair European 

Art Forum [see Berlin Art Diary]. As far as 

the art market goes, Berlin's rise may be 

little more than wishful thinking at 

present. Word was that most of the buying 

there was done by collectors from the 

Rhineland. And you have to remember that 

the organizers of the European Art Forum 

(who included former founders of the 

UNFAIR) were galleries from Cologne. They 

all presented special shows during the Art 

Cologne in their own spaces--an impressive 

and long list that includes Inge Becker, 

Frank M. Berndt, Gasser & Grunert, Birgitt 

Ihsen, Johnen & Schöttle, Rudolf Kicken, 

Philomene Magers, Christian Nagel, 

Reckermann, Schipper & Krome, Sabine 

Schmidt, Monika Sprüth and Lutz Teutloff.



According to Cologne galleries, the art-

market crisis of the late `80s and early 

`90s has passed, and now the market is 

healthier than ever. But who can tell for 

sure? To my eye it was only Polke-pieces of 

every size and price that were accompanied 

by red dots at the Cologne fair.



At any rate, in German galleries 

photography still figures centrally, in a 

miniboom that is now about three years old. 

Nan Goldin's bohemian expressionism, 

Wolfgang Tillmanns' studies of youth 

culture and fashion, Ines van Lamsweerdes' 

computer manipulated borgs, even Hilla and 

Bernd Becher's 30-year-old program of 

documenting industrial architecture--all 

remain very popular with buyers.



In addition site-specific installations 

spring up in different guises all over the 

place. For example, in Gallery 

Wohnmaschine's "Foerderkojen"--spaces at 

the fair given to new artists to do with as 

they wished--the artist Gunda Foerster just 

styled the cube in a way that unfortunately 

subverted the concept of site-specificity. 

Foester painted the walls in different 

colours and covered them with colored 

gauze, effecting her special trademark 

light. Ordinarily the space is reserved 

exclusively for an individual artist, but 

in this case the gallerist covered the 

walls with work by other artists destroying 

Foerster's atmosphere.



Installations at Cologne galleries were 

certainly much more interesting than those 

at fair itself. Barbara Bloom showed 

selections from her "Pictures from the 

Floating World" series at Sabine Schmidt. 

This work of Bloom's, which is concerned 

with gender problematics in representation, 

features miniature erotic Japanese etchings 

on pieces of rice, presented in display 

cases with magnifying glasses for viewing. 

At Christian Nagel was another U.S. artist, 

Renee Green, with the installation 

"Transfer/Uebertragen," a smaller version 

of an exhibition simultaneously presented 

in New York historicizing Robert Smithson's 

work in relation to the students killed at 

Kent State University in Ohio [see 

Reviews]. At Buchholz Gallery, codirectors 

Daniel Buchholz and Christopher Mueller 

organized a series of exhibitions, films 

and events in a program continuing into 

early 1997, designed to break with 

traditional habits of gallery presentation. 



Still another project expressive of a 

strong effort to explore new concepts of 

presentation was mounted by the artist 

Stephan Dillemuth, who had run the 

celebrated experimental exhibition space 

Friesenwall two years ago (with Joseph 

Strau). Dillemuth exhibited a satirical 

performance that was a reflection on 

contemporary art production as no-

production: in an imaginary dialog with his 

son in the year 2030, he ironically 

described the situation of the 1990 art 

scene, using all the phrases regarding 

collective art practices and institutional 

critique as they are presently circulating 

in current German art discourse.



The search for new formats is also 

reflected this year in the tendency to make 

total environments--organizing late-night 

parties in conjunction with daytime 

exhibitions, for instance. At Lukas & 

Hoffmann Gallery, which mounted a series of 

shows that seemed more like ambient-techno 

music environments than art exhibitions, 

the practice has evolved to include gallery 

music labels and party services. But 

including "relaxation" as part of cultural 

representation strikes me as problematic. 

After all, the trend of artists dj-ing as a 

"new" art practice with all its emphasis on 

fun culture raises the question whether we 

currently experience a pervasive decline of 

theoretical art discourse.



In this sense the most interesting event 

organized in conjunction with the Cologne 

fair was "Housing" (Oct. 4 - Nov. 12, 

1996). Students at Cologne's Academy of 

Media Art organized an exhibition and panel 

series on provocative topics such as "the 

end of the art market," "how to survive in 

the art world" and "art's relation to 

recent social-security cuts enacted by the 

conservative German government." (Judith 

Rutzika, one of the organizers of 

"Housing," has extensive experience with 

organizing big techno-events.) With 

"Housing," for once, art galleries served 

as the site for critical displays on 

broader cultural developments in Germany. 

For example the symposium "minus '96" (Nov. 

25. - 27, 1996), which was a follow-up to 

last year's alternative fair "Messe 2 o.k." 

in Cologne, happened in a space which was 

built in the Weimar Republic in Berlin. 

"Leftist cultural producers" met for 

discussions primarily on two topics: How 

can alternative forms of critical art 

distribution be built up? And how is it 

possible to organize a week of action 

against the big cities efforts to "clean" 

the public sphere of homeless people, 

unruly kids and drug addicts?



By this light the installation of New York 

artist Rirkrit Tiravanija, who is usually 

intimately associated with contextual art 

discourse, struck me as cynical. Tiravanija 

basically installed his New York apartment 

in the Cologne Kunstverein as "a 

private/common space, open 24 hours a day, 

where everybody can live." This gesture, 

according to the artist, paraphrases the 

impossibility of producing art in the face 

of an overproduction of art and tries to 

level the differences between life and art. 

Apart from its being a typically '70s art 

approach, Tiravanija's project has many 

troublesome implications, especially in 

light of the fact that homeless people are 

of course not invited to stay and that 

Tiravanija received a stipend of more than 

$100,000 (DM 175,000) from a Cologne-based 

life insurance company for living half a 

year in Cologne. This exhibition continues 

the series of controversial and poorly 

thought-out events in this institution 

under the director Udo Kittelmann.



It is in smaller cultural (not to say 

subcultural) settings that the interesting 

things go on. Last week the cultural critic 

Diedrich Diederichsen presented his new 

book, called Political Correctness, about 

the transformations of the concept from 

U.S. to Germany in view of the neo-fascist 

upsurge. Also appearing was the anthology 

Mainstream of the Minorities, a collection 

of essays on how the politics of difference 

has effected pop culture, a topic that has 

been neglected in Germany. These subjects 

are also addressed by the German music mag 

Spex, which recruits leading Cologne 

intellectuals as commentators. The art 

scene and the Spex posse came together at a 

publication party at the Schmuckkaestchen, 

a familiar jazz and house-music club. 



Highlight of late November was a talk at 

Cologne University by October editor 

Jonathan Crary, introducing the German 

translation of his book Techniques of the 

Observer and also previewing his new book, 

which hasn't yet been published. Crary's 

detailed investigation of the 19th-century 

foundations and practices of visuality is 

fascinating, and of considerable interest 

to current debates on art and culture in 

Germany.



I am also looking forward to visiting the 

big Magritte show that recently opened in 

Dusseldorf. It includes work by Barbara 

Bloom, Marcel Broodthaers, Robert Gober, 

Joseph Kosuth and Elaine Sturtevant as part 

of a focus on specific aspects of the 

reception of Magritte's work by 

contemporary artists. 



One last point: I just saw director David 

Cronenberg's not-very-surprising film of 

J.G. Ballard's book Crash, a spaced-out 

landmark of dystopian science fiction. 

Ballard's early '70s machine fetish, which 

inspired artists from Richard Prince on, is 

a symphony of car-engine-sound poetics, 

drug use, the smell of hot wheels and 

burning sexual liquids splashed all over 

the highways. The translation of "traffic" 

with the German term "verkehr" produced an 

additional Ballardian pun, since the German 

term also means "sexual intercourse."



Whatever its faults, the Cronenberg film 

was more pleasurable than the Julian name-

dropping Schnabel special performance at 

the Cologne premiere of Basquiat. In his 

introductory remarks it seemed that he 

mentioned every artist or musician in 

Cologne that he had ever met. The most 

interesting point about the film, which 

didn't seem too bad from a distance, is 

that Schnabel's survival is his new 

capital--as a survivor of the `80s, he can 

rewrite his own (his)story. I like David 

Bowie in his glorious Warhol-metamorphosis 

and I like Dennis Hopper, who is absolutely 

amazing as Zurich art dealer Bruno 

Bischofberger.



STEFAN ROEMER is a German critic and art 

historian.