Harry at Fishcreek Falls
1997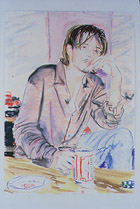 Skeet
1997




Two Blue Jays and Cardinals
1997




billy sullivan
at fischbach 

 
by Walter Robinson


In the age of the photograph, the figurative painter faces two immediate questions: what subject, and what style? Billy Sullivan's answers are personal and straightforward. His pictures in this latest show are painterly renderings, apparently based on photographs, of his own milieu -- which is, thank goodness for the viewer, an interesting one. (The artist is well-known among New York's art cognoscenti and has exhibited for 10 years at Fischbach.) A whole wall of small ink drawings called "New York Birthdays," for instance, features images of screenwriter Richard Price, poet Taylor Mead, curator Klaus Kertess and photographer Nan Goldin. The poet and critic Gary Indiana and Museum of Modern Art curator Kynaston McShine are the subject of larger portraits in pastel. Such works -- I am reminded in particular of Fantin-Latour's group portraits of the Impressionists -- implicity pose the question, Why Painting? and offer an elegant answer: it's an intimate practice for an intimate subject.
Sullivan also takes up traditional motifs of the artist. As encountered in the privacy of his studio, the most notable example is the nude, seen here in several portraits of a model named Kathleen. She gazes out frankly at the viewer; though her poses are relaxed, the paintings are provocative. The exhibition also features a number of paintings of animals, a wall of four paintings of birds (jays, cardinals, a morning dove, robins) and two paintings of dogs, a bulldog and a terrier. The renderings are casual, even insouciant -- high manner is for magazine illustrators.
Completing the show are a number of color photographs, mostly of kitchen still lifes remarkable for their sensuous color -- watermelon cut into slices for serving, for instance. These photos have the presence and completeness that the camera can give, and offer a troubling challenge, even in their relatively smaller scale, to the neighboring paintings.
Billy Sullivan at Fischbach, Apr. 17-May 17, 1997, 24 W. 57th Street, NYC, NY 10019