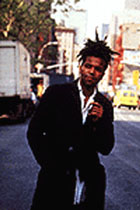 Jeffrey Wright in
Basquiat.
















"L'hiver de l'amour" at the Musee d'art moderne,
Paris, 1994.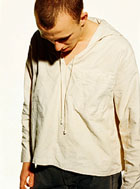 Wolfgang Tillmans,
Adam, head down, 1991.
Museum of Modern Art.












Ana Laura Alaez
Wonderwoman and Superwoman
1993










Oliver Herring
Red Coat #2
1995









Yasumasa Morimura
Self-Portrait (Actress)/after Ayako Wakao
1996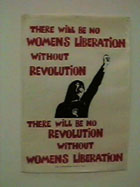 Poster
c. 1970s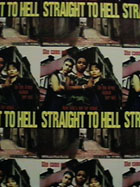 Dyke Action Machine
poster for
Straight to Hell













Nicole Eisenman,
Grenoble Airport Installation
1997









"Moment Ginza"









"Moment Ginza" with Ruppersberg posters.























Miltos Manetas on the beach.
1995












Manetas installation at Galerie Philippe Rizzo.




























































Atelier van Lieshout,
Butcher's Sink
































The Lieshout Survival Van.



Max Mohr,
Untitled
1997








Max Mohr,
Untitled
1997






















Julian Schnabel's much ballyhooed biopic, Basquiat, about the short but explosive art career of New York graffiti artist Jean-Michel Basquiat, was only recently released in Paris. I liked it, but was reminded, first of all, that our celebrity culture rewards an unblocked ego gushing with style and product and chutzpah. Still, Basquiat, who overdosed at 27, was an enigmatically poetic graffiti artist with a bona fide sense of color, line and street imagery. But the film pits Schnabel's masterful Alpha personality (made rosy and soft by his stand-in, Gary Oldham) against Basquiat's talented but hapless Fool.

Ezra Pound once described artists as culture's antennae, who probe their environment and transform what they find into metaphors of originality and sensibility. Today, following the dictates of a ravenous market-oriented world, artists have developed a Baroque flair for pastiche and style. An Alpha like Schnabel or a Fool like Basquiat are extremes, and the film was an art world Bye-Bye Birdie, a composite of myth and nostalgia.

In France, the film was seen that way. But in France, too, style is part of the cultural agar. Here, an instinct for the most effective hair-do and wardrobe, no matter how limited one's budget, is somehow bred into the bone (I am reminded of this daily). Nor is it a coincidence that Paris remains the locus of the fashion world. Fashion is native to Paris. People come here to experience it, to feel its energy and to react to it. It was in Paris in the early 1980s that createurs like Agnes B. and Jean-Paul Gaultier cross-bred high fashion with ready-to-wear. Together with Japanese designers like Yohji Yamamoto and Rei Kawakubo of Commes des Garçons, the new createurs popularized the funerary black you see at art openings and fashion shows and, now, in Nashville line dances. The French style of art is also a blend -- part ready-made, part atmosphere.

The famous cross-over between fashion and art, much noted in New York, is also everywhere evident here, of course. For several years now, artists and curators have evolved an atmospheric installation art. The most complete presentation of it was the 1994 exhibition "L'hiver de l'amour" (The Winter of Love -- subsequently shown in a slightly watered-down version at P.S. 1 in Queens, N.Y.). Organized by Olivier Zahm and Elein Fleiss with a team of curators, the show included art, CDs and videos by young artists, fashion designers, musicians and architects. There were magazines and cushy places to hang out and a soundtrack of mood rock. The atmosphere was not unlike those softer snapshot photos by Wolfgang Tillmans and Jack Pierson that have since begun to turn up in magazines like The Face and even in Harper's Bazaar.

In Paris the show seemed to catch something in the air, for there were constant queues -- unimaginable for any contemporary art exhibition. This "something" was that style could be small, personal and public. By comparison, a movie like Basquiat makes it patently clear that our cathedral-scaled art form is film, and that "fine" art has again become something small and ephemeral.

The exhibitions reviewed below reflect a wave in this recent trend. For a writer they represent a traffic jam and visible funneling, or what marketers call a tendency. Where Schnabel's Basquiat is an upper-echelon tendency -- a successful artist turning to film-making -- on a smaller scale artists extend the parameters of art in a diversity of media upon which they try to impress their own style.

"Sous le Manteau"
at Galerie Thaddaeus Ropac
Mar. 15-Apr. 26, 1997
"Sous le manteau" (literally, "under the coat," figuratively, "on the sly") was a world-art theme show about art as a second skin, cover-up, mask, garment, guise, disguise, thrown voice, etc. Conceived and curated by Caroline Smulders, director of the Salzburger, Thaddeaus Ropac's Paris operation, the exhibition featured 43 artist's works that link to but do not quite cross over into fashion.

Somehow the idea spins out off of the body art of several years ago -- fashion and body art being related since caveman days. A Matthew Barney photograph showed a satyr in a suit. Gotscho's Squelette (Skeleton) consisted of Empire chair legs draped with red horse blankets from Hermes (the most expensive accessory and tchotchke shop in Paris). Architects Diller + Scofidio ironed white men's shirts into sculptural shapes and made boxes to fit each. Oliver Herring knitted one paper coat and drew another in glue sentences (over a coat shape). Robert Gober showed a self-portrait as a bride in a mock page of The New York Times. He told a tale of sex and power, reminding us how much more page space lingerie ads occupy than the stories about genocide and corruption. Elaine Sturtevant made a replica of Gober's bridal gown and stood it in front of a replica of Felix Gonzalez-Torres' , Blood, a bead curtain which, in Sturtevant's rendering, recalled the nuptial evidence on a morrow's stained sheet.

For me, the most compelling works were knitted Super Hero costumes by Spanish artist Ana Laura Alaez; Egyptian Ghada Amer's Le lit (The Bed), which had two figures carved out of it and erotic images embroidered onto the surface; Yasumasa Morimura's photographic Self-Portrait (Actress)/after Ayako Wako, as a geisha with a spider tattooed on his back; and Shuji Ariyoshi's second-hand clothes sewn together into a colorful bolt of cloth cascading onto the floor.

The show was generous in scope and showed a number of new artists -- which the gallery might show if things pan out -- although procrustean, as is often the case with theme shows, where evidence is found to support an idea. But it was big and diverse and you got the feeling that the caveman impulse is as alive as ever.

"Vraiment Feminisme et Art" (Real Feminism and Art), April 6 - May 25, and
"Moment Ginza," Apr. 6 - Sept. 7, 1997, at the Magasin in Grenoble
The Magasin is one of many national centers of contemporary art. This one is an Eiffel-designed factory, big enough for a fleet of buses, divided in half with one enclosed side called the "galleries" and the other open side called the "rue," or street.

Inside the galleries, "Vraiment Feminisme et Art," curated by Laura Cottingham (and assisted by Armelle Leturcq from the French magazine Blocnotes), gathered works of about 30 women artists from France and the U.S., a good portion of the art dating from the `70s. Designed to celebrate three decades of feminism and art, the limitations of time (two months), scale (huge) and budget (small) made for a lopsided, if nostalgic, exhibition (a catalogue is forthcoming). It also had a didactic side, but as the curator noted, feminism "appears to me, and to other feminists in Europe and the Americas, to be a particularly difficult topic for French culture."

Photographic works by Tania Mouraud, Adrian Piper, Hannah Wilke and Nicole Gravier, among others expanded Simone de Beauvoir's thesis of women as the "second sex." Orlan showed a life-sized cardboard representation of herself, from the 1970s, where she offered a kiss for five francs. (In recent years, thanks to the open-door policy of esthetic surgery, Orlan has transformed herself into a strange representation of the beauties of art, inviting blade men to pulp her mouth like the Giaconda's and customize her temples to look like her favorite Martian.) Dyke Action Machine pictured themselves out on the town and filled a wall with posters of a film called Straight to Hell. Nicole Eisenman made a large mural, expressly for the exhibition, that portrayed skiers on their way to the slopes overlooking Grenoble. She set dog food cans on painter's ladders, and made Joseph Cornell-like boxes on a shelf running round the base. Eisenman's mural wasn't specifically feminist, but it made fun of work and sports and held up murals as the false masks of heroism that men have often made of them.

The best of the show, from my shy perspective, was the room of exhibition catalogs, magazines, photographs and books like Our Bodies Ourselves, Simone de Beauvoir's Le Deuxieme Sexe (The Second Sex), that looked back to those early days of social action. Cottingham makes the point that the story ain't over. If by default the show was didactic and lacked visual luster, it nevertheless reverberated with political punch and social consciousness.

Outside in the "rue," "Moment Ginza" was an esthetically different experience. French artist Dominique Gonzalez-Foerster invited artists to help her create an atmosphere based on the Japanese Ginza, where on Sundays the street is closed and young musicians and dancers amuse themselves.

Gonzalez-Foerster's "thing" is to create an atmosphere with "stuff" -- photographs, furniture, painted walls, frames, etc. The overall feeling could be called updated hippie Minimalism, colored in silver, purple and orange. For the Magasin "street" she set up tables with computers where you could view with CD ROMs and live Internet images of New York and Tokyo. (You can view it at Le Magasin) She painted the walls purple and the columns in plastic colors and invited artists to add their own flavors to the rue. Vidya and Jean-Michel, two young artists from Grenoble, drew a Japanesey cartoon graphic on a curved wall and strung a colored clothes line the length of the room. Maurizio Cattelan rented out space for a Return of the Jedi billboard, which had just came out in Paris, digitally enhanced. Posters by Allen Ruppersberg were hung over vending machines left over from a cafe he installed at the Magasin last year. Philippe Parreno filled the ceiling of an adjacent room with silver thought balloons. For the opening, a Brechtian cabaret band of guitars and saxes played an original score.

Where Gonzalez-Foerster's show was atmospheric, if a tad loosey-goosey, Laura Cottingham's show was calculated and controlled. One a bit light, the other a bit heavy. Curiously, both recalled the `70s, Gonzales-Foerster's for the hippie minimalism and Cottingham's for the politic atmosphere. The Ginza street felt nice, though. And the feminist documents brought back a vital historical moment that still needs fleshing out.

Miltos Manetas
at Galerie Philippe Rizzo
Apr. 12-May 10, 1997
Greek artist Miltos Manetas spent ten formative years in Milan, then two years ago he moved to the Greenpoint section of Brooklyn, where he now spends his life in front of his PowerBook. He also makes large washy paintings of his computer as well as figurative paintings from pictures taken with his QuickTake camera. For Manetas a significant part of life is computer-oriented. He titled his Paris exhibition "Whoops," which he explains as an American expression that signals surprise -- rather than, say, embarrassment. He painted the gallery walls a soft sunny yellow and at the far end set up a computer that blinked a sky blue, accompanied by a soundtrack of a voice saying "whoops" in a nice relaxing rhythm.

You'd think such a spartan exhibition would be a snooze, but it was not. The atmosphere, sound and the simple image were weirdly pictorial. Imagine yourself inside a painting that tick-tocks blue against yellow, something like a nice Joseph Albers or soft Peter Halley set on a loop. In conceptual art-speak this is like making the viewer the content. It's also like being the target of a TV that has a self-consciousness. As a computeriste, Manetas is very aware of screen life and the abstractness of electronic space. He is also conscious of product; so, in the adjacent room he set up several of his paintings, one a large gray painting of his PowerBook.

He makes videotapes of computer games, which he edits. One showed a woman dodging missiles. In Manetas' version she dies every time and strangely enough, the game starts to give you the feeling that she is the target. If you like such games, it's easy to start siding with the missiles. But, in the main room cyberspace was bathed in Mediterranean yellow that blinked a nice relaxing sky blue.

Malachi Farrell
at Galerie Anne de Villepoix
Apr. 12-May 24, 1997
Malachi Farrell is one of three Irish brothers who make Rube Goldberg contraptions in the style of Jean Tinguely. For his installation, "Hooliganism," he constructed a three-headed mechanical Kong that roared staccato barks at the door. Against a wall was a bleacher of bottles that performed the "wave." On the floor a soccer ball trolleyed slowly into a net. Above it, a wheel of $10,000 Hell Bank notes spooled like confetti onto the floor. Around that, filthy sportswear reeled on one of those tracks they use at dry cleaners.

Malachi lives in Paris, but Mom and all three brothers were at the opening working like roadies and sound men adjusting pullies, tightening wires and setting timers, while onlookers waited in trepidation -- myself among them -- for an explosion to pop off a Saturday evening. It certainly looked like something dangerous would occur. The theme of this room-sized contraption art seemed to be sports, particularly a brand of European football of which the Irish and their arch foes, the Brits, are epic fanatics. The point of ceremonial combat is the tension. The build up. But this was an art exhibition and not the sports club. And except for the Kong's bark there was barely a poof.

It's true that some people are born bricoleurs. Even families of them. In what seems like ages ago, Tinguely made sculptures that were soulful, self-destructing machines. Destruction gave them their soul. Farrell tried to put soul into his bric-a-brac and to give it a subject -- hooliganism. But his effort didn't quite match the soul of Tinguely, nor the effect of the wee pebble shat by Vaucauson's mechanical duck two centuries ago. Maybe he needed a bit more cash. Anyway, it is a noble go at putting soul into Frankenstein's monster. We look forward to next time.

Joop van Lieshout
at Roger Palhais
Mar. 8-Apr. 30, 1997
Joep van Lieshout (pronounced YOP VON LEES-HOOT) combines commercial design and art making. At his "Atelier van Lieshout" in Rotterdam he fabricates pigment-saturated fiberglass sinks, tables and basins of different sizes and colors that look like Minimal sculptures; he also makes whole kitchen and bathroom units, office furniture, interior arrangements, bedroom units, bars, kiosks and trailer homes, as well as polymorphously shaped objects that you can wear, such as his Sensory Deprivation Helmet, Orgone Helmet, and get into, like Skull Room -- the latter works suggesting a dark streak or the influence of films like Friday the 13th or The Silence of the Lambs. But it's really very refined hippie art.

Van Lieshout works both industrial and artistic contexts, and understands the differing psychology and physiology of each. In his Paris installation, "Saucisson" (Sausages), he recreated a butcher's interior, making blood-colored sinks and tables, a butcher block from a tree stump, meat racks with angle iron. He also mounted photographs of the pig being processed into sausages and tripe, the remnants of which hung in strands and glistened in preserve jars.

There was more. Outside, in front of the Centre Georg Pompidou, where the winos and their dogs pee and hang out, Lieshout parked his converted Mercedes van, a gray, orange and yellow hippie vehicle, decked-out with an aqua shower stall and cowhide carpets. (Van Lieshout has four others.) In this one he road-tripped America, stopping off in Chicago for an exhibition.

According to the press release, this is "survival art." It combines the Whole Earth Catalog's esthetic of lifestyle and bit of `70s performance, reminiscent of Viennese Aktionist Herman Nitsch, a Catholic artist who used to put on Saturday afternoon sacrifices where plebes bathed in cow's blood and put on crucifixions, turning gore into ritual, just like priests do on Sundays. Van Lieshout's works are commercial, practical and esthetic -- and certainly less precious than a Donald Judd chair and more functional than a bed by Vito Acconci. You can buy a fully functional sausage, a beautiful table or sink, or have him customize your van. But this is more than pioneer survivalism: his mix of functional elegance and a Friday the 13th esthetic does fine justice to a marriage of art and commerce.

Max Mohr
at Art: Concept
Apr. 1-May 17, 1997
Max Mohr makes odd, orthopedic-looking sculptures out of the plaster our dentist uses to mold our teeth and that flesh-toned stuff Dr. Scholls makes for our shoes. They have a clinical look reminiscent of the 1950s, and look like the kind of art George Jetson might enjoy or the kind of sculpture a manufacturer of cribs and baby toys might make. Mohr doesn't title them, which increases their curiosity, because they escape easy identification -- making me want to touch one. But they're soft and easily dent and mar.

This kind of art also stems from the body art of a few years ago, particularly Matthew Barney's, whose subject is sex and sports, and whose materials include Vaseline, high heels and football shoulder pads. But Mohr is an abstract sculptor interested in creating atmosphere with materials and not, like Barney, in generating a presexual mythology, despite their babylike quality. Max Protech will be exhibiting Mohr soon if you're in New York. But you'll have to wait until no one is looking to cop a feel.

Coda
Heraclitus said that you can't step into the same river twice -- meaning that it's the same but ever changing. Art is a bit like the Mississippi, huge in our lives, occasionally gushing over, but symbolically. Artists since time immemorial have communicated something about consciousness and unconsciousness. They mix a bit of dream and purpose to cobble together something physical, transforming their feelings into forms as ephemeral as fads and foolery, or as epic as an Attic Venus or a style called Cubism. Among the best, style merges with originality, revealing a bit of personality and substance and soul. For artists working today's five-year plan, trying to outlast our boredom and craving for novelty, they have to tweak fickle imaginations and moody egos, while simultaneously propping up a sense of identity that is our own. That is not only a lot, but it's also the best of all "known" worlds.

JEFF RIAN is a writer living in Paris.