alt.youth.media
The New Museum of
Contemporary Art 1996
invitation
















alt.youth.media
The New Museum of
Contemporary Art
















alt.youth.media
The New Museum of
Contemporary Art 1996

















Adrienne Salinger
Donna D. from
Teenagers in their
Bedrooms, 1990-93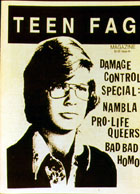 Gordon Gordon
Teen Fag
zine cover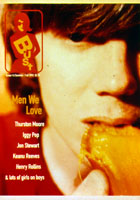 Debbie Stoller
Bust
zine cover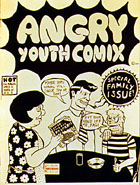 Matt Sunborn
Angry Youth Comix
zine cover


alt.youth.media

at the new museum


by Paul H-O



Th.Kds.R.Alrgt. When the United States 

weren't but a British colony a rabble-

rouser named Thomas Paine wrote and 

published a pamphlet entitled Common Sense 

that denounced the King of England and 

ruthlessly questioned the arcane political 

jurisdiction of the monarchy. The people 

didn't have magazines or TV but anyone that 

could string sentences could publish 

pissed-off prose and eventually be a big 

part in kicking ass on the nancyboy 

British. And do it with no money. It was a 

garage laboratory and a start-up deal that 

resonates with "the only way to do 

something right is to do it yourself."


The impulse to speak out against the king 

lives on today. More or less what the New 

Museum has done here is identify a cultural 

happening and dutifully collect a surfeit 

of evidence testifying to it. The 

exhibition entitled "alt.youth.media" is a 

superabundance of home-made audio-visual 

output. Every kind of recognizable media 

created by pre-teens up into the 20s is 

manifested in the form of music, video, CD 

ROMs, installations, Web sites, e-zines, and 

the rulers of the show, zines--homemade 

xeroxed collaged and self-published 

underground magazines. The video component 

of the show is heavy on the social 

conscience as are the (non-music) 

audiotapes, like a blend of NPR radio meets 

Rikki Lake. If anything in the show looks 

slick (like the installation, which is very 

multimedia and participatory and has the 

vapor trail of artist Judith Barry all over 

it though she says she just provided 

suggestions) or expensive there is probably 

an adult behind it so don't be fooled. 


The media art phenomena known as zines 

dominates the exhibition because they're 

clearly the most complete method of 

expression at it's wildest. Anything goes. 

Teen feminists, werewolves, gayphernalia, 

Africana, diarrhea, whatever! If you have 

any doubt then read these titles:


Adversaria, published by a 14-year-old from 

Canada.


Ain't Nothin' Like Fuckin' Moonshine and 

Soft Smooth Brain, both from San Francisco.

Bowel Movement Quarterly, a Pennsylvania 

zine.


Borelando, a highschooler adventure from 

New York.


Crap Hound, thematic clip-art from Oregon.


Farm Pulp, anti-christianity kids from 

Seattle.


Fierce Vagina, a personal female rant, 

Brooklyn.


Frank Jasper and Me, refrigerator poetry, 

Palo Alto, Ca.


Hello My Name Is..., specializing in tagged 

panel trucks, San Francisco.


Plus, Hungry Freaks, I'm Over Being Dead, 

J Cruelty Catalog, Jesus, Jism and Spaghetti, 

Moon Fuzz, My Last Nerve, Pretty in Punk, 

R.I.P., Speed Co.,  Temp Slave, Urinal 

Cornea, and this is just 20 percent of the 

featured zines. Nothing escapes the zine 

freaks and that includes politics.


In all fairness the task of subjecting the 

artistic and documentary output is beyond 

my journalistic interest. Its too much. 

Really, you could overdose and die if you 

tried to absorb thousands of these 

mediabotics. Not me, uh uh.

 
On overview this exhibition of youth 

culture can be grasped as a physical idea 

or social phenomena, yet actually diving 

into this jello pool of media is a broad 

and insanely jiggly undertaking. Grasp is 

the key word. If you are over 30 you can 

only peer into the mirror these artists 

hold up. If you want to know who is going 

to put you into the euthanasium, here they 

are. From Baby Boomer to the Uncontrollable 

Brain By-products Ubiquity Brigade! 


Pure raucous graffiti potential could have 

put this exhibition over the top, but a 

calmer museum mentality prevails. 

While one can sympathize with the intent 

and the ambitious effort involved with 

curatorial design of overwhelming material 

glut, the show is a bit unnaturally 

mature and overly organized, with zines 

lined up on the wall instead of in racks 

and the DJs lodged in a room behind glass. 

It's got what you could call academitus 

syndrome, a public service announcement 

that lacks true grit.


The zine art, the vids, the music, is 

frankly beyond critique. It is simply 

astounding. It's disgusting and putrid. 

It's intelligent and hilarious. It oozes 

with visceral life and twisted beauty. The 

art is a rave. These are the children of 

the new century and they are adults within 

the temporal present.



alt.youth.media at The New Museum

583 Broadway, New York, NY 10012

September 6 - November 5, 1996




PAUL H-O is a New York artist and producer 

of Art TV Gallery Beat. 


LIST OF E-ZINES:


10 Things Jesus Wants You to Know is 
the online version of the popular Seattle 
music zine.


all.ages.show is produced by a U. of Ga. 
student and offers two main topics: Rant 
(cereal commercials, Scooby Doo, the 
Atlanta Olympics) and music reviews.


b-grrrl is a skateboardin', feminist, hip-
hop zine from Melbourne, featuring women 
bodybuilders, articles on graffiti and 
notes on shopping with parents.


BlOOdY WanKEr is a fantastic resource for 
info on the New York punk scene with 
extensive indexes on comics, music venues, 
bands and more.


Bunnyhop is the cyberversion of a print 
zine; the current issue, Soft and Fluffy, 
is number 7.


Catnip Dreams features a section on 
snowboarding and articles like "Fun at K-
Mart," "No More Baggy Pants in School" and 
"Stoned Idiots."


Emily's Nest, an endearing homepage from a 
14-year-old deaf girl, includes an 
introduction to her dog, Mac, who knows 
sign language.


Exile Webzine includes the politically 
minded article "Voting in Self Defense," a 
punk view in "You're not punk and I'm 
telling everyone" and a happy-go-lucky 
attitude in "Keeping Yourself Amused."


geekgirl is a tech-filled e-zine from 
Australia, exploring everything from Kathy 
Acker to cryptography to Las Vegas. It's 
also published on paper.


GrrlZine #1 explores grrl fashion with 
articles on Calvin Klein ads, Doc Martins 
and girl designers while #2 gives the scoop 
on UFOs.


Jonas is an impressive high-school e-zine 
that offers a teen's journal entries, an 
article about behaving badly at an eighth-
grade overnight party, wacky mail 
excursions and news from around the world.


the lizard king's lair is a Web page 
from the lizard king, a sophomore at Nauset 
Regional High School on Cape Cod, including 
music pics, a rant on the death of punk and 
ramblings on technology.
l

Mimi's Page, one of the best comic 
displays online, is beautifully rendered, 
well written and gives an insightful look 
at personal experiences from high school. 
She also produces Borelando, a paper zine.


NrrdGrrl!, a site for "women from around 
the world who think, talk and act for 
themselves," includes an e-zine, Grrowl!, 
that includes the articles "I Hate Pink," 
"Watching Miss America" and a fan-mail 
section called "Toothmarks."


Oasis is produced by Youth Action Online 
and features sections for and by gay youth, 
including profiles in courage, coming-out 
stories, fiction, poetry and a series of 
paintings chronicling the life of a gay 
teen.


Ooze, a well-designed, easy to navigate and 
very readable e-zine, includes articles 
like "Fashion Tips for the Very Poor" and 
"So You Think You're a Vampire."


Rant features silly stories and personal 
rants on Chia pets, speeding tickets, car 
air fresheners and more.


Ratgrrl's Hideout offers a mix of 
feminist viewpoints, references to 
classical children's books and quotes from 
rock lyrics, plus "The Academy," which 
includes well-researched papers on topics 
like copyright in cyberspace.


Spank!, which originates in Canada, has 
fantastic graphics and "DogFest 96," a 
celebration of the world's worst video.


Speedmeter is a "zine about River Falls, 
Wisc., and the phreaks who live there."


y0lk, "an open zine for everyone," has 
stories of the youth experience in a slang-
filled, stream-of-consciousness style.


A Year in the Life of a Nerd has 
journal entries with a humorous bent from 
the senior year of a self-proclaimed nerd.


gURL, the collaborative effort of nine 
women in the Interactive Telecommunications 
Program at NYU, is an intelligent, playful 
Web site for girls.