Rainer Ganahl's
seminar at the
Villa Arson in Nice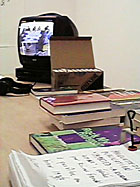 Rainer Ganahl's
portable library
letter from paris
by Jeff Rian

rainer&nbspganahl
at roger pailhas

Rainer Ganahl is an Austrian postconceptualist whose subject is language and culture. Wherever he shows he learns the language of the country. He's studied English, French, Greek, Japanese, Korean and Russian, and can speak them all reasonably well. This exhibition included a work called A Portable (Not So Ideal) Imported Library, Or How to Reinvest the Coffee Table: 25 Books for Instant Use, (French Version), 1994 - whose first version was in Japanese in 1993, video cassettes of language seminars he did this year at the Villa Arson in Nice, a table of books, a computer to click on his web site, photographs of his language lessons, framed notes in Korean, plus a Mondrian-styled Plexiglas schematic.

Except for the books and an occasional video snippet the show is less interesting than the Kafkaesque performance he puts himself through in learning so many languages with such evident proficiency. The things he shows are, for the most part, ephemera--evidentiary tokens of other cultures that he has processed through himself. He is the artwork. Maybe someday he will have severed his nascent ties only to become a free-floating signifier, a channeler, a speaker in tongues of cultures and experiences, none of which are as rooted as his Austrian ones once were, but instead amalgamate an algebra of experiences, a new currency of the present as we cross time and cultures in electronic space.


JEFF RIAN is a writer living in Paris.