Taurus
1963-96




Untitled
1959-87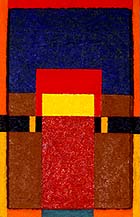 Untitled
1988-91



Untitled
1985-98
Roy Newell, "Old Man Dancing -- Expanding the Edge," through June 17 at Earl McGrath Gallery, 20 West 57th Street, New York, N.Y. 10019.

Roy Newell paints small, brilliantly colored canvases packed with an energetic, idiosyncratic geometry. Many of the 34 paintings in his recent exhibition at Earl McGrath took a decade or more to complete, and represent more than a third of this 84-year-old artist's oeuvre. While only one of a handful of solo exhibitions in a career that has spanned nearly 50 years, it is an occasion for celebration. A highly personal vision, patiently developed, has flowered in these visually triumphant works.

The largest painting is less than 20 inches square. Many are half that size. But they have the kind of scale that is reminiscent of large spaces, and the kind of presence which is both casual and monumental. Large planes of pure color slide across fields that are geometrically divided leaving tiny bands of color. While resolutely abstract, these paintings are full of the play of form and space, with slightly off-kilter shapes listing gently before hued vistas. With their lack of true right angles, and with their thin painted frames, this is geometry with a human hand, full of intimations of instability and drift that balance its thirst for structure.

In Newell's peaceable kingdom of towers and quilted fields, color reigns supreme. Worked in a variety of textures from translucent layers to dry, concrete-like expanses in low relief, color has a palpable, tactile presence. Often delicately glazing one color over a contrasting hue, Newell keeps amping up the impact of his repertoire of scarlet, lime, emerald and violet, with smaller accents of citron, apricot and bright ultramarine. The strictures of order and the pleasures of color are in a constant state of mutual stimulation.

While inevitably concerned with the history of geometrical painting, specifically Constructivism and Neo-Plasticism, Newell has made his own way. Never the theoretician, Newel is closer in spirit to a painter like Miró, the anti-idealist dreamer who puts his faith in the endless power of visual invention. Newell came of age with Guston and de Kooning, a lifelong friend. A founder of the 8th Street Artists' Club, he showed with the avant-garde of 1950s Abstract Expressionism.

In the late 1950s, after living and painting in a 15th Street apartment for eight years, Newell discovered that it was the former studio of his artistic hero, Albert Ryder. Like Ryder, Newell has obsessively reworked small paintings in pursuit of a pictorial reality that is both physical and metaphysical. For both the melancholy romantic and this rigorous poet of color, realizing their singular vision was worth risking everything.


JOHN MENDELSOHN is a New York artist who occasionally writes on art.