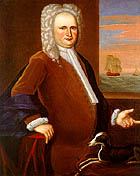 Gerardus Duyckinck
Moses Raphael Levy
c. 1720-28















Artist unknown
Adolphus Simeon Solomons
and Mary Jane Solomons
1828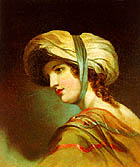 Thomas Sully
Rebecca Gratz
1830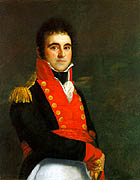 John Wesley Jarvis
Major Mordecai Myers
1813












All portraits are bargains struck between artist and patron. Both the image of the sitter and the conventions of portraiture are subject to complex, if often unspoken negotiations. Together they serve as a sliding scale whose ultimate reckoning establishes the status of a public face.

This is the thesis put forth by Richard Brilliant, guest curator of "Facing the New World: Jewish Portraits in Colonial and Federal America" at the Jewish Museum in New York (Sept. 21, 1997-Jan. 11, 1998). Sensitively selected and beautifully installed, this exhibition features 87 paintings made between 1700 and the 1830s by Gilbert Stuart, Thomas Sully, the Peales and other notable portraitists of the day. In their work we find images of the cream of Jewish society: the distinguished families, Revolutionary War heroes, leaders of the mercantile class. Women, both venerable matriarchs and fashionable society ladies, are very much in evidence. Accompanying the paintings are a selection of decorative and religious objects.

For Brilliant, the portraits are "proclamatory images" which announce a clear effort at "self-representation" by a specific group of early Americans. According to his catalogue essay, the portraits both embodied a family's "genealogical status" and served as "agents of memory," and were copied and dispersed to maintain generational ties. The portraits also became bridges between the public and private lives of their subjects. By comparing works by specific artists, Brilliant shows that exactly the same strategies of representation were adopted by Jewish and gentile patrons. Ethnic or religious designations, either explicit or covert, are absent from the portraits of Jews. Instead, according to Brilliant, they proclaim, "I am an American of this kind, and 'this kind' is a class designation."

The Jewish patrons responded to changing styles in both clothing and portraiture, adopting at first stiffly stylized portraits in the English mode, and then later the confidently individualized images of the Federal period. A charming example of the earlier style depicts the Solomons children, with older Mary Jane pointing towards a wilderness scene at twilight, while little brother Adolphus dances in the foreground.

Even with the subsequent, more naturalistic style, Brilliant asserts that the subjects fall into certain accepted roles, such as "beauties, handsome officers, and worthy burghers." Notable among the beauties is Rebecca Gratz, represented in two Sully portraits, first as a romantic Old Testament figure and then as a model of modern style. The best known Jewish woman of the 19th century, she was the daughter of a prominent Philadelphia family, a philanthropist and the inspiration for Rebecca in Scott's Ivanhoe. Among the matriarchs, Judith Solomon Cohen stands out. A founder of an important Baltimore family, she looks at us directly, with a combination of irascibility and mordant humor.

Of the handsome officers, particularly dashing is Major Mordecai Meyers by John Wesley Jarvis. More than a decade after the Revolutionary War's end, he is depicted in full uniform with his hand on his sword. A fascinating contrast is the portrait of Colonel Isaac Franks by Gilbert Stuart. This war hero is shown as both a forthright public figure and as a man wrapped in subtle atmosphere of introspection.

Stuart's genius for psychological portraiture shines forth in a number of fluid, evanescent images of wealthy burghers, including that of Abraham Touro, a merchant-trader, ship builder, and scion of the famous Newport family. Of equal expressiveness are Stuart's matching portraits of Moses Meyers and his wife Eliza, in the exhibition's final room, in which also hangs a fine Sully portrait of their son John. Accompanying the paintings are chairs and a table from the family's historic home, open to the public in Norfolk, Va.

"Facing the New World: Jewish Portraits in Colonial and Federal America," Sept. 21, 1997-Jan. 11, 1998, the Jewish Museum, 1109 Fifth Avenue, New York, N.Y. 10128.

JOHN MENDELSOHN is a New York artist who occasionally writes on art.