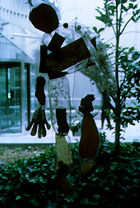 Float Series
1996









Tendril
1997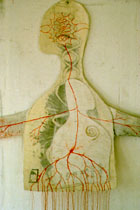 Tendril (detail)
1997









Tendril (detail)
1997




In 1995 Binda Colebrook built a house in Tompkin's Square Park in Manhattan's East Village. Suitably titled Home, it was made of sewn plastic over a metal structure and housed two wooden benches. A hand-written sign invited park visitors to enter the structure through its open doorway. Inside was a pile of note paper and a pencil, with another sign requesting that visitors write down their ideas of home and pin it to the outside. Soon the sculpture was covered with notes, transforming the work into a communal voice, a chorus.

Colebrook's note-house reminded me of the pile of stones left by visitors to Walden Pond in Massachusetts, placed there to honor Thoreau and his notion of solitude. But in constrast to that mute heap of stones, Home laid bare the way that symbols are girded round by texts. As a visual analog of this elemental abstraction, the sculpture demonstrated the way that our social reality is generated by our ideas as well as the material conditions of our lives.

In her recent exhibition at Saint Peter's Church in midtown Manhattan, Colebrook continued her exploration of the subject of "home," but home as reflected by the human body. In a group of 12 works made of cut paper with collage elements, including notes from the Tompkin's Square Park piece, Colebrook created a poetic meditation that was all the more profound for its silent setting. All the works mimic the human body in their layout, and are structured to suggest layers of fragments, like memories, that express time and care.

The bodies house memories, becoming life within life. Part of a plant, a note, a newspaper fragment, undefinable tracing that signifies a hand, a stomach or torso. These bodies are bent and expressive, moving and in flux. Selected memories that create the psychological home build the bodies that house them, fragile yet structured by the depth of the artist's perception. Some of the collages include elements that age, like plants or rusting metal, creating movement and expressing living and history. A bent stem and leaf in sewn plastic mimics a human organ, fitting into its given space.

The most resonant work at Saint Peter's was Tendril, an 18-foot-long construction of paper, gouache and thread. Tendril starts like a road map at the profile of the head. Follow the electric red thread like a path from the mind's position down to the hands, and a long journey down many roads for arms (22 in all), makes eventful the universal desire for a final destination. Simple and bumpy grey roads lead to ends, orange cuffs. Leap a few inches and hands are spread, palm up, jewel like, each. A destination is never like the journey to it, and the hands, set apart from all of Tendril give faith that finally a place exists, even if only imagined, that we would call home, summed up in vibrant hands.

Binda Colebrook at Saint Peter's Church, Mar. 21-June 30, 1997, 619 Lexington Avenue at 54th Street, New York.


JOSEPHINE MCKEE is a New York writer.