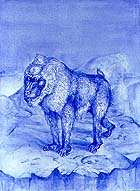 Helen Beckman
Mandrill
1997



© ArtNet Worldwide 1997





Helen Beckman
Amarynth
1997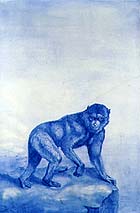 Helen Beckman
Luther Ape
1997



Daniel Carello
Repose: Water, Mountain
(Portrait of Pedro Gomez), Horizon
1997




Daniel Carello
Repose: Water, Mountain
(Portrait of Pedro Gomez), Horizon
1997
Helen Beckman's blue gouache drawings each depicts a lone monkey on a branch or ledge, set in an expansive landscape, a no-man's land. The images are based on early zoological illustrations, and have a strong anthropomorphic character -- as one might expect, the monkeys' expressions seem ... human. Described as "liminal images," the dusklike settings suggest the threshold of night and day, as well as a threshold between animal and human.

Influenced by the humanist vision of the Italian Renaissance and the taxonomical systems of the Victorian era, Beckman's drawings combine a sympathy with the "beast" with a fascination in scientific observation. They have a 19th-century feel that is reminiscent of H.G. Wells' Island of Dr. Moreau, which so colorfully described the spectrum of consciousness between savage and civilized. Beckman's gouaches invert Gauguin's famous investigation of a century earlier -- who are we, where are we going? We ourselves finally become the subject with these works.

Daniel Carello's installation, titled Repose, consists of three couches, upholstered in Naugahyde (or some contemporary variant) arranged one in front of the other, as if on a stage for an audience. The closest couch is blue, with the top of its back shaped into three scallops. The middle couch is black, its back slightly peaked in the center and at its ends. The last and largest couch is white, with a back that is rather too tall and goes straight across.

In short, the three pieces of furniture resemble the three basic elements of a receding landscape: water, mountain and horizon. Meant to suggest the classic one-point perspective, the first couch is wider than the last. Matisse called his art a figurative armchair, and Carello makes his a literal place of repose and reverie, as well as an allegorical one.

The work has a surrealist edge, too, in that it's odd to be sitting in a landscape that is smaller than you. And a bit terrifying. As the poet Elizabeth Bishop noted in Carusoe in England, if one is bigger than a landscape, then so are one's worries.

Daniel Carello and Helen Beckman at AC Project Room, Sept. 5-Oct. 4, 1997, 15 Renwick Street, New York, N.Y.

JOSEPHINE MCKEE is a New York writer.