Disturber of the Peace
1996




Disturber of the Peace
1996



Travel on Wind
1996



Travel on Wind
1996
(detail)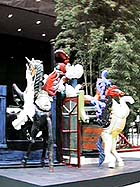 Heavenly Circle
1996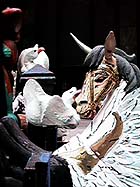 Heavenly Circle
1996
(detail)
For years the IBM headquarters at 57th Street and Madison Avenue was home to one of midtown Manhattan's most celebrated corporate atriums, a towering space that was especially beloved for its mini-gardens of soaring green bamboo.

A few years ago the computer giant fled its midtown redoubt, to be succeeded by a more anonymous real estate company. Nobly, or perhaps mindful of the kinds of zoning trade-offs that require "public amenities," the new landlords have rechristened the atrium "The Sculpture Garden at 590 Madison." Programming has been placed in the hands of PaceWildenstein, which has brought us selections ranging from Judd to Calder.

Truth be told, the atrium is a fairly miserable space, at least in terms of light, which at its best can only be described as wan and milky. On a recent spring day, with the outdoors brisk and the sky bright blue, a visitor to the sculpture garden was greeted instead with a pale wintry environment, as if Snow White had just bitten into the Queen's bad apple. But there you go, what can you do with the enervated ecology of the high-rise city.

Now on view in the sculpture garden, however, are five works by Karel Appel, a veteran of CoBrA -- the '50s European art movement that located itself in Copenhagen, Brussels and Amsterdam (Appel hailed from the last, though now he spends a good deal of his time at houses in Connecticut and New York). This show is courtesy of Galerie Lelong, which represents the artist. By the way, the title "Sculpture without a Hero" seems to have been borrowed from a description of his work by that eminent critic of art's psychopathological dimensions, Donald Kuspit (a book-sized catalogue on Appel's work is posted in the atrium, too, handy on a lectern).

Appel's five assemblages, each over ten feet tall and made in 1996, consist of found objects, piled together and brightly painted in oil colors. What makes these sculptures particularly remarkable is that they consist largely of figurative, wooden statuary -- from ship's figureheads, cigar-store Indians and Greek totems to a menagerie of winged horses, frogs, ducks, bunnies, all combined with posts, columns, balustrades, windows, arches and other architectural turns of the lath.

Appel is a wonderfully subversive clown. His works unleash a sensual deluge of the fanciful and the real, a carnival constructed out of cultural rubble that most of us would throw out. And appropriately, Appel's sculptural tableaux are omni-directional. From every angle, one sees familiar figures -- the Easter Bunny, the Good Shepherd, Pegasus -- turned into hybrid mutants to consider at lunch, or while taking five from shopping.

Appel's atrium sculptures are operatically grandiose, enlivened by fearless fantasies of kitsch vulgarity. What is modern life if not a cacophony of found objects, its actors wooden figures slathered with paint? One hopes that Appel's work could challenge the social fabric with an infectious ebullience and generously democratic spirit.

They're enough to make you laugh out loud. Hell, they're enough to make you think and really feel. But this is New York. The people in the atrium, whatever they're doing, they're not looking at art!

Karel Appel, "Sculpture without a Hero" at The Sculpture Garden at 590 Madison, New York City.

CARLO McCORMICK is associate editor of Paper.