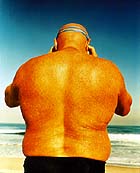 Safety in Numbers
Los Angeles Section (#7)
1997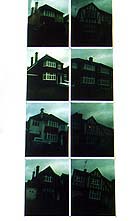 Untitled
(London Houses)
1997




Untitled
(Washing Face)
1997




Untitled
(L.A. Houses)
1997





Untitled
(Billboard Landscapes)
1997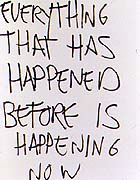 Safety in Numbers
New York Section (#38)
1997
Long wary of commercial galleries (his big New York debut was at the Aperture Foundation on 23rd Street), Nick Waplington finally allowed his mad photographs to enter the market fray with a solo exhibition last month at Holly Solomon Gallery in SoHo. For this show he filled the gallery walls salon-style with a riotous assortment of unframed, unposed color snapshots -- pictures of kids partying, kids relaxing, landscapes and suburban houses in the sun. Interspersed were the occasional placard hand-lettered with some kind of Gen-X koan. Upstairs, in the small mezzanine space, is a set of five staged, comically morbid photos of murder victims (one is stuffed in a trash can).

A cult hero in his native England, where his work is understood in terms of the Rave culture it so deftly articulates and for the working classes he has so humorously pictured through his voraciously prolific lens, Waplington posesses a casual touch that is the lowbrow heart of the contemporary Brit Pack explosion. He was an early champion of fellow photographer Richard Billingham, a long-time studio-mate of the Bros. Chapman and a collaborator with Trainspotter Irvine Welsh (their book, featuring Nick's photos of fish tanks and Irvine's texts of the conversations between the fish, is forthcoming from Simon & Schuster). Nick's subcultural integrity, intensity and authenticity is unimpeachable.

The show at Solomon was called "Safety in Numbers" (and is Waplington's fourth book). A celebration of his own lost generation's search for pleasure and identity in the ever-expanding cityscape of mundane leisure and nihilist dead-ends, the show might easily be taken for its acronym, sin. Co-published by the eminently eccentric Booth-Clibborn Editions and the unqualifiably hip U.K. magazine Dazed & Confused, Safety In Numbers is at once a sociological romp and a deeply personal journey along the nocturnal borders of youth culture as it drunkenly stumbles, E'd of its mind, towards the next millennium. In your face, overflowing and uncontainable, caught in the instant and brutally cropped, Waplington's frenzy of photos are captured in the riotous mix, taken in the mindless trance, meditations in the moment, rambunctious, rapturous, renegade and radical episodes that spill out in a chaotic cacophony of sublime spectacle.

Waplington has been most known for his hysterical, kind-hearted and intimate extended portrait of two working-class families that he has known since his childhood in Nottingham -- the subject of two books, The Living Room and The Wedding. Safety In Numbers is based on the same kind of personal travelogue that was documented in his second book, the globe-trotting (and ill-designed) Other Edens. In Safety, though, the pictures jump off the page. The book is a highly idiosyncratic photographic journal of the entropic global ghetto.

Tracing the similar but decidedly different youth scenes of three cities (London, New York and Los Angeles) Waplington admits that as much as it is about "people moving in groups -- the tribalization of youth culture," it is ultimately directed by "my own emotional inability to be comfortable alone." It is that frisson between the social or cultural and the self or individual that charges Nick Waplington's uncanny, spontaneous and classic pictures. How his "fear of being alone" confronts the inescapable "solitude of photography for Nick turns out to be an experience well worth sharing.

Nick Waplington, Nov. 22-Dec. 20, 1997, at Holly Solomon Gallery, 172 Mercer Street, New York, N.Y. 10012

CARLO McCORMICK is associate editor of Paper.