Jane Dickson
Home 2 (contempo asymmetric)
1997




Judy Fox
Ancestor
1987





Judy Fox
Delilah
1996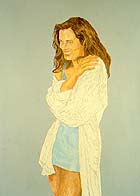 Jerry Kearns
A Delicate Condition
1998





Lisa Ruyter
Herostratus
1998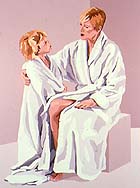 Matthew Cusick
Mother and Child in Robes
1997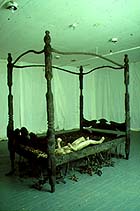 Carol Bing
The Apple Doesn't Fall Far From the Tree
1994-95
A group show curated by an artist and including the artist's own works can seem slightly unsavory. Issues of nepotism and ego can undermine the curatorial endeavor. But then there is a show like this.

Curated by artist Jerry Kearns, the exhibition includes four of his own works as well as works by some of his close cohorts and some more recent finds. (Kearns keeps his eye out for Hollywood collector Ken Logan, so knows the market of the young). The energy in the exhibition comes not from the feedback between Kearns' paintings and work by the artists who have been around (Judy Fox, Jane Dickson, Ida Applebroog), but between Kearns' work and that of the younger artists in the show (Sean Mellyn, Lisa Ruyter, Matthew Cusick).

I don't know a thing about Kearns' personal life, but if he is not a father, he certainly fits the bill. Children are a recurrent motif in the show. At the opening, visitors were either from the "older set" ( in which I now include myself), putting in a diplomatic appearance on behalf of artist friends, or in the younger wave, accompanied by brought-along children.

The draw for under-five set was Judy Fox's sculptures of babies, positioned mid-gallery, Ancestor (1987) and Delilah (1996). Fox's work has not changed in some time, but the culture around it has, as the Baby Boomers' boomlet has played out. Calm, bemused appraisal by adults at angry "inner children" has been replaced by curious mirroring by actual "outer" children. I am not sure however that Fox's babies have not been one-upped by that dancing baby that is haunting Ally McBeal every week, the shock of their verisimilitude superseded by the digital kind. They still steal the show from Ida Applebroog and Jane Dickson, though.

Generally, there is a certain style to the proceedings and it is undoubtedly generated by Kearns' work itself. Kearns first came to general attention for pop murals moralizing on sociopolitical reality, but his new work is seemingly serene portraits of people. The keynote work for "A Delicate Condition" is a painting by Kearns that shows a young woman (or a not so young woman trying to stay young). In posture and gesture, the prickly uncertainties of midlife tingle around the edges. Kearns' style is "delicate," very soft painting, with many silences. The figure's dress is hardly painted, remaining white, like a forgotten section in a paint-by-number canvas.

This gesture -- miming unfinishedness -- captures that quiet afternoon mood of midlife when all the sturm und drang of youth is gone, replaced by mature brooding upon missed opportunities. In another work, Kearns paints a baby's first slap: suggesting again that his stylistic afternoon could be a wake-up call, too. The slight vacancy, or openness, of style recurs in Lisa Ruyter's Herostratus (1998), also Pop-y, also featuring color flooding through empty outlines in the manner of paint-by-numbers (but Ruyter's seems to mimic psychedelic posters in a gentle, not lurid way).

Other younger artists are embraced here with the feeling of generous wistfulness of an artist-as-curator "father figure" both finding common ground with and passing a torch to a spiritual son or daughter. Sean Mellyn's Twins (1997) is a big, broad billboard portrait of two cute girls, each with the exact same nose-job. The bandaged noses protrude from the canvas. Though the work may be an ironic take on the culture of JonBenet Ramsay, its intensity of color, its scale and maniac glee captures the in-your-face tone of life with kids. The slick, almost plastic closure of Mellyn's style of painting is an iconic device which places art properly in a world which has little need of it.

This same clean surface is offered in the small flashe paintings of Matthew Cusick, downstairs. Cusick's paintings would look nice in any suburban powder room, and have a sheer joy in the surface and appearance of life that American art hasn't seen since the early '70s. There is no irony, disappointed critique or bitter creativity in Cusick's work, just straight-out surfing the surfaces of everyday middle-class life. Cusick's breezy acuity seems almost a happy existential gesture (or the result of a Dorian Gray-style deal) against the facts of life and death.

Cusick's works are situated on a wall in the downstairs gallery next to Inga Bing's The Apple Doesn't Fall Very Far from the Tree (1998), a four-posted bed conceived as tomb, with a horrifying figure laid in the middle. Bing's work is soulful as bohemian gestures should be. Cusick's paintings provide a remedy to Cheeveresque terror just as a shiny Utility Vehicle does, and in fact are much more in touch with American life during the late '90s Wall-Street-bonus-baby boom.

As Kearns' new work appears itself to have a delicate relationship to the real, the entire exhibition can be looked upon as the meditation by an artist upon what's out there, how, or if, his work fits in, and how all that reflects upon his world-view at a certain point in his life. Since this is a natural part of conversation in the art world, it's not a bad thing to see such conversations on the walls now and then.

"A Delicate Condition," Mar. 14-Apr. 25, 1998, curated by Jerry Kearns at Kent Gallery, 67 Prince Street, New York, N.Y. 10012.

ROBERT MAHONEY is a New York art critic.