Nocturne
1950













Composition en Gris, Beige et Blanc
1950













Fleurs Blanches et Rouges Dans un Vase Gris
1953













Paysage de Vaucluse No. 3
1953














Maisons en Sicile
1953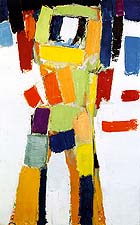 Figure
1954













Méditerranée
1954













Nicholas de Staël
in New York
1953
New York in the 1950s saw the golden years of Abstract Expressionism. De Kooning, Kline and Rothko were the rising stars of a triumphant and distinctly American art. But Paris too was enjoying the post-war boom, witnessing the pictorial elan of its own new generation of painters and sculptors.

One of the best -- a "meteor," as one critic described him -- was Nicholas de Staël, who was the subject of a recent exhibition at the relatively new Mitchell-Innes & Nash Gallery in New York. Lucy Mitchell-Innes, an expert in postwar painting and sculpture, left Sotheby's to form this business partnership in 1994 with David Nash, an authority in Impressionism. The gallery is thus hoping to add de Staël to a short list that includes the de Kooning estate (represented in conjunction with Matthew Marks).

For de Staël it is some 30 years since his last New York exhibitions, which included a Guggenheim Museum retrospective (1965-66) and shows with such eminent Upper East Side dealers as Stephen Hahn (1961) and Paul Rosenberg (1963). By contrast, following his death in 1955, de Staël was honored by no less than eight separate gallery and museum retrospectives in France, Italy, Germany and Switzerland.

How can one understand de Staël's position in the post-JFK art world? David Nash explained that with the rise of Abstract Expressionism and Pop in the '60s, collectors who had been buying the European avant-garde (Picasso, Braque, Balthus, Dubuffet and de Staël) gradually became more "chauvinistic" in their collecting. "They and the museum boards they managed had moved towards the art of the New York School."

"And without significant representation," Nash added, "de Staël was soon to fade into the background." Nash explained that because de Staël was an abstract painter, his reception among American collectors was a bit slower compared to the figurative artists they were acquiring from Paris (Matisse and Giacometti, for example). Nonetheless, he appeared in all the major collections -- that of National Gallery founder Paul Mellon and Duncan Phillips of the Phillips Collection in Washington, D.C, to name but two.

De Staël was born into a Russian noble family in St. Petersburg in 1914, three years before the Bolshevik Revolution. His family left Russia in 1919 and moved first to Poland, where his father died, and finally made its way to Brussels, where de Stael was educated. He spent his early life traveling throughout Europe before settling in Paris. He served in the French Foreign Legion in 1939.

After years of hardship and hunger in occupied France, de Staël began to enjoy a post-war public success that eventually led him to move his family to the south of France, away from the pressures of Paris. He purchased a chateau in 1953 at Menerbes in the Vaucluse. He also took a studio in Antibes, which is where, physically and emotionally exhausted, he took his life on Mar. 16, 1955.

De Staël has became a French national treasure, and has been the subject of numerous European retrospectives and critical studies. Today he may be considered too romantic, too colorful, too emotional and too decorative for the more ascetic and conceptually savvy audience. But for many painters he is just this side of a minor saint. He is thought of as a master of "touch" and "bravura" and "impasto," all words that describe the kind of energy a painting might contain without being explosive. De Staël's work is always determined, controlled and poised, much like the temper of the aristocrat he portrayed.

It is de Staël's color and conquest of his painting surface that gives his canvases their fortitude, no matter what their size -- and there are some very small works in this show. With palette knife in hand, de Staël was able to carve and cut his paint so that its edges seem sharp and hard. The resulting compositions, as is the case of Le Mur (1951), have the curious look of cross sections of crystalline minerals or ancient mosaics. In this picture de Stael composed a palette built of grays, greens and browns, all treated with the same value and texture, mute like stones but visually eloquent.

In fact, his paint always speaks volumes. Méditerranée (1954), for example, or Maisons en Sicile (1953) both exist in an expressive style that is not unlike his modernist American contemporaries, the colorists Milton Avery and Hans Hofmann. Figure (1954) is de Staël at his best: large, flat, sharp segments of bold primary and secondary colors patched together to form a costumed figure standing, perhaps, on the local beach in Antibes.

The color and light of the south are greatly displayed throughout de Staël's career. As in the case of Klee, it was the north of Africa that captured his favor and opened him to the extremes and formidable qualities of color. In lieu of drawing, color became the basis of all of his compositions, the text of experience measured through the density and warmth or coolness of variable hues.

De Staël is one of those painters whose forebears are present at all times. Like many 19th-century French painters -- Jongkind and Boudin come to mind -- he was in love with the sea and the beach. He excelled in the kind of early modernism explored by the Nabis and Gauguin. Finally he mastered a quiet classicism that placed him in relationship to Morandi. Yet his appetite for such composure could erupt instantly into a wildly colorful mid-day landscape of hot, bright orange, red and yellows, as in Agriegente (1954), or turn back to a more somber, meditative mood of the same view at dusk.

The catalogue accompanying the show at Mitchell-Innes & Nash includes statements by de Staël's children, a chronology of the artist's career and an important introduction by Eliza Rathbone, curator at the Phillips Collection. Rathbone organized an excellent exhibition and authored an equally excellent monograph on the artist some eight years ago. (Back in 1949, Phillips Collection founder Duncan Phillips was one of the first American collectors to acquire a de Staël. He eventually added about a dozen to his museum's holdings.)

In her essay Rathbone focuses on the lack of critical attention paid to a painter who was described in a 1956 eulogy by the English art historian Douglas Cooper as "the truest, the most considerable and the most innately gifted painter who has appeared on the scene in Europe or elsewhere during the last 25 years."

De Staël could be Hollywood's picture of the sensitive, chain-smoking French painter, part aristocrat and part bohemian, whose elegant life and tragic suicide at the youthful age of 41 still fascinates the Parisian art world. A well-traveled life, success achieved and then forgotten -- it's great material for a novel.

But de Staël's tall, dark and handsome profile was part of the Existential generation of post-war France, and there is something missing in terms of a serious appraisal of his paintings and career. Mitchell-Innes & Nash hopes that this show will begin to turn the tide in a new direction.

"Nicholas de Stael: Paintings 1950-1955," Nov. 4-Dec. 13, 1997, at Mitchell-Innes & Nash, 1018 Madison Avenue, New York, N.Y. 10021.

MICHAEL KLEIN is a New York dealer and curator.