Untitled
1953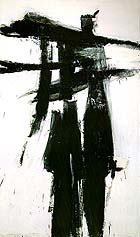 Untitled
1957









Untitled
1959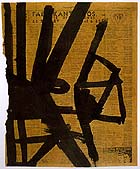 Study for High Street
1952








Figure
1950








Untitled
1945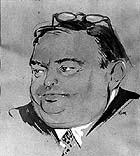 Mayor LaGuardia
ca. 1941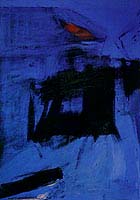 Scudera
1961
The New York art dealer Allan Stone is a legend in the art world, having been associated with such artists as de Kooning, Cornell, Warhol and Eva Hesse, who he presented very early in her career. Stone champions artists the old-fashioned way, with great personal enthusiasm and dignity, and has done so for some time. This wide-ranging survey of paintings and works on paper by Franz Kline is the third in a series of tributes to artists Stone has been affiliated with over the past 35 years (preceded by a show of works by Wayne Thiebaud and "Liquefying Cubism," a 1995 overview of de Kooning's work from 1929 to 1969).

The dealer came to Kline rather late in the painter's career, Stone told me in a recent conversation in the second-floor office of his gallery on East 90th Street in New York. He was sitting at a handsome Art Nouveau desk designed by Antonio Gaudi, surrounded by an extraordinary array of African artifacts and modern pictures. "I would hope," Stone said, "that this show will make people think again about his work."

Stone remarked on one work in the show, an untitled horizontal canvas painted in 1953, as a particular favorite. "I've lived with it for years. It usually hangs right there," he said, pointing to the wall right behind me. The painting is a white field marked with a bold black outline of a rectangle. The shape floats in the field, and is painted as if it appeared out of nowhere and vanished from view just as quickly. Kline's sense of place and time is very much in this image, as is the speed of modern city life. The "architecture and atmosphere," as Stone has titled his exhibition.

I asked Stone for his thoughts about the Kline retrospective organized in Spain in 1994-95, and his smile turned sour. There were at least five fakes in the show, he said, and it was not well curated. His opinion of "Franz Kline: Black and White 1950-1961" at the Menil Collection in Houston, which later came to the Whitney Museum, is similarly dour. "It was pissy and badly hung," he said. "There is still room for a great Kline show."

The art dealer Charles Egan, who gave Kline his first solo exhibition in 1950, was something of a mentor to Stone when it came to Kline and other artists of the New York School. "Egan was a difficult character," Stone told me. "He was bitter because he saw the strength of these new painters early but it was Sidney Janis who made a financial success with them." Egan started his gallery in the 1940s, but it took nearly 20 years for the movement to become internationally recognized. I opened my gallery in December 1960."

If de Kooning's oeuvre can be defined as dramatic, then Kline is the master of the spectacular. Where de Kooning's extraordinary paint-handling is comparable to the Old Master styles of Rubens or Franz Hals, Kline is engaged with a more extreme and forceful paradigm. The internal architecture of his monumental black and white paintings makes them a tribute to the vitality of abstract painting per se, but also refers to the American landscape that formed and influenced Kline's vision.

His acclaimed black-and-white images, like Ninth Street (1951) and Riverbed (1961) are the work of a classicist with a stunning flair. His energetic talent could equally be expressed in smaller works on paper such as Study for Hoboken (ca. 1950) and Study for Mr. (1959).

That same classicism is no less telling in the intensely colorful palette of his last years. Like the lights of a Broadway marquee, everything is bright and bold and very much turned on -- greens, yellows, oranges set against the black of night, and the black of the city's asphalt streets.

One of the best works in the show is Scudera (1957), a late painting. A vertical field of Matisse-like blue is marked with wide black brushwork, looking more like writing on a wall than a space into which we might drift. Aaron Siskind's contemporary photographs of walls covered with graffiti and weathered placards come to mind, as do the pictographic images of Adolph Gottlieb's seemingly forgotten canvases of the same period. Kline shares with Gottlieb a sense of the primary, the active and the dramatic in paint.

The Kline show is arranged chronologically. Upon entering the gallery, the visitor sees two Kline self-portraits followed by a number of caricatures from the '40s of New York personalities such as Al Smith and Fiorello LaGuardia. Like Edward Hopper, Kline began his artistic journey as a professional illustrator.

Moving into the main portion of the show there is a selection of abstract works from the '40s that reflect the influence of de Kooning, who Kline met in 1943, and that of Lee Krasner too. By 1950, however, Kline was very much in his own domain as an American abstract painter. Everything was about the application of paint. Nevertheless, he was not proclaimed as one of "the Irascibles" by Life Magazine in 1950. Such publicity was seen as "selling out," and Kline refused the invitation to participate. As Stone points out in his essay for the catalogue that accompanies the show, Kline's development as a mature painter seems to have been almost spontaneous. He spent the next 11 years, until his untimely death in 1962, filling in his territory.

Beginning in the early '50s, Kline used pages from the Manhattan and Brooklyn telephone books as his drawing paper. Against this distinct background he built his abstract architectonics, which read like silhouettes. Many of these drawings have yellowed over time and the rich black inks and oil paint have faded somewhat. They still demonstrate Kline's method, however. A bold stroke, a quick thrust, thick lines balanced toward and against the edge of the paper. In some of these sketches there is the suggestion of a space, or the dynamics of a structure. In others it is purely improvisation and wizardry.

When the late art critic Harold Rosenberg defined Action Painting and referred to the canvas as an arena for action, he could well have been thinking largely about Kline. Are his paintings not witnesses to passionate action and movement? The palette is in many instances limited but in terms of "action," Kline is truly the model painter.

Late in his life Kline talked about the associative properties of his magnificent abstractions. New York's scale, its towering skyscrapers, hectic traffic grid and many bridges can be imagined in many of Kline's paintings, from Study for High Street (1952) to the attenuated Study for Shenandoah Wall (1960). The black markings on a six-foot-tall, untitled black-and-white painting from 1957 mirror the post-and-lintel construction of Manhattan's Williamsburg Bridge, located near Kline's Lower East Side studio. A color paper piece called Verticals (1959) resembles the cranes, I-beams and mammoth scaffolding that accompany the around-the-clock building that seems to go on in New York.

In the end Stone is right. Kline is much more complicated an artist than people might suspect. It certainly would be timely in this era of mighty retrospectives for a New York museum to take on the challenge. This Kline show is a good point of departure.

"Franz Kline: Architecture & Atmosphere," Oct. 28, 1997-Jan. 17, 1998, at Allan Stone Gallery, 113 E. 90th Street, New York, N.Y. 10128.

MICHAEL KLEIN is a New York dealer and curator.