Caspar David Friedrich
The Source of the Elbe
in the Riesengebirge
ca. 1830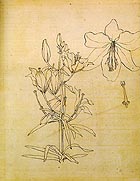 Philipp Otto Runge
Lily Blossoms
ca. 1808




Freidrich Overbeck
and Peter Cornelius
Mutual Double Portrait
1812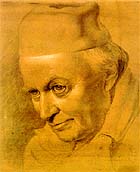 Philipp Veit
Portrait of Joseph Anton Koch
ca. 1830





Johann Wolfgang von Goethe
Weathered Blocks of Granite
on the Luisenburg
1820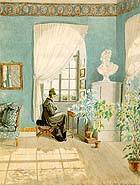 Ludwig Emil Grimm
Lotte Grimm in Her Room
1821




Adolph Menzel
Portrait of His Brother Richard...
ca. 1849





Pierre Bonnard
Femme assise à une table...
1925




Pierre Bonnard
Nu assis...
ca. 1915-20





Sol LeWitt
Irregular Form
1998
This summer, New York galleries and museums have put on view an impressive selection of exceptional drawings. If your taste runs to the German, you have reason enough to exalt in the Frick's current loan show "Fuseli to Menzel: Drawing and Watercolors in the Age of Goethe." The 80 sheets from the private collection of the late Munich attorney Alfred Winterstein date from around 1750 to 1850. The mix includes Neoclassic, Romantic and Realist styles and a little bit of almost everything else. Most of the 49 artists are German with the exception of a few Austrians and Swiss.

One supernal watercolor by Caspar David Friedrich alone is enough to make the show a must-see. The Source of the Elbe in the Riesengebirge (c.1830) is a vast landscape, with Friedrich's friend and fellow-artist Georg Friedrich Kersting resting against a stone with his back to the viewer, positioned near the brook which eventually will swell into the Elbe. Isolated at the bottom of a marshy slope with towering peaks jutting into the sky, the small, lone figure invites the viewer to join in his contemplation of the deceptively tiny rill that flows into the immense power of the natural world that surrounds him. As in the best works by this most important of German Romantics, nature and the heavenly sublime are inseparable.

The three drawings by Philipp Otto Runge, the other great German Romantic, are not as inspiring yet are well worth a look. His Lily Blossoms (ca.1808) is an elegant contour drawing in black ink, a technique often associated with Neoclassicism, but here Runge uses line to embody the sensual ebb and flow of the burgeoning force within the flowers.

Another major strength of the collection is the work of southern German Catholic artists, who founded the Nazarene Brotherhood in Rome. Looking back to the Renaissance, these artists sought the eternal through figurative history painting that idealized the past and contemporary world as well. When not engaged in producing murals, devotional pictures or illustrations of the Bible, they often made portraits of each other.

Two of the principal Nazarenes, Frederich Overbeck and Peter Cornelius, made their justly famous Mutual Double Portrait (1812) based on two earlier naturalistic studies, which they simplified and merged onto one sheet. The younger Overbeck is depicted by Cornelius with his head turned toward the viewer, while Cornelius stares into space, symbolic of his immortality to the Nazerenes.

As good in its own way is the more naturalistic Portrait of Joseph Anton Kock by Phillip Veit. This ca. 1830 chalk, whatever its debts to earlier art, offers an incisive psychological reading of this teacher and mentor of the Nazarenes.

Johann Wolfgang von Goethe himself was a talented amateur, who turned out over 3,000 drawings during his life. Of course, many were linked to his scientific interests, like his Weathered Blocks of Granite on the Luissenburg (1820). The way he has labeled the stones makes them look like they have eyes, and transforms them into something Philip Guston might have conjured up late in his career. This piece is eerie in a way Goethe could not have foreseen.

A very different world is represented by the utterly charming Lotte Grimm in her Room (1821). This drawing by Ludwig Emil Grimm, a brother of the two Grimm brothers of fairy-tale fame, is all Biedermeier cosiness. The comfy high-ceilinged interior in which the attractive young woman knits is filled with light and pleasantly decorated with patterned wallpaper, an overstuffed sofa, plants, paintings and a Neoclassical bust.

The last artist included in the show is Adolf Menzel (1815-1905), perhaps outside of Germany the most underrated of late 19th-century artists (although Degas thought highly of him). He is represented by three works, among them a wonderful sketch of his brother, Richard. The loose energetic drawing of this pastel on brown paper from around 1849 is so free that it seems totally modern. Menzel used the drawing as a study for his lithograph Moliere.

Like Turner, Menzel split his work into two separate groupings, especially early in his career -- one batch for the public, who knew him as a history painter to the Prussian court, and one for himself and a select group of friends. Menzel was practically a dwarf, about four and a half feet tall, and a workaholic, who was eventually ennobled because of his immense talent. That talent is visible all too infrequently in this country.

"Fuseli to Menzel" is on view at the Frick Collection in New York, June 23-Sept. 6, 1998, and subsequently appears at the J. Paul Getty Museum, Los Angeles, Sept. 15-Nov. 29, 1998.

The Bonnard show at the Museum of Modern Art is causing a sensation with its gorgeous and enigmatic paintings. Displayed with them are a handful of highly finished works in watercolor and/or gouache, really paintings in alternative media. To catch a glimpse of Bonnard the draughtsman, you have to walk a few blocks north and visit Wildenstein & Co., where 80 sketches and drawings from the artist's estate are on view to coincide with MoMA's retrospective. "Drawings by Pierre Bonnard (1867-1947)" consists primarily of small drawings in pencil or sometimes black ink ranging in date from 1895 to 1945. Most have not been exhibited before.

Of course, there are many nudes, along with flowers, street scenes, and a lovely drawing of the rooftops of Le Cannet. Sensitive drawings of two children talking in a garden, a seated sad little girl, diners at a restaurant, and wonderful sketches of animals -- cats, dogs, a lion, a crocodile and a bird of prey with its victim clutched in its talons are notable. More unusual are drawings of sailors, a sinking ship, and a two jolly clowns at a circus. Many of the more unusual subjects relate to Bonnard's illustrations for books for children and adults.

Although not technically a part of the show, which is confined to a rear gallery, about a dozen of Bonnard's paintings hang on Wildenstein's walls. Bonnard fans won't want to miss the opportunity to see them, too. The show is on view June 22-Oct. 10, 1998, at Wildenstein and Co., 19 East 64th Street.

American drawings are the subject of two small concurrent shows at Danese. One is "Fifty Years of American Drawings." This eight-piece grouping is less a survey than a selection, but there is no quibbling about the quality of the work. The earliest piece is Alexander Calder's black-ink drawing from 1932, Lion Tricks. Daringly, a circus lion tamer has laid down his whip and holds a hoop before a shaggy-headed beast. Even with a gun in his belt, the tamer evokes more smiles than angst and, of course, much admiration for his creator.

Blue Symphony by Hans Hofmann from 1945 is just that, a completely lyrical work in vivid colors with no static rectangles of paint intruding. The heads of birds can be made out amid the vigorous swags and dollops of paint. It's a beauty.

Except for a Philip Guston abstract from 1952, the remaining drawings are from the '60s. A small cartoony Roy Lichtenstein called Study for' Thank You'from 1964 in colored pencil is a knockout, but all of them -- whether by Diebenkorn, de Kooning, Motherwell or Twombly -- are enjoyable.

As a bonus, in another room is an absorbing show of six "Large Scale Works on Paper," all from the last few years, featuring works in a variety of media by Barry Le Va, Sol LeWitt, Robert Mangold, Sean Scully, Richard Serra and Terry Winters. Both shows are on view through July 24 at Danese, 41 East 57th Street.


N.F. KARLINS is a New York writer and art historian.