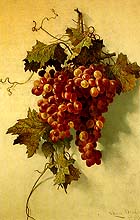 Edwin Deakin
Grapes Against White Wall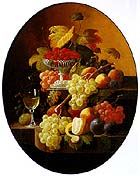 Severin Roesen
Two Tiers of Fruit with
a Compote of Strawberries




George Foster
Still Life with Fruit/
Gooseberries in a Bowl



Sanford Robinson Gifford
Two Pears on a Tabletop
ca. 1866




David Johnson
Three Pears and an Apple
1857




Paul LaCroix
Asparagus, Tomatoes and a Squash
1865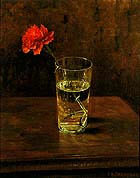 Charles Grant Beauregard
Red Carnation in a Glass of Water
ca. 1880s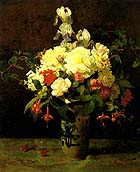 George Cochran Lambdin
Vase of Flowers
1875



John B. Duffey
October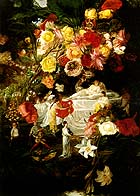 James Farrington Gookins
The Fairy's Christening
1880
Prepare to be quietly seduced by a spilled tin cup of blackberries, a bunch of hanging grapes or Two Pears on a Tabletop. Filling the walls of the Berry-Hill Galleries on Manhattan's Upper East Side are almost 100 still lifes in a show titled "For Beauty and for Truth." Modest in size, tightly drawn, lovingly colored and dating (for the most part) to the latter half of the 19th century, they form the delightfully eccentric "William and Abigail Gerdts Collection of American Still Life."

A self-described "pear freak," William Gerdts is an art history professor at the City University of New York and considered by many to be the greatest living authority on American still life paintings. Together with his art historian wife Abigail, he has amassed a broad collection, one of whose subspecialties is single fruit or single fruit-type paintings. The artists on view range from John C. Francis, whose Basket of Pears and Crabapples looks luscious enough to eat, to Severin Roesen, the immigrant artist noted for his elaborate displays of abundance, like his Two Tiers of Fruit with a Compote of Strawberries.

But Willliam Rickarby Miller, "Master of the Pineapple"? George Forster, "Master of the Gooseberry"? Gerdts positively revels in obscure yet capable and overlooked fruit painters, snaring little gems like Anna Eliza Hardy's Three Oranges (1865) (professional women artists is another specialty) and Martin J. Lawler's A Peach (1879). Many of their works are knockouts, but explaining this fascination with single fruits is perhaps best left to the psychiatrists. It certainly makes the collection unique.

In addition to bunches of grapes, mounds of cherries and assorted apples in various states of decay, many of the paintings really do have pears in them. Two of the most interesting pear paintings represent contrasting social worlds. Sanford Robinson Gifford, the Luminist landscape painter (still lifes by non-still life artists is another subgrouping), is represented by Two Pears on a Tabletop (ca. 1866). The ivory handled knife, the gold-edged plate, crystal wine glass and expansive white tablecloth depict an environment very different from David Johnson's Three Pears and an Apple (1857), which sit on a napkin that fails to hide the split and chipped wood tabletop beneath them. Gerdts was right to call himself a "pear freak."

But there is more to the collection than simply fruits. There are also vegetables. From the late 19th century come Onions and Garlic by Arnoud Wyderveld and Asparagus, Tomatoes and Squash (1865) by Paul LaCroix, although Gerdts in a very entertaining personal essay in the show's catalogue says he draws the line at fish. However, a lovely drawing by George Loring Brown, who is better known as a landscapist and figure painter, is aptly titled Shoe, Herring and Book. And Andrew John Henry Way's almost 17th-century Dutch Oysters (1872) slips in, too. Fish are only comparative rarities, considering the abundance of fruit and flowers.

A single Red Carnation in a Glass of Water (ca. 1880s) with bubbles of water by the little-known Charles Grant Beauregard is a spare yet dazzling little piece that subtly captures the passing of life without the usual sentimentality attached to drooping Victorian flower arrangements. George Cochran Lambdin's flamboyant arrangement of peonies, fuchsia, roses and iris in his Vase of Flowers (1875) is equally alluring but comes from a contrasting esthetic. Roses, lilacs, geraniums, arbutus and even water lilies are the stars of other works.

Examples of most major late-19th-century schools are present in the Gerdts collection, but not always by the most outstanding practitioners. Two trompe l'oeil still lifes by De Scott Evans, a pair of hanging apples and a twosome of hanging -- you guessed it -- pears do not equal a William Michael Harnett, but they are well-done. Availability and, of course, price help determine what goes into private collections. Gerdts rues not being able to afford a Pre-Raphaelite work by Henry Roderick Newman, but his outdoor piece by the unknown John Duffey called October, a surreal assortment of leaves, flowers and stems in a landscape, more than makes up for it.

There is even a representative of that most Victorian of genres, fairy painting. I doubt anyone has heard of James Farrington Gookins, but after seeing his The Fairy's Christening (1880) with its little people cavorting under the flowers, maybe viewers will remember the name.

The exhibition also encompasses 14 botanical publications (to go along with all that fruit) and several examples of Neoclassic marble sculptures of hands and feet. These seem to be more acquired tastes. Viewers not keen on them can always relax in front of a juicy, split pomegranate. Or, of course, any number of pears.

"Of Truth and Beauty" was first shown at Amherst College's Mead Art Museum before coming to New York. Amherst is the undergraduate alma mater of both William H. Gerdts and Frederick D. Hill of Berry-Hill Galleries.

"For Beauty and for Truth: The William and Abigail Gerdts Collection of American Still Life," May 9-June 26, 1998, at Berry-Hill Galleries, 11 East 70th Street, New York, N.Y. 10021.

N.F. KARLINS is a New York writer and art historian.