Lonnie Holley
Him and Her Hold the Roots
1994




Ken Grimes
Untitled (Throw the Switch? On Off)
1993
(detail)





Thornton Dial Sr.
The Tiger Cat
1987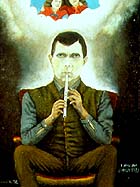 John Kane
The Girl I Left Behind
1920






Horace Pippin
Christ before Pilate
1941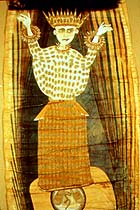 Martin Ramirez
Untitled (Large Madonna) ca. 1950





Martin Ramirez
Untitled
ca. 1950





Leroy Person
Untitled (Armchair)
1979





William Edmondson
Untitled (Seated Girl with Cap)
ca.1935






Emery Blagdon
Detail of Large Hanging Piece
1956-1984






Justin McCarthy
Candlelight in Acapulco Ice Follies
1964






Bill Traylor
Untitled (Runaway Goat Cart)
1939-42






Nellie Mae Rowe
Untitled (Nellie in Her Yard)
1978






Charlie Logan
Examples of various objects . . .
ca. 1978-84
from the collection of the Philadelphia Museum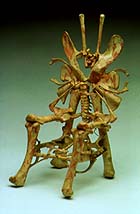 Eugene von Breunchenhein
Untitled
ca. 1967-69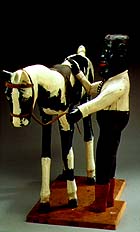 Edgar Tolson
Man with Pony
1958
Folk art? Outsider? Self-taught? Whatever you call it, you can see plenty of the best of this type of art in the blockbuster survey "Self-Taught Artists of the 20th Century: An American Anthology" at the Philadelphia Museum of Art, Mar. 10-May 17, 1998. This huge show -- 300-plus works of painting, drawing, sculpture and installation by 32 artists -- is studded with masterpieces, and ranges from paintings by Grandma Moses and Horace Pippin to works by hot mid-career artists like Thornton Dial, Ken Grimes and Lonnie Holley. And it seems somehow fitting that self-taught art is the subject of the first of what promises to be a slew of millennial roundups of art of various kinds made during the last 100 years.

The show is organized by the Museum of American Folk Art in New York, which tapped two outside curators to organize the show: Elsa Longhauser, director of the Paley/Levy Galleries at Moore College of Art and Design in Philadelphia, and curator of the 1981 show "Transmitters: The Isolate Artist in America," and Harald Szeemann, an independent curator at Kunsthaus Zurich since 1981, director of the Bern Kunsthalle from 1961-69, director of Documenta 5 in Kassel in 1972 and co-organizer of the 1980 Venice Biennale.

From the thousands of talented self-taught artists this century has produced, Longhauser and Szeeman chose 32, whose works are presented in depth. The art ranges from the haunting drawings of Mexican-American Martin Ramirez to the Expressionistic brushwork and vivid colors in the raffish paintings by Justin McCarthy to an exuberant and eye-opening installation of the "healing machines" of Emery Blagdon, all 700 of them, glittering in a barn-like structure as they would have been seen during the artist's lifetime in Nebraska.

The show opens with an installation of several large mixed-media pieces by Thornton Dial Sr., best known for his huge constructions incorporating found objects that comment either directly or obliquely on race. Three 1997 works that deal with the death of Princess Diana, all painted in his signature palette of red, black, and white. A scrim-like canvas Stone Wall (Diana's Land) provides the backdrop for Doll House and Bad Picture (Diana's Last Ride), which contains a bicycle and camera. Decorated with Christmas lights, the tableau, infused with home-grown Expressionistic power, demonstrates the ambitious reach of this rapidly developing artist who was born in 1928 and has been exhibiting since 1987.

In an adjacent gallery are an equally moving series of older paintings by John Kane and Horace Pippin. Kane's Self-Portrait (1929), borrowed from the Museum of Modern Art and too little on display these days, is surely one of the greatest self-portraits this country has produced and a pleasure to see. The Philadelphia's own Pippin, The End of the War: Starting Home (1930-33) with its carved frame, is another masterpiece.

Martin Ramirez, poor and Mexican-born, probably worked on the railroad in California before suffering a breakdown. He was deaf and mute and spent from 1930 until his death in 1963 in a mental institution. He created his powerful drawings, at first secretly, from scavenged paper often taped together with spit and mashed potatoes. He showed his works to a sympathetic psychologist, who gave him better materials and, thankfully, saved the works after Ramirez died. They reaffirmed Ramirez's sense of self and his Catholic and Hispanic heritage in an alien environment.

The largest two-dimensional work in the exhibition and one of its greatest is Ramirez's Untitled (Large Madonna) from around 1950. This towering female figure with upraised arms and doleful expression is clothed in patterned Mexican dress and stands atop a sphere with a snake at her feet. The sphere or globe is balanced on two pylon-like supports with one of Ramirez's mysterious tunnels running between the supports. The figure, which seems like a conflation of Our Lady of Guadeloupe and Our Lady of el Pueblito, and the supports metamorphose into a giantess almost 11 feet tall raging against fate.

Across another wall in the same room parades a series of seven variants of a common Ramirez theme, a caballero on a horse atop steps in a wood-patterned frame. These extraordinary graphite drawings are paired with the brightly painted carved wood or carved wood and metal chairs of the much less well-known North Carolina artist Leroy Person. The installation adds up to airy space of highly charged art that no visitor will easily forget.

The eight small limestone carvings of William Edmondson, like his Crucifix (c. 1940), are spare, monumental and majestic. The brilliantly colored abstract paintings of Eugene von Bruenchenhein with their sensual, vaguely animal or plantlike forms, his paint and concrete sculpture, elegant painted chicken-bone chairs, ceramics, and his nude photographs of his wife Marie, his perpetual Eve and partner in his art -- unrecognized until after his death, are other reasons to go and enjoy this diverse and beautifully installed show.

As a finale, there is an installation of the approximately 700 metallic "healing machines" in a barn-like setting, similar to the one in which their creator, Emery Blagdon, Nebraska farmer turned artist and healer, once kept them. They turn one beside the other, dangling from the ceiling on wires and over square, abstract paintings, illuminated by strings of colored Christmas tree lights. Most are made of metal bits, intricate interweavings of wire, foil, wood, and other odds and ends. They were assembled between 1956 and 1984. Each is different, and they add up to sparkling whole that is guaranteed to raise your spirits if not to cure any physical complaints.

I admire Longhauser and Szeemann's choice of artists, with a few reservations. Like everybody else, I would have selected a slightly different array, but that is one of the benefits of a show like this. It stimulates viewers to reassess their own ideas of who is important. More on that later. What I do not always agree with is their choice of individual objects. It is upsetting to experience the air pockets of second- and sometimes third-rate material sprinkled throughout the show. It is especially jarring after seeing so many great pieces.

Are the Justin McCarthy paintings and drawings his best? I love this artist's vigorously brushed canvases, and his Candlelight in Acapulco Ice Follies 1964, owned by the Museum of American Folk Art is a joy to see. One look at the gaily costumed couples on the ice and you sense the swirling skirts and flashing blades of the dancing skaters and start shuffling your feet. The other McCarthy's are good to great, but in a show with so many masterpieces and with so many wonderful pieces available by McCarthy, why can't they all be great?

There are tepid works among the selection of Bill Traylor drawings and elsewhere. Most of the time, there are better examples of the artist's work to offset the lesser ones, so the public's impression of the artist is not affected too much -- with one exception.

Nellie Mae Rowe (1900-1982) was a black woman who worked in Vinings, Ga., from her 60s to the time of her death. Her most interesting two-dimensional works are brightly colored drawings that combine her own face with figures of animals and abstract designs that melt into one another. She also made figures out of chewing gum and sewn dolls, none of which are on display. Any visitor who is not already familiar with her work is unlikely to fully appreciate her achievement, because there are simply too many secondary drawings in the show.

While there are several sepia photo blow-ups touting a new book of photographs on environmental works like the Watts Towers in a passageway out of the show in Philadelphia, they are not a part of the exhibition. Large-scale works that cannot be moved represent problems, but why not use current color blow-ups of the Watts Towers, James Hampton's foil-wrapped Throne of the Third Heaven of the Nations Millennium General Assembly, now installed at the National Museum of American Art, and S. P. Dinsmoor's concrete Garden of Eden in Kansas, for example. In an exhibition that purports to be encyclopedic, why not include them, especially if you take the trouble to recreate Blagdon's environment?

There is not one textile artist among the 32 masters. With the large number of accomplished quilters and eccentric clothing makers that this century has produced, perhaps it was difficult to single out just one or two. The Philadelphia Museum has mounted a two-gallery exhibition of self-taught material drawn mainly from private collections in the area to complement the larger show. It includes elaborately pieced, stitched, and button-decorated clothing made by the Missouri artist Charlie Logan in the late '70s to early '80s, which are owned by the Philadelphia Museum. Logan would be a prime candidate for inclusion as a master to my eye. (There is also a Nellie Mae Rowe drawing that is more compelling than most of the ones in the main show.)

Other artists represented in the Philadelphia Museum's exhibit that I might have chosen as masters are Inez Nathaniel Walker, whose color pencil drawings of women are dizzyingly cross-patterned, David Butler, whose painted snipped-tin works once formed an environment in his yard, Minnie Evans whose dense, colorful drawings interweave faces and sprawling, floral designs, and Bessie Harvey, whose black-painted and accessorized figures made from tree limbs scream of their African past with a throaty roar. Other artists that I would have dubbed masters are Felipe Archuleta, Calvin and Ruby Black, Miles Carpenter, Victor Joseph Gatto, Peter Minchell, J. B. Murry, the "Philadelphia Wireman," and Malcah Zeldis.

Of the 32 artists that were chosen by Longhauser and Szeemann, one, A. G. Rizzoli, whose retrospective is now at the Museum of American Folk Art in New York, is not represented by any work at all in Philadelphia. His architectural "portraits" will join the exhibition on its travels to the High Museum in Atlanta, the Amon Carter and Modern Art Museums in Fort Worth this year and, in 1999, to the Memorial Art Gallery of the University of Rochester, NY, and The Wexner Center for the Arts in Columbus, Ohio.

The show's catalog contains essays on the individual artists by writers from an assortment of disciplines with varying, usually useful, results in addition to three others addressing the exhibition as a whole. They are by philosopher and critic Arthur Danto, art historian Maurice Berger, and folklorist Gerald Davis. The bibliography, plus an extremely handy timeline, makes it a valuable publication.

In other ways, the catalog is disappointing. It does not adequately document the exhibition visually. Some items in the Philadelphia show are not illustrated, while others not in the show appear. I was told certain fragile items are due to be shuffled at other venues, but which ones will appear where are not noted.

Also, the plates are not always accurate. At times they aren't even close. I leafed through the catalog looking for my favorite Morris Hirshfield painting, American Beauty (1942) a luminous nude seated in an ocher chair, whose curves are echoed in the blue and pale yellow patterned and swagged drapery that surround her like a halo. All I saw was an orange-red muddle.

The show doesn't come to the Museum of American Folk Art until the end of its six-city tour, in 1999. In the meantime, the museum has on view works by five of the artists -- Morris Hirshfield, Leroy Person, Martin Ramirez, Eugene von Bruenchenhein, and Joseph Yoakum -- developed by Elsa Longhauser. "Self-Taught Masters of the Twentieth Century: Perspectives on Patterning" will feature a newly discovered group of drawings by Martin Ramirez, on loan from the Guggenheim Museum. The show opened at the Museum of American Folk Art, at 2 Lincoln Plaza at 65th St. on March 14 and runs through June 7th.

N.F. KARLINS is an art historian and critic.