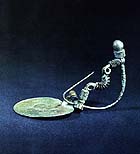 Bronze fibula
Italic
Iron Age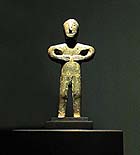 Figure of a man
Italic
Early Iron Age








Cauldron
bronze
ca. 9th century B.C.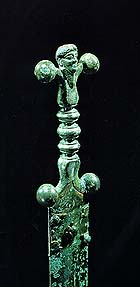 Sword
Celtic
Iron Age
Is this quirky metallic object a miniature junk sculpture from the '50s? It looks like it could be, but in fact it's an Italic bronze fibula, or brooch, from the Iron Age, ca. 9th century B.C. This little stunner is just one of the show-stoppers in "Plain Geometry: Armament and Adornment in Pre-classical Europe" that opened at Frederick Schultz Ancient Art in New York on Oct. 7 and remains on view through the end of January. The show contains about 20 examples of Bronze Age and Iron Age weapons, vessels, tools and jewelry and makes a case for a shared esthetic, based upon abstract form, among the tribes of pre-Classical Europe.

The bronze fibula is a masterful elaboration of a common early European bow-and-pin form. The pin, cast and then hammered, is tipped with a round knob and decorated with a coil of wire. The serpentine wire bow, even more extravagant, is ornately twisted and decorated with concentric discs. The end of the bow was hammered flat into a hold for the pin, then fashioned into a closed spiral that is engraved with triangles and crosses.

The same triangles reappear on the incised belt of a tiny bronze male figure only three inches high, also dating from the early Iron Age. Nude except for his belt, the figure is one of several from central Italy. The back of his head is rounded, but his face is flat with eyes made by two impressed points. He probably represents a warrior.

Carrying only a sword or spear, Celtic fighters entered battle unclothed, daubed with blue paint and sporting terrifying spiked hair, held in place by dried mud. They did wear torques, or neck-bands, and armlets to ward off blows. A twisted bronze torque and several armlets are on display in the show. One pair of armlets are etched with chevrons and parallel lines, while another consists of two flattened spirals, one above the other, fashioned from a single length of bronze wire.

Two bronze cauldrons with bird designs and circles done with strings of repousée semi-circles date from around the 9th century B.C. They demonstrate another form of shared abstract decoration.

The show includes a pure gold gorget, or crescent-shaped neck-band, sensitively and simply wrought, engraved with parallel lines, and ending in alate forms. It is one of only 29 known examples, and is shown here with a large, hammered gold bowl found along with it. Both date to the late Bronze Age or early Iron Age, around 1200 B.C.

The most recent piece in the exhibition is a mid-1st century B.C. short sword. The iron blade is held by a bronze hilt that terminates in a finely modeled male head, said to be the best example of a Celtic bronze sword head in existence. This show of rarities also includes spear points, ax heads, other fibulae and a belt pendant decorated with tiny circles.

"Plain Geometry: Armament and Adornment in Pre-Classical Europe," Oct. 7, 1997-Jan. 31, 1998, at Frederick Schultz Ancient Art, 41 East 57th Street, New York, N.Y. 10022.

N. F. KARLINS is a New York art historian and critic.