John Anster Fitzgerald
The Artist's Dream
1859





J.M.W. Turner
Queen Mab's Cave
1846






John Anster Fitzgerald
The Nightmare
ca. 1857-8





Joseph Noël Paton
The Quarrel of Oberon and Titania
1849






Joseph Noël Paton
The Quarrel . . .
(detail)






Edwin Henry Landseer
Scene from "A Midsummer Night's Dream," Titania and Bottom
1848-51





Richard Dadd
Contradiction: Oberon and Titania
1854-8





Richard Dadd
The Fairy Feller's Master Stroke
1855-64





Richard Dadd
Photograph taken at Bethlem,
mid 1850s





Richard Dadd
Sketch toIllustrate the Passions: Agony-Raving Madness
1854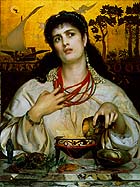 Frederick Sandys
Medea
1866-68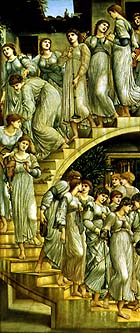 Edward Burne-Jones
The Golden Stairs
1872-80





Dante Gabriel Rossetti
Beata Beatrix
ca. 1864-70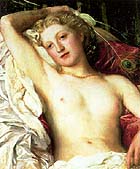 George Frederic Watts
A Study with the Peacock's Feathers
ca. 1862-65





Aubrey Beardsley
How King Arthur Saw the Questing Beast and thereof Had Great Marvel
1893






Frances Macdonald
The Sleeping Princess
ca. 1895-6






Hans Holbein the Younger
The Ambassadors
1533





Hans Holbein the Younger
Charles de Solier, Sieur de Morette





Portrait of a Confucian Scholar
Choson dynasty
late 18th - early 19th century
The current London art season remains at a steady boil, thanks to the firestorms of protest that exploded around "Sensation," the cutting-edge British art show from the Saatchi Collection that just closed at the Royal Academy. British art Bad Boy Damien Hirst was actually approached about being put up for membership in the Academy. He snorted to the press about what a stuffy old place it was and declined. Rachel Whiteread, who received the Turner Prize in 1993, also declined the offer. Several Academicians have quit the group in protest of the exhibition. So much for the Academy's "forward charge" into contemporary art.

This "succes de scandal" needs no further comment now, except to note that art in London is lots more than animal carcasses!

Victorian Fairy Painting
The Royal Academy's new show, "Victorian Fairy Painting" (to Feb. 8, 1998), for instance, can make one quite light-headed with its world of fairies, sprites, imps and hordes of "little people." The exhibition presents works both by artists who created a distinct genre out of these wisps of the imagination, like John Anster Fitzgerald, and others who made only an occasional foray into fairy territory, like Joseph M. W. Turner.

Fairyland was a spacious realm during the late 18th-century to around World War I. Why? It offered an escape from the horrors of rapid industrialization, for one thing, as well as from the increasingly difficult-to-ignore revelations of Darwin. And these other-worldly beings were part of a vogue for spiritualism and the occult, a kind of fin-de-siecle New Age that has curious echoes in our own time.

One less well-known side of fairyland included malevolent spirits along with the nymphs and sprites. In John Anster Fitzgerald's The Artist's Dream, The Nightmare and several other canvases, we see not fairies and elves, but ghouls and ghosts. The little bottles near the prone and bloodied woman in The Nightmare, for example, probably contained laudanum, a derivative of opiate that was slugged down by Victorian men and especially women, as often as we do aspirin. Fairy painting, a peculiarly Victorian addiction, is one of the few instances where inner demons from a specifically chemical addiction were acknowledged to be on the prowl.

Most fairies were more pleasant, frothy things. A renewed interest in the plays of Shakespeare gave Victorian painters, always on the lookout for fresh subject matter, an opportunity to paint these increasingly popular gossamer beings -- and to paint them tantalizingly nude. In The Quarrel of Oberon and Titania by the Scot Sir Joseph Noël Paton, one of Queen Victoria's favorites and friend of the Pre-Raphaelite John Everett Millais, the semi-nude principals stand over sleeping lovers surrounded by an assortment of whimsical beings arranged in mini-tableaux. At a time of public prudishness, the attachment of wings to naked bodies permitted nudes to be viewed freely, even when passionately embracing as in several vignettes in The Quarrel. Other passages are comic, sentimental or downright bizarre.

The sheer number of figures, and the radical changes of scale among them, make for absorbing looking. When Paton's The Reconciliation of Oberon and Titania was exhibited, no less a personage than Lewis Carroll admitted to counting 165 fairies. Throw in assorted flora and fauna, real and imaginary, and the canvas teems with incident and becomes quite surreal.

Other takes on Shakespeare resulted in very different pictures. Turner's one fairy painting, possibly based on more than one play, features a glorious fiery mist with a castle looming vaguely in the distance and minuscule female nudes frolicking in a river or lake in the foreground. One female has arisen from the water by catching hold of the legs of a flying swan.

Henry Edwin Landseer's only fairy subject -- and his only Shakespearean one -- is his Scene from "A Midsummer Night's Dream," Titania and Bottom with the adoring Titania snuggled next to a large clothed Bottom with a small nude Puck and fairies riding white rabbits observing them. As befits the greatest of British animal painters, the realistic Bottom and bunnies are much livelier than the swooning Titania.

The two greatest fairy paintings are by Richard Dadd. One, Contradiction: Oberon and Titania, was lent by Andrew Lloyd-Weber, a long-time collector of Victorian art when not writing the likes of Cats or Evita. Dadd's Contradiction is full of hundreds of tiny, meticulously limned fairies and forest-floor plants. Whereas your eyes flicker over the whole of Paton's work, Dadd's uncanny skill at organizing a seamless overall design makes you want to open your eyes wider to take in the entire painting all at once.

Dadd's other, possibly more vivid, masterpiece is The Fairy Feller's Master Stroke. While fairy tales and folklore of various kinds sparked many of Dadd's fairy paintings, this work was based on something that he made up himself. He wrote a commentary about it. Neither of these influential paintings was seen when Dadd was alive, as he painted both in Bethlem Hospital, where he was confined for killing his father. Dadd was an academically trained painter before his crime and rejection of his design in a competition for a decoration for the Houses of Parliament may have hastened his schizophrenia.

A small exhibition at the Museum of London devoted to the history of Bethlem Hospital (from where we get "bedlam") includes photographs of the Dadd as well as several of his other works. They pale next to his fairies. Thanks to enlightened administrators at Bethlem, at least Dadd was allowed him to paint. He took four years to complete Contradiction and nine for The Fairy Feller.

"Victorian Fairy Painting" is rich in the work of illustrators, like George Cruikshank, Arthur Rackham, Walter Crane and Richard Doyle (uncle of Arthur Conan Doyle) who played prominent roles in popularizing fairies. Rackham's watercolor, The Serpentine Is a Lovely Lake and There is a Drowned Forest at the Bottom of It, with its dragon-fly-like tumble of female fairies, is especially winsome. Not all the pieces in the show are wonderful works of art, but they all are works of wonder, something we can always use.

If you can't see "Victorian Fairy Painting" in London, you can catch it in the states. The exhibition will come to the University of Iowa Museum of Art in February, as the idea for "Victorian Fairy Painting" actually originated there in the person of Pamela White Trimpe. She was working on the idea when she met colleagues at the Royal Academy, who were arranging for the loan from the University of Iowa's collection. The Royal Academy staff immediately hopped aboard. After Iowa, the show will travel to the Art Gallery of Ontario in Toronto in June. If all else fails, get the catalogue. It's first rate.

The Pre-Raphaelites
The fairy exhibition is not the only big show in town. Along the Embankment at the Tate Gallery is the equally impressive "The Age of Rossetti, Burne-Jones and Watts: Symbolism in Britain 1860-1910," more than 130 works in an exhibition marking the Tate's centenary year. The show argues that the British Pre-Raphaelites were part of the larger Symbolist Movement, a continental exploration of the states of the mind. Not content to rely on its own fine collection, the Tate has added public and private borrowings, mixing works by Gabriel Rossetti, Edward Burne-Jones, George Frederick Watts and Aubrey Beardsley with others by Courbet, Redon, Fernand Khnopff (the ephemeral woman in his Who Shall Deliver Me? really is haunting), and two peripatetic Americans, James A. McNeill Whistler and Elihu Vedder.

The Symbolist period overlaps that of "Victorian Fairy Painting," and the interest in psychology is nothing new. What is different is the probing of darker states of mind, albeit leavened with a smattering of hopeful and mystic pieces. All of Symbolism's major themes are here: sleep, death, passion and sex. The female form and the landscape are the objects through which the artists projected their anxieties and hopes.

Fear of women was translated into woman as temptress or harpy (as in Frederick Sandys's Medea) or as a distant (often dead or dying) too-good-to-be-true apparition (as in Rossetti's Beata Beatrix). Even erotic fantasies, a staple of Rossetti's works, offer viewers a passive female, as if an active one were too much to deal with. His Bocca Baciata (or "kissed mouth") is typical. A richly attired and ornamented woman, with bee-stung lips and surrounded by flowers, is shown looking distractedly into the distance. Viewers can feast their eyes on her and never meet her gaze, something that could endow her with individualism and power. Considering the offerings of Hollywood today, has anything changed in 100 years?

The show features several impressive mystic landscapes, including examples by Watts and one gorgeous sunrise with a tiny figure by Frederic, Lord Leighton. Other works dwell on dark tales from classical myth and romantic literature and relate directly to continental models. The wildly imaginative, sensual, brooding and ultimately horrific black-and-white illustrations from Beardsley for Salome and Morte d'Arthur are reason enough to see this show. The Sleeping Princess, by Frances Macdonald, Charles Rennie Macintosh's sister-in-law and sometime collaborator, borrows its overall composition from a work on the same subject by Burne-Jones and the figure's flowing hair from Rossetti, artists whom Macdonald, Macintosh and Macintosh's artist-wife Margaret all admired. The drawings offer a visual lesson in how Symbolism melded into Art Nouveau.

If you miss the show, better get the catalogue or book a flight to Munich or Amsterdam, where it will be presented later in 1998.

Holbein and more
The National Gallery's principal temporary show, "Holbein's 'Ambassadors'" (to Feb. 1), is a rigorous examination of its beloved painting by Hans Holbein, The Ambassadors (1533). The exhibition is part of an education series, and as such it analyzes each ingredient in this huge double portrait, which is crammed with accessories -- musical instruments, a globe, navigational devices, etc. The painting, newly restored, contains a large anamorphic skull, capable of being seen in proper perspective only from a specific vantage point off to the side of the picture. Why Holbein included this oddity remains a mystery. The exhibition's main interest to art-lovers is the other Holbeins on display, which include several magnificent drawings from the Queen's collection.

The British Museum is hosting an exhibition of Cartier jewelry designs that was recently at the Metropolitan in New York. In its upper galleries are three other small shows worth a detour. "The Schilling Bequest of Old Master Drawings" (to Jan. 4) contains about 60 sheets from just over one hundred mostly German Renaissance pieces. Besides Hans Baldung, and Sebald Beham, among others, non-German artists are also present. A Stefano della Bella, a Poussin, and a lovely Parmagianino are memorable.

An exhibition devoted to the prints of William Hogarth and how they have been perceived since their creation in the 1700s is the subject of "Hogarth and his Times: Serious Comedy" (to Jan. 4). The show commemorates the 300th birthday of this sly satirist.

Finally, in anticipation of a new gallery devoted to Korean art in the year 2000, an overview of Korean art from the Neolithic to the 19th century is already on view. A gold crown and gold earrings from the 5th to 6th century from royal tombs, an iron Bhudda of Healing from the 10th century, and a selection of celadon-glazed pottery are especially impressive. A lacquer-over-wood box, made to hold "sutras" or Buddhist texts in the 13th century, is covered with tiny chrysanthemums and lotus scrolls fashioned from mother-of-pearl, tortoise shell, and bronze wire. It is one of only eight similar works in existence.

And these are just some of the museum shows in London! Good looking!

N.F. KARLINS is an art historian and critic.