Thomas Gainsborough
Study of a Lady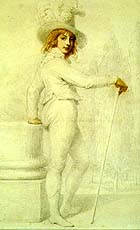 Richard Cosway
Portrait of Horace Beckford . . .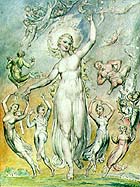 William Blake
Mirth
illustration to Milton's L'Allegro, 1816-20




J. M. W. Turner
The Pass at Faido, St. Gotthard, 1842-43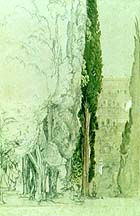 Samuel Palmer
Villa d'Este at Tivoli . . . , 1837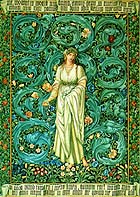 Sir Edward Coley Burne-Jones and William Morris
Study for the Flora Tapestry, ca. 1884
The Morgan Library's "To Observe and Imagine: British Drawings and Watercolors, 1600-1900" is the museum's first survey of its holdings in this area, believe it or not. The show features more than 140 works by Hogarth, Gainsborough, Turner, Blake, Burne-Jones and others, organized by Stephanie Wiles, the Morgan's curator of drawings and prints. The earliest thing in the show is a ca. 1620 drawing by Indigo Jones of The Banqueting House, Whitehall, a drawing for the backdrop to a Ben Jonson play. The show closes with a selection of Pre-Raphalite works, many obtained in 1910 when Pierpont Morgan acquired the collection of artist and collector Charles Fairfax Murray.

The Morgan is to be congratulated for conjuring up such a spirited mix of the typically English -- dreamy pastoral expanses, pink-cheeked maidens and matrons, formal male portraits, vicious social satire -- and the unexpected. For every vine-bordered View of Rye from the Northeast (1633) by Sir Anthony van Dyck, there is something like George Romney's Orestes and the Furies (c. 1776-8), with its figure and abstract background dramatically slashed out in a brooding dark brown wash. The Romney would not look out of place in SoHo today.

Among the most rousing pieces by the greats, Thomas Gainsborough's Study of a Lady is utterly beguiling in the way the artist lets the backing of light brown paper show through his dashes and squiggles of white and black chalk. The artist's whiplash line is infinitely more interesting than his subject's placid facial features.

The eight works by Joseph Mallord William Turner range from a contemplative and topographical view of Dunster Castle (1790s) to his tumultuous The Pass at Faido, St. Gotthard (1842-43), featuring a minuscule detail of carriage and figures almost lost amid glorious swirls of light, water and clouds. John Ruskin commissioned the work and, not far away, the Morgan is showing Ruskin's own watercolor copy of a corner of the piece.

Yet a different kind of Turner is the pared down and completely abstract Wreck on the Godwin Sands: Sunset, a bequest of Alice Tully from 1996. It is as evocative as it is compositionally spare.

Don't miss the tiny landscape with Milton, shepherds and sheep in a strip at the very bottom of William Blake's The Sun at His Eastern Gates (ca. 1816-20), an illustration of Milton's L'Allegro. It is one of 12 sheets by Blake in the show.

The Study for the Flora Tapestry (ca. 1884), surely one of the most enchanting Pre-Raphaelite watercolors in this country, turns out to be a joint effort by Sir Edward Coley Burne-Jones (figure) and William Morris (background).

William Hogarth's red chalk drawings for Beer Street and Gin Street and "The Four Stages of Cruelty" (all ca.1751) are preparatory works for popular prints that were meant to be published cheaply and intended to reform the lower classes.

Not every great work is by a famous artist. One of the most enjoyable works in color is the vivid Parakeet in Flight by Edward Lear, perhaps better known for his limericks than his drawings, although he did quite a number of both.

"To Observe and Imagine: British Drawings and Watercolors, 1600-1900" at The Pierpont Morgan Library, Jan. 14-May 3, 1998,29 East 36th Street, New York, N.Y.

N.F. KARLINS is an art historian and critic.