Chest, 1795-1805
Eastern Shore of Virginia















Tall Clock, ca. 1810
Southern Valley of Virginia, probably Montgomery (now Pulaski) County















Square Tea Table, 1755-1770
Rappahannock River Basin, Virginia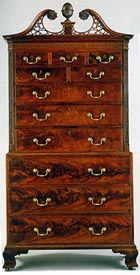 Double Chest of Drawers with Secretary, 1765-1780
Charleston, South Carolina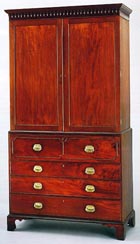 Clothespress with Secretary, 1804-1813
Thomas Lee and (P.J.?) Grimball
Charleston, South Carolina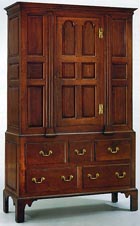 Clothespress, 1765-1780
Eastern Shore of Virginia

















Above: Design for a secretary drawer in Cabinet-Makers' London Book of Prices
Below: Secretary drawer




















Sofa, 1815-1825
Attributed to William King, Jr.
Georgetown, District of Columbia



















Armchair, 1770-1800
Maryland, possibly Anne Arundel County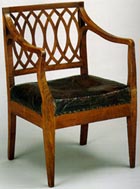 Armchair, 1790-1815
Probably Monticello Joinery
Ablemarle County, Virginia
Such an impressive crowd of curators, dealers, editors and designers showed up at the Equitable Gallery on Sept. 10 for the opening of "Furniture of the American South: Masterworks from Colonial Williamsburg," that I asked myself, "What's the big deal?"

After all, during the past two decades, Southern furniture has been the focus of much laborious research, exhaustive documentation and scrupulous interpretation, not only at Colonial Williamsburg in Virginia but also at other institutions, especially the Museum of Early Southern Decorative Arts (MESDA) in Winston-Salem, N.C. I had thought the word was out, but I quickly found out that my perception was far from reality.

I was surprised to learn, for instance, that the 50 objects on view at the Equitable Gallery through Oct. 31 provide "the first comprehensive scholarly treatment of Southern furniture to be presented in New York." It seems amazing that the only city in the world to represent virtually every culture had not yet paid tribute to Southern furniture design.

And, to my astonishment, I was also informed that no extensive presentation of Southern furniture has been made since 1952, when Helen Comstock, then editorial consultant to The Magazine Antiques, conceived of the loan exhibition "Southern Furniture, 1640-1820," mounted at the Virginia Museum of Fine Arts in Richmond. "Until now," claims Sally Gant, director of education at MESDA, "that was considered by many the first and last exhibition on Southern furniture."

Fortunately, the Equitable exhibition is a preview of an even more comprehensive, long-term show of nearly 200 pieces that will open on Nov. 18, 1997, at the DeWitt Wallace Gallery at Colonial Williamsburg. Both exhibitions are accompanied by an impressive 639-page catalogue written by curators Ronald L. Hurst and Jonathan Prown entitled Southern Furniture 1680-1830: The Colonial Williamsburg Collections (Colonial Williamsburg Foundation and Abrams).

When I asked Jonathan Prown just why the exhibition is so important, he replied, "Walk into any gallery titled 'American Furniture' in a major Northern institution and you will see Philadelphia high chests and Newport block-fronts." He continued, "Isn't it a bit curious that furniture representing the South is still largely left out?" As a result, he claims, "When you say Southern furniture people conjure up very inappropriate stereotypical images of coarse, heavy country pieces." Though ever-expanding knowledge about Southern furniture is increasingly available, there is still a big gap in its placement in the greater story of the history of American furniture.

So for those not familiar with late 17th- to early 19th-century Southern furniture, the Equitable exhibition offers a great many surprises -- probably many more than you will find at any other American show -- and those familiar with the subject will be delighted to see a broad representation of pieces carefully woven into their cultural and ethnical framework, frequently dispelling long-held, but clearly erroneous, beliefs. Although the furniture is arranged in four galleries that are relatively small in comparison to the sometimes extremely large pieces of furniture, the installation allows the visitor to compare and contrast the products of each of the three distinct regions of furniture making in the South -- the Low Country, the Chesapeake Bay and the Backcountry.

The introductory text panel -- perhaps overly defensive in tone -- is quick to recommend that existing Northern-based esthetic categories be renounced in favor of evaluating the furniture within a cultural context, where skilled craftsmanship and decoration can be viewed in relation to the diverse lifestyles and traditions of the various regions. This appeal is made easy by the succeeding text panels, which describe the geography, cultural history and overall furniture characteristics in each region. Disappointingly, though, the graphics on the walls that show the geography of the three regions serve more as decorative backdrops than as visual aids.

Of all the remarkable pieces of furniture in the show, the highlight is the Charleston furniture made during the Revolutionary era, undoubtedly among the most sophisticated in both structure and design. "Charlestonians sought in every possible way to emulate the life of London Society," wrote South Carolina governor John Drayton (1766-1822) in 1802, and thus it should be no surprise that their arts also were dominated by British design. Indeed, for a long time much Charleston furniture was thought to be British until it was discovered in this century that the interiors of many pieces were made of cypress, an indigenous wood found in abundance in South Carolina. A superb example in the show is a Charleston double chest of drawers of 1765-1780 with a concealed secretary. Considered by experts to be the best of its kind, it has a distinctive broken scroll pediment with pierced fretwork, and chamfered corners with fluted pilasters. The form, closely modeled after a British prototype, was taken up by cabinetmakers in Charleston earlier than anywhere else in America and remained popular until after the American Revolution.

Subsequently, and again mimicking British trends, the double chest of drawers was gradually abandoned in favor of the clothespress, a large and costly form that was never adopted on a wide scale by Northern gentry. Two examples are displayed in the exhibition: one made in Charleston between 1804 and 1813; the other made on the Eastern Shore of Virginia between 1765 and 1780. While the Charleston press is typically fitted with full-width shelves for folded garments and textiles, the Virginia press contains symmetrically organized cast-brass L-hooks and knobs for hanging clothes along with shelves on the sides for folded items. The Virginia press, of black walnut and pine, was made in an isolated rural area, and is more roughly constructed by a vernacular carpenter than the Charleston press. Made of mahogany and cedar and signed by the Scottish-born cabinetmaker Thomas Lee (c. 1780-1814), the Charleston piece includes an interior secretary drawer taken from a plate in the English pattern book The Cabinet-Makers' London Book of Prices, and Designs for Cabinet Work (1793).

Showcased in the first gallery is an exquisite so-called Grecian sofa made in Georgetown (in the Chesapeake Bay region) between 1815 and 1825. The carved rosettes on the arm terminals and the arrangement of the carved petals, leaves and veining on the crest rail have led to an attribution to the Irish expatriate William King Jr. (1771-1834), who designed a documented suite of 24 armchairs and four sofas with similar ornamentation for the White House when it was restored after the War of 1812 by President James Monroe.

At the other end of the spectrum is a Welsh-inspired hearth armchair that on first impression looks quite crude. Yet, this Maryland chair, asserts Prown, "is a remarkable thing when it's taken into account that it is the only known American interpretation of a Welsh form." Made at the end of the 18th century, it was clearly owned by someone not terribly wealthy, but when viewed within its rural context the huge scale suggests that it was highly important to the owner. The chair was originally thought to have been imported, but a microscopic examination undertaken two years ago revealed that with the exception of the white oak legs, it is made entirely of tulip poplar, an American wood never used in Britain.

Another highly unique example is an armchair (one of nine pieces in the exhibition that are being reproduced by Baker Furniture), whose "neat and plain" style is characteristic of the post-Revolutionary South. However, the fact that it is made of solid cherry, a wood common in both Europe and America, and that its square stance and ascending arms are reminiscent of French neoclassical examples, has led the curators to conclude that the chair may very well be a product of the joinery shop at Thomas Jefferson's Monticello. As American ambassador to France in the late 1780s, Jefferson returned to Virginia with a large assortment of French furniture, some of which was copied by craftsmen in his joinery shop, and extant examples share a number of structural, material, and stylistic details with this chair. Even so, the curators emphasize, additional research is needed to understand the full range of the Monticello shop's traditions and its regional influences, as well as Jefferson's role in the cultivation of Franco-Piedmont furniture.

In fact, despite all the advances of the past several decades, there is still much to be learned about all areas of the Southern furniture-making trade. It is everyone's hope that the exhibition will spark a further interest and far-reaching enthusiasm for Southern furniture -- not only among museum scholars but also by students and collectors. Certainly, however, on the 45th anniversary of the first Southern furniture exhibition scholars can proudly claim that there no longer is the "dearth of information" that Antiques editor Alice Winchester lamented about in 1952, and that, in the words of Colonial Williamsburg's Graham Hood, "things Southern" are no longer "relegated, overlooked, ignored, lost." The phenomenal contributions in Ronald Hurst and Jonathan Prown's exhibition and catalogue finally bring about the recognition that "Southern Furniture" can indeed be classified as "Cultural Masterworks."

For those interested, an evening of lectures on Southern furniture is being presented at the Equitable Gallery on Oct. 6 at 6:00 p.m., and a four-day symposium entitled "A Region of Regions: Cultural Diversity and the Furniture Trade in the Early South" will commence on Nov. 13 at Colonial Williamsburg. For information about the latter call 800-603-0948.


MARY ANNE HUNTING is a freelance writer specializing in the decorative arts.