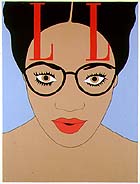 Double L
1995



B Musing About Charlotte Corday and the Course of . . .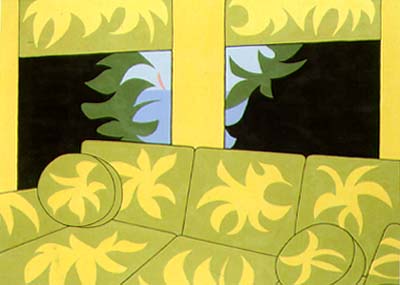 Yellow Couch
1986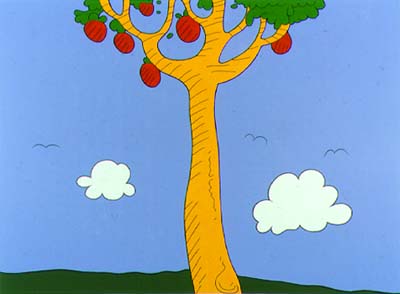 Fruit Tree
1996





Mode d'emploi and Irish Women
1988





Installation view




Sofa
1982




Night Titanic
1984
The dealers warned me, with grace and conviction, that John Wesley was unavailable for interviews. We can answer your questions, they said, but you can't have his number because he won't talk to you. They're just being protective, I thought, so I called him up using 411. People call him Jack. We had a long conversation, discussing our mutual television addiction and making various meaningless pleasantries. I hazarded that maybe I could visit his studio and talk about his work. With great warmth, Jack told me he would be happy to meet at the gallery the next day for a combined ArtNet and Art TV interview.

I was feeling really smooth. I called the gallery to confirm our appointment. To my surprise, they said Jack had already called them and said that no way would he talk to me and why had the gallery given out his number when he'd specifically asked that they not? Oops. Hey, sorry!

Jack Wesley is one of those famous artists I didn't know was famous. He is definitely beyond the "Ought To Be Better Known" category the art field seems to have invented. The show at Jessica Fredericks Gallery, called "My Favorite Paintings," gave me my chance to catch up, it being a kind of time-warp assembly spanning 30 years. My assignment as your scribe actually forced me to read about Jack, and that's when I found out that he's going to have an entire museum devoted to his work, paid for by Donald Judd's Chinati Foundation. He was also in Documenta V in Kassel and on the cover of Art in America. And I had thought he was an emerging artist specializing farm-animal frolics and nudes.

What is Wesley's personal artistic blueprint, gauged on the assemblage of works laid out here? First, there's the bright pastel colors, mainly baby blue and pink, colors that have an appeal that seems almost hard-wired, what with their omnipresence at the nursery level. Then, there's the very flat and sharp-edged surfaces, the rich gouache paint texture and the graphic black lines zip us right into Pop art's comic-strip division, with a splash of Japanese woodblock inspirational Zen that practically runs over the viewer -- viz., the black hull of Wesley's 1984 picture Night Titanic. The hull cuts through the water darkly, a metaphor for life, like so many other things.

Wesley's continuously intriguing Bumstead paintings are represented here in all their erogenous glory. My fave is the naked Blondie reclining on a bed, seen in B Off his Feed. These faceless figures don't reveal much, but you can still read things in, as usual in the coital category. They're being faceless, for one. The artist did state, though, that Bumstead represented his father, who Jack found dead of a stroke in the family bathroom when he was six. Then again, Bumstead is everyman (you know that, I know). Here Dagwood is Marat, the French revolutionary who had such bad eczema he had to sit in the bath all the time. In this show Bumstead sits in his tub, like Marat did, before Charlotte Corday offed him in that famous painting by David.

Another big Wesley motif is mirror images and image repetition. In Klimt Nude, for instance, there's a nude with wavy black tresses that's presented Rorschach-style. I'm not sure what I think about this -- are two sexier than one? Is one somehow more real than two? In a pair of works called Mode d'emploi and Irish Women, a grid of laughing women seem to mock a spectacled man in a tie who takes a drink. Wesley has a highly developed sense of the absurd, amplified when images are repeated. Plus, recurring memory, I suppose. Last time he showed, according to the gossip, Jack did mostly bestiality-type pictures, with animals, that didn't go over that well with the collectors (wonder why?).

"My Favorite Paintings" takes a broader approach, presenting pictures of different types, from different periods. Besides Bumstead and the nudes, there's the beautiful and pastoral Fruit Tree, that is kinder that Dr. Seuss, and Yellow Couch, a sadly solitary chaise in an empty room with a window looking out on a sea of foliage. The clear presence of mortality if I have ever seen it, plus proof that Matisse lives.

Wesley is called Pop and he's said he's a Surrealist. Whatever he is, he has certainly maintained his outsider status. This exhibition is about a personal history with an amazing visual point of perception. It's beyond me to pick out a weak spot, even if Jack did blow me off for the interview.

John Wesley, "My Favorite Paintings," Feb. 13-Mar. 21, 1998, at Jessica Fredericks Gallery, 504 West 22nd Street, New York, N.Y. 10011.

PAUL H-O is a New York artist and producer of the public-access television show, Art TV.