Chris Burden
The Flying Steamroller
1991-96
All photos B. Adilon
unless otherwise noted.








Harald Szeemann
Photo:
Christoph Keller









La Halle Tony Garnier
Photo:
Dominique Barrier


































Serge Spitzer
Re-Search, Bread and Butter...
1995-97








































Chen Zhen
Round Table (SIde by Side)
1997








































Jason Rhoades
For my caprice, uno momento......
1996





































Wang Xingwei
Poor Old Hamilton
1996















Rebecca Bournigault
Self-Portrait
1996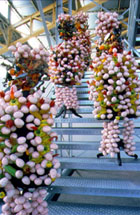 Henry Ughetto
Mannequins Imputressibles
1997






Emery Blagdon
The Healing Machines
1997



Le Machine Kafka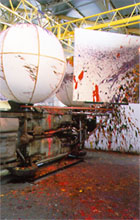 Richard Jackson
Painting with Two Balls
1996-97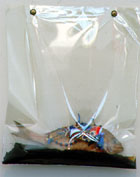 Bul Lee
Majestic Splendor
1997

The fourth Lyon Biennale of Contemporary Art, organized by famed Swiss curator Harald Szeemann, has been up and running all summer, though overshadowed by the extensive hype surrounding its more distinguished elder siblings -- Documenta X, the Venice Biennale and the Münster Sculpture Project. What pre-opening press Lyon's Biennale received generally reflected a tone of skepticism and standoffishness about Szeemann's unpredictable vision (see, for example, Le Journal Des Arts, Apr. 18, 1997, and art press, 226, July- Aug. 1997).

Neither did two interviews with the famed curator of such landmarks as "When Attitudes Become Form" (1969) and Documenta V (1972) give much reassurance about the point or coherence of the upcoming Lyon show (see the Hans-Ulrich Obrist interview in Artforum, Nov. 1996, and that with Cecilia Lavelli and Franklin Sirmans in Flash Art, Summer 1997). What these interviews do give is a picture of Szeemann's mind at work and a snapshot in words of the Lyon Biennale's organizing principle -- scattered though it often seemed.

The show's title, "L'Autre" (The Other), which was chosen not by Szeemann but by the show's organizers, shackled the curator with a vague, supposedly catchy concept -- one that was to this viewer rather stale. Szeemann left himself an out to "author" the show (his verb, not mine) any which way by declaring, "Art is always alterity, the artist always the creator of an Other" (art press, 226, p. 28-29). So much, one would imagine, for visual and thematic coherence.

But despite all of the criticisms with which the curator will inevitably be showered, the result of Szeemann's efforts holds together well enough and is surprisingly thought-provoking and, in some cases, delightful -- a welcome relief in this time of heavy-handed curatorial bombast. I chose to tour through the Hall Tony Garnier with an open mind's eye -- saving the quibbling over the whos and whats for later.

As a cavernous, unarticulated, proto-modernist steel structure, the hall itself played a large role in the show, and Szeemann has divided it into numerous gallery-like white cubes of varying size. Serving as hanging walls on their exteriors, the interiors of many of these spaces showcase the work of a single artist, while a fewer number feature thematic groupings of works by different artists. Larger sculptural pieces, such as Richard Serra's Olson (1985-86) and American Serge Spitzer's Re-Search, Bread and Butter with the Ever- present Question of How to Define the Difference between a Baguette and a Croissant (1995-97), were given their own independent breathing room. Too much room, perhaps, as I've never seen Serra's work look so dinky (even out of doors), and Spitzer's improbable spiraling bread machine was straining to fill the voluminous space.

The combination of new and old, known and unknown was to be expected from Szeemann, whose path-breaking work in Conceptual and Postminimal art of c. 1970 made his name and defined his esthetic interests. In addition to Serra, the show's other heavyweights from this "heroic generation" are Bruce Nauman (Model for Trench and Four Buried Passages, 1977), Joseph Beuys (Olivestone, 1984) and Hannah Darboven (Rutherford/Niels Bohr Arbeit, 1988/92), with all of whom Szeemann has had long-standing relationships.

Upon entering the exhibition space, one was immediately confronted with a left-to-right trinity of Beuys, Serra and Nauman that neatly presented the historical legacy of "otherness" that interested Szeemann, an otherness of monumental but subtle physicality and tactility which, in fact, did reappear in various guises throughout the show. Interestingly, Darboven's mind-numbingly dull work (saved in this context of bells and whistles only by intermittent musical outbursts) was relegated to the very back corner of the hall and was too delicate to hold its own against the impressive neighboring Flying Steamroller (1991-96) by Chris Burden, another '70s veteran.

Directly following the introductory trio was Gary Hill's Viewer (1996), which provided a nice transition to the contemporary medium of video installation that gave the show many of its most refreshing works (others included pieces by Mariko Mori, the French team of Philippe Parreno and Pierre Joseph, and Pierrick Sorin). Hill's wall-length video projection, similar to the Serra in scale, showed a row of workmen of various ethnic backgrounds. It fit the exhibition title exactly, as one would expect. A similar formal resonance was found between the nearby Nauman trench piece (consisting of five large circular forms) and Chen Zhen's adjacent Round Table (Side by Side) that was an elegant amalgamation of various eastern and western chairs stuck into the surfaces of two large, overlapping, and similarly worldly round tables. Again, while formal similarities were obvious, the cultural context and thematic thrust were different indeed.

Elsewhere thematic similarities seemed to have happily dictated the placement of works: Wolfgang Laib's vibrant square of pollen on the floor was just adjacent to Yukinori Yanagi's loony ant-farm pieces and a beautiful, large floor drawing made by tracing the aimless path of an ant. Serge Comte's delightful film I wanna be your favorite bee, in which the viewer is taken on a bee's-eye-view flight from flower to flower to windowpane, was another in this apiary/insect theme and one of several videos playing in a nearby Franz West-furnished space.

Such attention to detail in the placement of works was sensed throughout the exhibition, prompting a search for relational poetics -- be they formal, thematic, or otherwise -- among pieces of diverse media and tone.

Speaking of the ground plan, all but two of the 30-some white-cube galleries were arranged along the vertical and horizontal axes. The ubiquitous Jason Rhoades and Pipilotti Rist (one of Szeemann's favorites) were the two young artists that stood out in this grid-like context. As such, their works suggested an aspect of recent art that Szeemann perhaps wished to emphasize, i.e. its defiance of total or whole consumption -- a legacy of Conceptualism, here turned Baroque. As an installation, Rist's fanciful, oversized room (Das Zimmer, 1994) was manageable, but with hours of Pipi-programming (user definable with an oversized, "Pipi-channel" remote control), one simply can't take it all in meaningfully. The experience is always fragmentary, suggesting equally that the whole presentation, as a potential manifestation of a selfhood (of a reified "other," if one must), can never accurately convey a totality.

Rhoades' installation, For my caprice, uno momento / the theatre in my dick / a look to the physical / ephemeral was equally difficult to absorb. This vast layout of stuff that, with some imagination, resembled the biological workings of a penis goes way beyond Duchampian sexual mechanics in its junky, over-the-top assortment. Perhaps you viewers of the Whitney Biennale (where it was also installed) weren't as lucky as I was to witness the climactic moment. That is, when one of several attendants loaded the skeet machine at one end of the room-filling installation and fired a couple of clay pigeons down the length of the central conveyor belt; these smashed into pieces on the far opposite wall, much to the delight of a bewildered older couple near the entrance. The installation was introduced by several videos about the work shown on small monitors whose electrical cords and assorted gadgetry were left visible; one could sit and watch these clips on overturned buckets and other paraphernalia taken from a site that seemed still under construction (or, more likely, repair).

I watched Rhoades talking about a small piece of the installation that he defined as a "snot sculpture." The work as a whole, he said, was "about glands," and of his snot sculpture, he said it captured "the ephemeralness of snot.... When you're a kid, you think you're going to run out." I could imagine that any one of the other monitors featured an equally Warholian Rhoades at that moment, explaining the identity or genesis of another of the thousand peculiar objects included there and defining the whole piece in its terms. If it were possible at all, seeing and experiencing the totality of such a work would tax the patience and attention of even the most sympathetic viewer. (Appropriately hanging just outside the Rhoades installation was Wang Xingwei's 1996 painting Poor Old Hamilton depicting the British painter and Duchamp aficionado watching on as a Chinese father scolds his child for breaking Duchamp's Large Glass.)

While the length of Rist's video programming and the sprawl of Rhoades installation made them more than an eye-full, other artists used different strategies to make a similarly confounding experience for the viewer. Stan Douglas' beautiful and exacting Nut'Ka, in which two different aural narratives overlap, diverge and reunite in time with seemingly stereoscopic panoramic landscape videos, took the viewer on a sine-wave roller-coaster of intelligibility and incoherence (i.e. difference, and again, "otherness"). Similarly disorienting was the video self-portrait by French artist Rebecca Bournigault (b. 1970) in which only part of her face was visible, projected wall-size in a hall-like, claustrophobic room; one was put too-close-for-comfort to this intimate portrait of various emotional states.

While such esthetic currents were interesting to observe along with (and as part of) the dominance of video and installation art, what made the biggest impression in the show was a concept of "otherness" born of obsessional tendencies. One could include Rhoades' moment of phallic self-glorification here, but his was only one of many manifestations of the peculiar and personal that filled the giant space.

Lyon artist Henry Ughetto's squadron of strange, life-size "mannequins," each made of hundreds of eggs painted with several thousand drops of blood (his only painting medium), climbed a staircase near the entrance. Equally odd and "other" were Emery Blagdon's peculiar Healing Machines and Elisàr Von Kupffer's kitchy, utopian paintings of all-male Edenic landscapes. Blagdon's would-be cancer-curing concoctions had a definite beauty (even crowded as they were into the stereo-typing Nebraska shed), as did the geometric, talismanic paintings and drawings of Emma Kunz installed in the same room; but whether these curious works merited their place in such a contemporary art event is debatable.

Ditto for autodidact John D. Monteith's nostalgic collages of old yearbook photos and Lene Reckenfelder's obsessive Lenes Kammermuseum (Lene's Museum Room, 1970-90), a tiny room crammed with materials that a young girl of a bygone age might have collected. Many of these unfamiliar works were, however, installed to their advantage: Reckenfelder's was in the same space as Louise Bourgeois' engaging and dreamy Red Room (My Parents), and the Kupffer-kitsch was viewed in terms of Jeff Koons' crystal self-portrait.

To each his personal fetish, I suppose, but the inclusion of so many Viennese artists of the past (Günter Brus, Otto Muehl, Herman Nitsch, Rudolf Schwarzkogler and Valie Export) -- even in a show foregrounding otherness in the form of personal obsession -- was a bit much. It was indeed interesting to see a construction of the torture device from Franz Kafka's The Penal Colony in this Viennese context, but the latter-day legacy of such esthetics in the work of artists like Frenchman Vincent Corpet hardly justified the large Actionist presence (for which Szeemann must have a soft spot). Similarly, while the inclusion of a late Francis Bacon triptych alongside Yan Pei-Ming's multi-panel portrait of his father made sense visually, the spatial limitations (even here) made me wonder about alternatives for the British mega-star's work.

As expected, painting was in short supply, and for those of us who continue to look for it, Paul McCarthy's amusing video assault entitled The Painter didn't count. Neither did the clever Johnsian joke Painting with Two Balls (1996) by Richard Jackson. Here, a puke-yellow Ford Pinto turned on its side sports two giant balls as the would-be wheels of its right side; a canvas that can rotate about its central axis is connected to these orbs by a large fan belt. Once the Pinto is started and shifted into gear, the wheels would turn, the canvas would spin, and dropping paint in from above would be the shit hitting the fan.

Such had clearly been the in situ performance, leaving the walls, floor, and sculptural-object itself a mess of already hardened, drippy ejaculations. Perhaps it was a "Painting Stinks!" philosophy that put these aggressive, painting-inspired installations adjacent to Korean artist Bul Lee's rotting fish sculptures. Thanks to their stench, Lee's works saw only a few viewers when displayed in MoMA's project gallery near the café; here they were safely at the absolute furthest remove from the restaurant.

With a huge space and 86 artists to fill it (including the Kafka contraption and several Messerschmidt sculptures from the 18th century, grimacing portrait busts that are a drum-roll for Arnulf Rainer's photos of himself making faces), the Lyon show is an interesting alternative view by an inspired veteran in this summer of blockbusters. As the man credited with doing the most to define the ego of the curator-cum-artist, it is surprising that more comparisons have not been made between Szeemann and other curators of the season -- particularly given Szeemann's contributions to these events (the introduction of Aperto at Venice and the still-remarked upon fifth edition of Documenta 25 years ago).

Szeemann's attempts at inclusiveness may not be for everyone, but his vision is generous, provocative and in many ways, uplifting. "I wanted to do a show that really amuses me because I've had enough of all these kinds of shows where you don't have any fun . . . . I wanted to make an optimistic exhibition" (Flash Art, Summer 1997, 89). As I wondered through the hall, the smiles and wonder on people's faces convinced me that Szeemann had succeeded. And at the same time, I was reminded that, thankfully, such spectacles are not just for critics, curators, and connoisseurs.

(The show is on through September 24th and can be accessed on the net: www.biennale-de-lyon.org.)


J. MARTIN HILL is a Rousseau Fellow of the Metropolitan Museum of Art and a doctoral candidate at the Institute of Fine Arts.