me -- I forgot the wire cutters getting the wire cutters from the car to break into stonehenge, 1982
1998
Me in Russia, 1916, Outside the Village
1999

Redlands - Kieth Richard's House, Day of the Drug Arrest
1999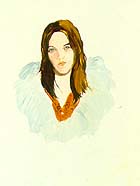 My Boyfriend, Eddie O'Grogan, at Queen Concert, 1978
1998
Me, Corner of Haight and Ashbury, 1966
1998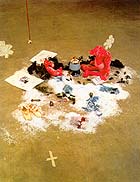 Switzerland, the Pink Panther & Peter Sellers & Boris & Natasha in Siberia
1991
Over-excited teenagers put out far too much information. They revel in self-declaration, the oral transgression of revealing too many personal details. As British playwright Joe Orton put it in Ruffian on the Stairs, "All the humiliating admissions I've made. You would have thought it would have brought someone closer to me."

Karen Kilimnik's work comes across as that very thing -- masturbatory love notes to a celebrity from an obsessed fan, aged 40, trapped in the world of the teenage girl. But with an added twist of sarcasm occasionally thrown in.

Kilimnik designed a baroque installation for her current show of new paintings, drawings and photographs at 303 Gallery. The red walls and velour curtains create a salon-style setting appropriate to her small oil paintings of models (Kate Moss, Amber Valetta) and androgynous young boy idols (Leo diCaprio, Ewan McGregor, Roger Taylor from Queen). These larger-than-life celebrities are cast as princesses and suitors in pre-Revolutionary Russia or Swinging London in the '60s.

These works are all part of Kilimnik's signature "Me" series, in which she casts herself as a doe-eyed supermodel waif -- waiting at the ranch for Charlie Manson, trying to break through the fence into Stonehenge (but forgetting her wire cutters), in Russia at the time of the Communist Revolution, or at Keith Richard's home, Redlands, on the day of his arrest in 1967 for drug possession. In the back gallery are drawings and photographs of Kilimnik as Isabel Adjani denying she has AIDS on TV, as Liz Taylor in National Velvet, and even as the artist Alex Bag. Throughout, Kilimnik gives herself the role of an innocent young heroine trapped in a dangerous world.

However extreme Kilimnik appears in her identification with and adoration of these beautiful creatures, loving a star doesn't necessarily mean liking them. In one work, in her scrawling handwriting, the pop icon Freddie Mercury is tartly derided as "petulant, sulky, and not particularly intelligent." The sharpness of Kilimnik's wit cuts through the saccharine sweetness of her mise-en-scene.

I first remember seeing Kilimnik's love-notes and drawings about Paul McCartney in a group show at Andrea Rosen Gallery in 1991. Her choice of subject matter seemed brilliant, as did her duality and ambivalent relationship to Paul. "Soft soap" can be fascinating, especially if it's slightly tongue in cheek.

In that same period came Kilimnik's "Jane" series -- written texts that chronicled the calamities that befell Jane, no matter what she did. They seemed to be a female take on Richard Prince's earlier, similarly tragic "joke paintings." Kilimnik also caused something of an art-world stir with her scatter sculptures. One was illustrated on the cover of the contemporary art day sale at Christie's New York last November (it sold for $10,000 at the hammer).

In her newer paintings, Kilimnik shows her facility as an illustrator. Working in water-soluble oil paints, she has created portraits that appear simplistic and naïve but that on closer inspection have depth and ability.

The popularity of the avant-kitsch genre painting identified with Elizabeth Peyton, John Currin, Kilimnik and Lisa Yuskavage may be near the end of its cycle. Kilimnik, however, continues to mine for subject matter in Disney's revisionist cartoon histories.

Writing in Parkett on Kilimnik, Mark van der Walle states that "while the sadist is never satisfied, the perfect crime always out of reach, masochism is all about having your cake and eating it too. About waiting forever for what you want and transforming the endless delay into the very thing you want." Kilimnik makes paintings for those of us who enjoy that tragic predicament -- trapped outside the glamour chase, entranced by the fantasy of being the center of the attention.


RUPERT GOLDSWORTHY has a gallery in Chelsea. His forthcoming group show includes one or two works by Kilimnik.