Cady Noland
Stockade
1987-88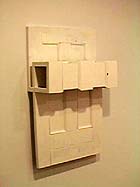 Robert Gober
Untitled
1988









Martin Kippenberger
Snow White's Coffin
1989









Snow White's Coffin
(detail)








Arlene Shechet
In the Studio: Closer
1997








Kiki Smith
title unknown
1996









Kiki Smith
Installation view









Painted wood figures by Anne Chu








Anne Chu
Guardian
1997





Paula Hayes






Anne Chu






Installation view of Anselm Kiefer's "Your Age and Mine and the Age of the World"
at Gagosian





Chris Moore
Charton and 60
(detail) 1997





Suzy Spence
Tori, Portrait of the Artist, IV
(detail) 1996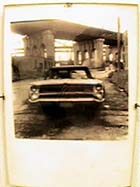 Tom Jarmusch
Untitled
1997





Rosalie Knox
Kitty
1997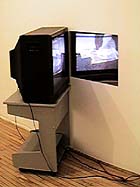 Simon Leung
Packing Fountain
1996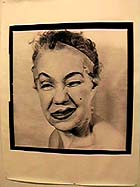 Mr. Means
Glamorpuss






George Condo
Antipodal Abstraction
(detail)
1997






George Condo
Pink and Orange Abstraction
1997






George Condo
Memories
(detail)
1997
Jan. 24, 1998 -- Cruised around to a couple of galleries and some openings. Friedrich Petzel and Marianne Boesky have collaborated on a show of works from the late '80s and early '90s (Jan. 24 - Feb. 28). The new blue chips: Robert Gober, Christopher Wool, Mike Kelley, Martin Kippenberger, Cady Noland, Richard Prince and Cindy Sherman. Boesky tells me that though the artists are American (save for Kippy), the works all come from Europe. Petzel's connections in Germany (he was working for Gisela Capitain in Cologne when I first met him) plus Boesky's resources, I presume.

There's good stuff here, some of it probably hard to find. One of Richard Prince's unpainted, putty-dotted car hoods, hung on the wall like a painting, two of Cady Noland's spare accumulations (one made with walkers), and Gober's sheet of plywood. I still don't really believe he made it from scratch, by hand.

One piece I've seen three times, first at Max Hetzler in 1989, then Metro Pictures when it opened in Chelsea, and now at Boesky, is Kippenberger's clear Plexiglas coffin with foam rubber pillows inside. On the outside is a round plastic plate with holes drilled in it. Ordinarily it would be imprinted with "Speak Here," but instead Kippenberger has stenciled "Hier Versprechen," which translates "Promise Here" or in certain contexts, "Mis-speak Here." Underneath this, stenciled onto the side of the coffin in English, is "Misunderstanding Here." A typical Kippenberger joke. The empty, see-through coffin has a eerie silence now that Kippenberger has passed away.

At Petzel I ran into Arlene Shechet and her husband Mark. Arlene is an artist who makes polychromed plaster Buddhas. She shows at Shoshanna Wayne in Los Angeles, but I've only seen her work in New York in artists' collections. They invited me to join them in their car to go to the AC Project Room and then to Chelsea. All great artists have their own cars, I decided, all the better to ferry me around now that the New York art scene is so spread out.

AC Project Room has a three-person show of works by Kiki Smith, Anne Chu and Byron Kim (Jan. 24-Feb. 28), organized by Paula Hayes, an artist who makes gardens. Paula said she was visiting Kiki to look at her backyard and noticed what looked like a deer sitting in her living room. It turned out to be a life-size taxidermist's dummy, minus the hooves, that Kiki had covered in paper. She had then drawn on "fur" with a pencil and gold-leafed the antlers. There are two of Kiki's deer in the show, but they're not for sale. "Kiki said that she's not really sure they're sculptures, because she didn't do enough to them," said the painter Paul Bloodgood, who runs the space with Chu. "We've had a real parade of fur coats taking a look all the same."

Anne Chu has a group of carved, painted wooden figures based on 8th-century Tang Dynasty ceramics sitting on a simple table. They're kind of expressionistic, rather than serene. I wonder if she's saying something about being Chinese in New York. People like them; they sold out at the opening, $4,000 each. Byron Kim is showing four smallish monochromatic paintings that could be dark skin tones -- he does that kind of thing, you know. I like better the piece painted on the long wall in two different blues, a kind of horizon where the sky meets the sea. At least it's not skin-colored.

Next we drove to Chelsea for the Joan Jonas opening at Pat Hearn (Jan. 24 - Feb. 28). Joan is showing chalk drawings, one on a large black canvas and two on smaller pieces of slate, illustrating a William Carlos Williams text that describes the making of a painting. She draws a river, the sky with clouds, a house and some boats. You can see her making the drawings on a video that's installed in a long funnel-like contraption sitting on tall saw horses that opens up into a miniature theater. No more than one or two people can look at it at a time.

After making the drawings Joan does a little performance that makes you feel like you're in on her creative process. After announcing "the day begins," she sweeps the floor. Then, she says "Whoosh!" as her dog jumps through a hoop. She says a few more cryptic phrases, such as "her as who," and then plays with a very long thin horn and finally does a dance with her hands hanging loosely at her sides to some funky fiddle music. Joan based her movement on a "shaking dance" she learned in the 1970s while a devotee of that famous Indian sex guru. Pat Hearn said the video was so inspiring she went home and started dancing.

I liked seeing Joan smile, and nearly laugh, at one point in the dance. Art-making is a dance. Joan Jonas is serious about that, and she enjoys it. Also in the show are the hoop and the long horn, an elongated chaise with circles and lines on the upholstery, a projection of her 1973 black-and-white film called Songdelay and in the back room some recent photographs.

From there we hopped in the car and headed downtown for the Anselm Kiefer opening at Gagosian. Kiefer is still a huge attraction. He didn't show up for the opening -- someone said he was in Africa -- but the gallery was really crowded all day. What can you say about these paintings? They were shown last summer at the Venice Benniale. They depict giant ziggurats, walls and pyramids, and seem to be made with real concrete! They weigh a ton each, and they're even bigger than Julian Schnabels. Kiefer also has some giant books of pictures of bricks made by a nomadic tribe in India who travel from village to village, making bricks and selling them to the villagers. At the opening the books were displayed on tables with young people standing by to make sure no one tried to turn the pages. I like that -- you have to buy the thing to look at it.

What a contrast to walk into American Fine Arts, where there's a group show called "E Plurabus Nihil" put together by Colin DeLand and Takahiro Imamura. Colin's a genius, a true impressario, seeking out new talent. There's a large color photo by Chris Moore that shows that he works in fashion: against a bright red background is a young African American man holding a black-and-white calf by a rope. He's carefully styled in cowboy drag with leather chaps and sleek Tommy Hilfiger sneakers. There's a great painting by Susan Spence of Tori Spelling, showing the actress posing in the middle of a small baby-blue canvas surrounded by blue glops. It's painted in a charming, naive, style.

Tom Jarmusch has a small black-and-white distressed photo of what appears to be a bombed-out car near a bridge. There's a big cylinder either on the hood or inside the car. It's hard to tell which. This is the most understated piece in a show of understatements. Rosalie Knox's triptych is a set of three color snapshots. One picture shows the final, winning screen of a video game -- a personal accomplishment, she said. The middle picture is of a cat with strange pale green and yellow eyes. The third panel shows the interior of a location van with two young model-types slouching on the couch.

Simon Leung has a installed his ironic video facing the wall at an angle, so that reflected into the room by a mirror is the image of an art packer putting Marcel Duchamp's Fountain into a wooden crate. First he puts it in to test how it fits and gives it a little pat before wrapping it in bubble plastic to put it in the crate for good. This video has an attitude that I'm sure Duchamp would have found amusing.

On one wall is a large black-and-white photograph of an older woman (it turns out to be the artist's mother) in theatrical make-up with a comic scowling expression. It's very dramatic -- it looks like she's undergoing a fake facelift. It's by an artist who styles himself "Mr. Means." Is this Whistler's Mother by way of Mr. Blackwell?

I also liked the ball-point-pen drawings by a group of young Cooper Union grads called U5. American Fine Arts seems to have a line on young Cooper Union grads. Colin tells me that the drawings are illustrations for a novel called Limon Carbonarta. It's mostly skinny slacker boys posing, smoking, playing guitar, looking at comic books and sticking their tongues out. The drawings are by a woman in the group, who really can draw in an adolescent way that is particularly annoying to refined art-world taste. The last drawing looks like some smoke dissolving into the phrase, "See you in hell." One drawing has the tiny little caption, "poppy field mural out of macaroni, ritz, triscuits Cheerios etc." I wonder if this means they're dopers? I hope not! There's also a neon piece (it says "Fame") by Jack Pierson at the entrance to the show, and an elegant, orangey collage of photographs of gay male pinups.

Later in the evening Jack Pierson had a party in his beautiful new studio in the Alex Katz building on 19th Street where Marlborough Gallery rents the ground-floor. I like the idea of an artist renting out space to his gallery.

Jan. 26 -- Here's what my life is like. I'm sitting home in the evening reading poems of Ted Hughes from the book Birthday Letters about his life with Sylvia Plath. Very personal, intensely emotional stuff that totally infects your own mood. Suddenly I'm jolted out of my reverie by the ringing phone. It's a woman friend, an artist, who invites me to meet her at Time Cafe. So, struck by the poetry I decided to inscribe the beginning of a poem called The Minotaur and share it with her. The first thing that happens at Time Cafe is that Annie Philbin, director of the Drawing Center, leaves her table -- she's having dinner with a bunch of friends, including Helen Marden -- to come over to say hi to me! What an intelligent person -- no wonder her space is so vital to the New York art community!

Meanwhile I read the excerpt of the poem to my friend:

The mahogany tabletop you smashed
Had been the broad plank top
Of my mother's heirloom sideboard--
Mapped with the scars of my whole life.

That came under the hammer.
The high stool you swung that day
Demented by my being
Twenty minutes late for baby-minding.

"Marvelous!" I shouted. "Go on,
Smash it into kindling.
That's the stuff you're leaving out of your poems!"

Well, it didn't take more than five minutes before we got into a huge fight -- I referred to a woman I had met recently as an "uptown girl," and she asked me if I was a man or what -- and she bolted out of the restaurant, leaving her $10 scotch untouched and me sitting there alone like a fool.

From there I went to the Cooler, a nightclub in a West 14th Street basement. Christian Marclay and Lee Renaldo from Sonic Youth performed together. Christian, who lives in New York but commutes to Geneva to teach, is the art-world's true deejay. He does everything imaginable with vinyl LPs, from scratching like nothing you've ever heard to creating acoustic waves of sound by flapping them in the air. All the while, coming out of Lee's guitar are the mating calls of electronic birds, tonal rhythms and all sorts of other amazing stuff. It's orchestrated. It has movement, intensity, humor. Sometimes it sounds free-floating Lost in Space (cyberspace, that is). Other times Christian is layering in some kind of '50s-sounding Kinsey sex-quiz record: "Men and women do not like oral sex. True or false, true or false true or false...." This is interesting and intelligent -- I can imagine a film score.

Jan. 29 -- George Condo had a private reception for his show, called "Collage Paintings," at PaceWildenstein down in SoHo. He's returned to some of the tricks he developed back in 1985, in Condo classics like Expanding Canvas and Nothing Is Important, in which cartoony Picassoid forms fill the canvas like one vast doodle. George's last show at Pace, at least the one in 1995, was Surrealist, but this time around he's back to Cubism. The works are remarkably tasteful, even decorative -- an interesting event, since George has made some of the awfulest paintings in memory. George's debt to Picasso has always been pronounced, and especially so in the new work. Picasso's son Claude is even one of his collectors -- he's given his approval to Condo's faking of Picasso. When I first met George he was sleeping on Donald Baechler's couch -- he didn't have enough money for his own apartment. Things have changed since then -- by the first week, four of the ten paintings, priced on the checklist between $50,000 and $80,000, had red dots.

ROBERT GOLDMAN is a New York artist.