Chris Dodge
Until We Sleep

























































Yoshiyuki Abe























Izabella Gustowska
Children Have Long Been Asleep
1996














Christin Bolewski
Weltende
1995















David Larcher
Text Videovoid
18994-96









Istvan Kantor
Nineveh
1997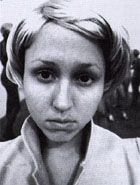 Vanessa Beecroft
Piano Americano
1995












































































Jaron Lanier in performance




digital poland
by Mary Goldman

The 13th WRO Media Art Bienniale (Apr. 30-May 4, 1997) in Wroclaw, Poland, left me in an information-age head spin. The well-attended festival offered an array of futuristic performances, an international video competition, an art exhibition, lectures and a slew of special video screenings.
From Computer Graphics to Infospace
The big video show, titled "Geo/Info Territory Exhibition: From Computer Graphics to Infospace" at times felt more like a computer science fair than an art exhibition. It featured 13 artists whose works are either interactive or computer generated. My usual resistance to monitor-filled galleries was challenged by an installation by Chris Dodge, a U.S. computer scientist and artist working at the MIT Media Lab in Cambridge. His piece, What Will Remain of These? utilized surveillance cameras attatched to a row of six standard monitors. A fireworks burst of pixels traveled in waves from one screen to the next.
Dodge's unique computer program took surveillance images of the moving crowd at the fair, then deconstructed the dominant human patterns and fractalized them into "an organized particle system." He regards his work as a metaphor for the way in which individual motion reflects varying degrees of "effect" or "control" within a complex technological or sociological environment. The constraints on human behavior dictated by time schedules or architectural spaces organize us into patterns, Dodge says, much the same way that our shared use of computer programs, created by Microsoft for example, forces conformity and "system" onto our technological navigation. His hypotheses was easily gleaned from the installation. Unlike most interactive computer art in which a cause-and-effect experience is established by an active user manipulating a mouse or the keyboard, his piece removed our control and used our physical presence to describe the environment in which we exist. His program made tangible, in a metaphorical way at least, the normally hidden patterns resulting from modern social structures.
Few computer artists are also programmers or computer scientists, though, and thus are challenged with infusing meaning into already-existing programs. The computer-animated prints of Japanese artist Yoshiyki Abe, for example, were certainly psychedelic and quite beautiful, but the slick techno esthetic still reminded me of graphics I'd seen years before on rave invitations.
The U.S. artist Darrin Martin's installation Aviatrix used the utopian enthusiasm generated by early aviation as a metaphor for the Internet by placing an interactive online program in the "engine" of a minimal bi-plane construction. The program took the user through various flight procedures, such as scanned emergency cards, and each site posed questions, such as "What is your first memory of mother?" The user's responses were then accessible online. This personal probing of the viewer induced consideration of the choices we make when, and if we send an impression of ourselves into the endless public of cyber space. If we pretend we are someone we are not, does the fantasy adopted expose a side of ourselves that is any less real?
High-pitched meowing and cooing sounds eminated from Children Have Long Been Asleep by Izabella Gustowska of Poland. Her installation was composed of an antique wooden sideboard containing metallic pods, slitted to expose minature screens with green and blue toned faces of cats and people. Installed in a dark gallery, the ambient sound and glow conjured the impression of an extraterrestrial visitation that had sealed poor kitty in an alien shell. In the context of such a monitor-oriented show, the rich sonic quality of her piece distinguished it from its surroundings.
Video Prizes
A video competition lay at the heart of the bienniale, with over 50 screenings spanning an intensive four-day period. Most used computer animation, editing and manipulation techniques, although few offered anything deeper than the surface impact of digital special effects. German artist Christin Bolewski's six-minute-long Weltende (End of the World) stood out as a vivid exception, marrying historic footage and high-tech manipulation. Based on a poem by Jacob von Hoddis, Bolewski's digitally edited montage combined early footage of Wilhelminian society and erupted into an apocalyptic battle scene. On the soundtrack was an abstract composition of human speech, noises and singing that perfectly complimented the video's expressionistic imagery.
The video awards ceremony was a bit of a confusing jumble. No one even disclosed how much money was being won. At one point a big bird cage lined with straw was handed to an artist with a mouse inside (a computer mouse of course.) First prize winner was David Larcher from the United Kingdom, whose 35-minute Text Videovoid attempts "to visualize a possibly empty future, filling up with itself, trying to replace systems, not knowing what system one is in (in the first place), an arcane use of language that refuses to be tied to particular referents, entering the non-sense real(m)." By cleverly interfacing computer graphics with standard video motifs like test patterns, the work evoked the nihilism of a barren virtual world.
More prizes, more prizes! Three videos tied for second place: the Canadian Istvan Kantor (a.k.a. Monty Kantsin) fused digital and 3-D animation, videographic and sonic compositions to create Ninevah, a 27-minute operatic multidimensional adventure that explores alternative lifestyles in a transmedia image world. Israeli artist Irit Bastry's Scale is an eerie black-and-white piece, 12 minutes long, where the shifting scale relationship of a ghostly figure in the voidish landscape serves as metaphor for the way one reads environments in relation to the self and the body. And Polish artist's Ogladaj Mnie's Watch Me vertically bisected painterly streaks of color which glide up the screen like bad video tracking or staring at the lines on a highway from a moving car. Over time -- the tape is just over 15 minutes long -- the pattern slows to reveal tight close-ups of a face from which the color strips are derived.
On the jury were Sally Berger, assistant curator of the Museum of Modern Art's department of film and video; Antoni Muntadas, the prolific video-art pioneer; Gottfried Haddinger, an independent curator who directed the Ars Electronica festival in '90 and '91; Ryszard w. Kluzczysky, a media writer, scholar and media-art curator at the Contemporary Art Museum, Warsaw; and Hungarian video and computer artist Tamas Walizky.
Young and Restless
The competition was augmented by special screening programs such as "Young and Restless," a four-part series presenting the works of 17 video artists based in New York. Organized by MOMA curators Barbara London and Sally Berger, and Steve Vitiello from Electronic Arts Intermix in New York, the program had been previously screened at MOMA and included tapes by Cheryl Donegan, Phyllis Baldino, Vanessa Beecroft, Alix Lambert and Johnna MacArthur. The artists share a distinct visual style that reminded me of the "recklessness" of gesture and form of early `70s video art.
"Young and Restless" closed with a hysterical group of videos by Alex Bag, who cleverly uses campy Gen-X tchotchkes, such as Hello Kitty and Ronald McDonald dolls, to act out party-scene small talk. A sleazy Ronald tries to pick up Kitty saying, "don't I know you from somewhere?" She replies with an exhaustive list of products by which he might have recognized her: pencils, pencil boxes, erasers, notebooks, folders knapsacks, mini-knapsacks, etc. In the end, Kitty refuses Ronald's offer of his "McMeat" on the grounds that she is a vegan.
In another video, a series of unadorned monologues shot "true confessions" style, Bag plays a student at the ultra-hip School of Visual Arts in New York (she actually attended Cooper Union, I believe). It is a spot-on parody of the vanity and ambition of a young New York art-scene tyro. Bag's sense of detail, such as the candy apple red hair she sports in the first semester dyed black by the last, made the tape one of the hits of the Biennale.
Maniacs, Lectures, Jaron Lair
In contrast to the anti-tech of the "Young and Restless" videos, the works in "Maniacs of Disappearance: Today's Japan as Disseminator of Video Messages" had a more digitally poetic approach in which temporality and imagery superseded narrative clarity. A new generation of video artists, occasionally labeled "otaku" (fetish fiction-maniacs), arose in Japan in the `80s and `90s. They draw upon Japan's diversified subculture of images appropiated from computer games, comic books, animation and the like, and merge them with the manipulative strategies made available by computer. The Polyester Dog of Her Majesty the Queen by Terashima Mari, for instance, used a collage of comic stills, puppet shows and retro sci-fi to string together a surreal story about a stuffed dog belonging to the Queen of England.
The symposium lectures provided a theoretical and practical context which enriched my overall appreciation and understanding of new and emerging technologies. Lev Manovich, a Russian artist and professor at the University of California, San Diego, explained his theory that one can read digital media as a more evolved manifestation of the language of early cinema. With Dziga Vertov's pioneering experimental film, Man With a Movie Camera, playing simultaneously, Manovich argued that Vertov's film elaborates a non-narrative language of filmic effects that have subsequently been applied to computer software. Vertov's "virtual eye" revealed a non-existent reality where the camera can be anywhere at any time, thereby anticipating the constructed worlds of virtual reality and computer animation.
Listening to Jaron Lanier, the prolific computer scientist who coined the term "virtual reality" and was the first to establish a VR company, VLP Research, was a mind-blowing experience. According to Lanier, the industrial revolution advanced technology in order to liberate us from labor, but we have now reached a point where new innovations arise to liberate us from the problems technology has created. If any technology were pursued to it's ultimate, he argued, it would result in "mass suicide." Frightening. But that's where virtual reality can save the world because our quest for knowledge can be channeled into a medium that will afford a greater understanding of each other's souls. Through virtual reality, he envisioned "Post Symbolic Communication" from which the interpersonal gap can be bridged by affording communication through virtual experience instead of language or gesture. In the future, when virtual technology will integrate our sensory as well as visual perception, the ineffable will not only be conveyed, but will result in simultaneously shared experience.
Actually, Lanier said art would prevent us from committing mass suicide. A little too dramatic an idea for me, but then again it was in keeping with his theatrical persona. I was a little startled at his concert later that evening because I expected to catch a glimpse of a soul, but instead Lanier (who was a rather large man with thick, long, orange dreadlocks dressed in magenta) sat on stage surrounded by unusual instruments which, when played, interacted with a projected virtual image. The whole performance had a cheesy new-age feel to it complete with fog machine and a virtual lathe which carved wooden shapes while he played a flute. A futuristic rendition of Kumbaya would have been the perfect encore, but seemed somehow fitting that the guru of virtual reality was also a modern-day hippie.
The WRO Festival freed me from some of the resistance I had toward digital technology . I'm still at a stage where the physical presence of a computer in an art context distracts me from it's programmed content. Underlying is the fact that I sense myself becoming slave to the monitor. Working on computer, checking e-mail, scanning the internet suddenly fills the majority of hours in a day, and the applications of computers in our lives have hardly even scratched the surface. As digital technology evolves, the ubiquity of computer apparatuses will either render them invisible for future generations, or make them the key to complete virtual environments. While thrilling to be on the cusp of the computer age, it is also frustrating to lag behind the technical savvy needed to successfully exploit or understand the media. If I had been in the theater when the first filmed locomotive sped towards the audience, I would most definitely have run out of the building screaming.
WRO 97 was organized by Open Studio, an independant cultural institution founded in 1988 to promote media culture and the work of Polish artists and directed by Violetta Kutlubasis-Krajewska, Piotr Krajewski and Zbigniew Kupisz. For more information, visit the Open Studio Web site or contact Open Studio/Wro, PO Box 1385, 54-137 Wroclaw 16, PL, Poland.
Mary Goldman is a critic living in Berlin.