Mike Kelly
Four Part Butter-
Scene N'Ganga 1997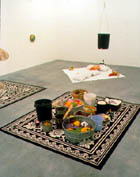 N'Ganga Showroom, 1997


















Exotic Other, 1996





































Paul McCarthy
Santa Claus
1996









Glen Seator
N.Y.O.&B.
1996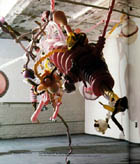 Brian Crockett
Fools Fire
(Study for "Hard Up")
Expired
1997












Matthew Ritchie
Seven Earths
1995











>


Miguel Calderon
at Andrea Rosen
1997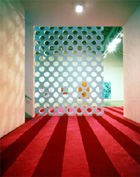 Rudolf Stingel
Installation view
at Paula Cooper Gallery
1997



















Untitled
1996-97

artist's diary 





by Robert Goldman


New York, Mar. 22, 1997 -- Is evil lurking in Metro Pictures' new Chelsea galleries? I don't know, but Mike Kelley sure stunk up the place for the opening of his foul-smelling installation of n'gangas (pronounced with a short "a," he tells me), pots of stuff that are something like witches' cauldrons.
In one piece, four washtubs are suspended in the air Bruce Nauman-style with wire and pipes and are filled by ugly, brightly colored globs and mounds of a pebbly, plastic-looking material called vermiculite that has stuff stuck in it, like plastic fruit and vegetables. Each washtub has a second washtub attached to it's bottom that faces down and has a speaker blaring out a continuous cacophony of echoing gasps and grunts. The thing smells bad, or at least it did on the day the show opened.
On the wall a framed panel contains a newspaper clipping about kidnappings in Mexico, a geometric line drawing with colored in rectangles and trapezoids, and cut up pieces of a photocopied text that reads in part, "the stink inside is so foul smelling that only someone who considers himself to be already one of the dead can stand it. The mayombero must teach himself to enjoy the evil stench. Completion of the n'ganga is celebrated by again feeding it with fresh blood, and adding a dash of rum, wine and Florida water to the ripe mess inside. It is said that looking into the foul interior of a n'ganga is like peering into Hell. It is the repository of enslaved tortured souls who are bound to carry out the evil spells and curses of mayombero."
I supposed that the gasps and grunts are coming from the "enslaved and tortured souls" in the washtub n'gangas. At the bottom of the panel, under the Neo- Plasticist drawing of squares, Kelley has penciled in this caption: "The careful drawing and coloring of these squares serves as a psychic antidote for the chaotic conditions that now exists in Mexico -- it orders that chaos." An artist's amulet against evil and superstition?
Another n'ganga piece is called the N'ganga Showroom and consists of 19 buckets and containers of various shapes and sizes grouped together on a gaily patterned black- and-white carpet. One additional container is hanging from the ceiling. These n'gangas contain colored vermiculite mounds along with plastic devil heads, clown heads, eyeball rings, plastic shells, pigs, peanuts, botanica candles, a black skull candle and tons of other stuff like that. Would you like a large one, sir or one of the smaller ones? The smaller ones are cute!
Within Metro Pictures' elegant, brand new "showrooms," in his search for a whole truth, Kelley has dared to do a little "peering into Hell." He asks us do we have that courage, also?
Exotic Other is the title of Kelley's third work, a cross-shaped arrangement of cloud-white pillows that lies on a white blanket on the floor and takes the form of an Indian Maiden. The pillows are given a fringed skirt, black braided hair, a red sock for a vagina, and baby bottle nipples for breasts. Also on the blanket are a Land-o-Lakes butter box and an Argo cornstarch box -- both use an image of an Indian woman for their trademark -- along with plastic corn, Indian corn and a Botanica candle. Kelley said it was his childhood fantasy, the Land O' Lakes Maiden. I can see it.
Mar. 21 -- Bruce and Norman Yonemoto, L.A.- based video artists who New Yorkers must remember from the 1995 Whitney Biennial, showed two video pieces at Casey Kaplan in SoHo. In a darkened room on a square black table sits a glass vase partly filled with water. From below a small video projector shoots a beam of light straight up through the bottom of the vase. When you look down into the vase you see the image of a sugar cube dissolving in water. There are two video pieces here, each one about four or five minutes long. The first one has a black and white photographic image of Bruce and Norman when they were boys printed on the sugar cube. As the cube dissolves into tiny sparkling particles, the image dissolves. It has an uncanny beauty to it like a fairy tale. The quiet mood is somewhat undercut in the second piece. This time the sugar cube has videos in it of kitschy, cartoony commercials (one is for Mr. Clean), and it dissolves after a couple minutes. With this simple illusion the Yonemotos display a wide range of metaphors dissolving in time.
The Yonemotos have a lot of friends. Among the attendees at a small party after the opening were Michael Smith, Amy Sillman, Mike Kelly, Tony Oursler, Joan Jonas and Michel Auder.
Mar. 20, 1997 -- At the 1997 Whitney Biennial, installation rules. The building itself is an installation. Scaffolding covering the facade holds up a gigantic Raymond Pettibon banner of a train with an aerodynamic locomotive coming at you. It's a stock graphic appropriation and, in fact, a toss-off for Pettibon, but his slogan is perfect in describing this Biennial. "Simply the truly human and topsy-turvy."
The installation is so codified that the first thing you see are room-sized boxes that contain installations of rooms. On the ground floor is one by Paul McCarthy, who has used it for a videotaped performance of his costumey antics, just what we've come to expect from him. When the elevator opens on the fourth floor we have another big box in front of us by Glen Seator. A regular rectangle that looks something like a crudely constructed Donald Judd, it has windows on the long sides and is tipped up on one edge at maybe a 30 degree angle. Inside is a reconstruction of the Whitney Director's office, empty of furniture, but containing shelving and cabinets, carpeting and baseboard radiator. The surprising thing is that Breuer's modernist office is so small. OK. The director's office tipped up on the top floor.
Chris Burden, for me, wins the prize for installation. His is miniaturized which multiplies it's density. It has Burden's obsessiveness with a little boy's fascination of models and model trains. It's male, for sure, but without being sensurround it takes on a pretty big slice of the "simply human." How life is sliced is perceivable also in the Phillip-Lorca diCorcia's photos of people caught in revelatory juxtapositions on the streets of Los Angeles, Hong Kong, New York and London. I also liked Zoe Leonard's photo-album presentation of 82 photos, mounted directly to the wall with little black triangular photo mounts, documenting the fictional life of Fae Richards. This work was done in collaboration with Cheryl Dunye's verite fiction film Watermelon Woman. Another photographer with a strong presence here is Paul Shambroom, with photos of nuclear missile installations. An artist whose work I don't understand is Gabriel Orozco, and for that reason I'm intrigued by it.
The history of installation art goes back, at least to Marcel Duchamp hanging string across the ceiling of the 1936 Surrealist Exhibition in Paris. And, in fact, we do have some string hanging from the ceiling here. Other installations that incorporate more advanced technology such as film and video are by Bruce Nauman, Diana Thater, Jason Rhoades and Tony Oursler. In the basement Dan Graham provides a video viewing space made with his translucent and reflective glass surfaces for music videos by Sonic Youth, Beck, The Beastie Boys and a CD-ROM by Zoe Beloff. The Whitney sure does keep up-to-date in its pop culture presence. I find the viewing a little uncomfortable because you have to sit on the floor. Maybe Dan Graham should think about designing some chairs for his installations.
When you walk through this Whitney you're sure to find something you like. The curators have given each artist his or her own space. Many have their own rooms. There is a clarity to the curation at the same time there is a safeness to it. Fashion is not an issue here, although Michael Kimmelman uses the word quite a few times in his Mar. 21 review in the New York Times. Quirky sculpture I liked included Bryan Crockett's hanging balloon intestines and sausage casings gone haywire made out of epoxy resin and latex as well as Charles Long's big pink blob on a water cooler, where you can actually get a drink of water. I was also glad to see Francisco Clemente's beautifully handled dreamy, poetic and sensual pastels.
As far as painting goes Kerry James Marshall has some large, well-painted sardonic canvases of ironic situations in society. He makes some knowing art historical references, in one painting to Manet's Dejeuner sur l'herbe. Lari Pittman has really codified his painting to the point where he has an elegantly framed drawing attached to the top right hand corner of each one of his paintings. Matthew Ritchie's personal cosmology provides a unique organizing principle for his paintings. He is better with the harder-edged solid shapes than the sketchy exploding clouds, but I like the fact that he is venturing into unknown territory. Ritchie also provides a wall text whose last sentence stayed with me as I left the Biennial: "If you believe that you'll believe anything."
Midnight was the after-opening party on an abandoned floor on Broad Street in the Financial District. It was a light and sound DJ extravaganza called "Illness in the Financial District." Flickering projections were on everywhere and on everybody, including a film of blasting guns on a battleship and a wall of fire that kept repeating in a loop. Spooky and Skylab blasted away. John Lurie, Arto Lindsay, Diego Cortez, Joshua Decter, David Ross and Snooky Tate partied into the wee hours of the morning.
Mar. 13, 1997 -- Miguel Calderon at Andrea Rosen (Mar. 14-Apr. 19, 1997) presents bad-boy entertainment from Mexico. At the opening, Calderon set up Titan, a hot band from Mexico City (who are friends of his) with a couple of Marshall amps in the corner, and they blasted out a really hot sound. Paper Magazine editor Carlo McCormick described it as B-Movie Action Music. It was loud and it was a scene. In the crowd were young stylists, a couple of Dalmatians, Art TV and Andrea Rosen herself, weaving through the crowd handing out plastic cups to smokers to use as ashtrays.
On the walls are Calderon's big C-prints, uncut, just stuck up there. One shows the artist dressed in a black suit, black cowboy hat, aviator glasses and a big cigar, flying off a bright red "Buck N' Bull" machine. He gets the exaggerated perspective right every time. There's a whole group of photos in red and black with white backgrounds with a "Buck N' Bull." One has a sexy nude woman perched up on the machine. Samoa, bass player for the Voluptuous Horror of Karen Black, said he liked the turquoise and yellow photos of a couple having sex on school desks in an old classroom.
The third set of photos really has "cajones" -- in more ways than one. They are from Calderone's series "Greetings from My Hairy Nuts." In the foreground a landscape made of little plastic alligators and figures of a man and a woman in bathing suits are arranged on a foreground that is .... a pair of hairy testicles. The background is a souvenir postcard of tourists watching the Acapulco cliff divers. There is no dumber joke. The little landscapes reminded me of Pat Place photographs from around 1983. In a funny way Calderon's work shares a bad-boy attitude with Richard Prince. Calderon is smart and slick, and so is Richard.
Just to emphasize the banality of it all, Calderon includes in this show a small, low- tech video projection of three people either singing or listening to the song "We are the World." To which I can only say, "Yes we are."
Jan. 15 -- Call out the carpet layers! Rudolf Stingel, who in 1991 covered the floor of the now defunct Daniel Newburg Gallery on Broadway with bright orange wall- to-wall carpeting, does the same this month at Paula Cooper, but this time with a plush red and pink striped carpet. The entrance, the smaller front room and part of the main gallery are covered. It's bright and festive. At the opening children enjoyed playing on it.
Sitting on the carpet and blocking three-quarters of the entrance to the main gallery is a 20-foot-high wall made of light blue Styrofoam blocks. The wall has holes cut into it at regular intervals so that you can see through. The carpeting continues about a third of the way into the gallery, and where it stops the painting installation begins. Each of the mostly large paintings have a single bright color spattered over a black background. Stingel's colors are red, green, pink, fluorescent orange, light blue, dark blue and greenish yellow. This is one of the most colorful shows you will ever see. One friend of mine called it exhilarating just to walk into.
In 1989 I saw some paintings of Stingel's at Tanja Grunert in Cologne. They were aluminum paint monochromes with the texture of a screen or mesh. At that time they didn't make much of an impression, considering the long history of monochromatic painting. Stingel based their significance on a statement of process describing how they were made with instructions so that anyone could do it. The idea of revealing the process in order demythologize the making of art is not new; its most obvious precedent is Sol LeWitt's wall drawings since the 1970s. Stingel certainly is drawing on `70s Minimalism, considering the ironic comment the wall-to-wall carpeting makes on Carl Andre's floor pieces, some of which were shown in the very same space just two months before.
The carefully crafted position to "demythologize the artistic act" isn't the only interesting way this show functions. An art object has a language of itself. Here the carpeting is bright, warm, soft and its Daniel Burenesque striped format is festive. The wall with holes is intelligent, with sharp color, and interesting; an architectural device made of inexpensive, lightweight material. The paintings are cool like Gerhard Richter's, detached, flat, the black really sets off the color to a strong effect, the chance randomness of the way the paint is scattered is skillful and interesting. It's a good show. I liked it. The opening was interesting, also. Zoe Leonard was there and told me that I was handsome.


ROBERT GOLDMAN is a New York artist.