The Reichstag under reconstruction









Nobuyoshi Araki
Untitled
1996
at Taka Ishii Gallery










Art Club Berlin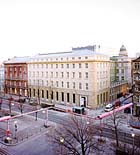 The Deutsche Guggenheim Berlin









Robert Delaunay
The Red Turn
1911-12
at the Deutsche Guggenheim Berlin










Friedrich Loock and "Judy" Lybke at a Hackescher Hof restaurant










Barbara Thumm









still from
Aviatrix,
a video by Darrin Martin in "A Home Show"









Invite to "A Home Show," curated by Mary E. Goldman
Perhaps no other city in Europe has more reason to celebrate the passage of another year than Berlin. Sprawling construction sites are finally beginning to show the outlines of what Germany's new capital will look like. Completion is still a year or two off. Only then will we see what substance is behind the city's ambitious new facade.

For the time being, Berlin is consistently adding to its cultural cachet. The end of '97 was punctuated by a couple of key events: the second installment of the Berlin Art Forum, the new, annual art fair; and the opening of a branch of the Guggenheim Museum.

The Berlin Art Forum (Oct. 31- Nov. 6, 1997) was held this year at the ICC Center, and so lacked the hype that attended last year's version, which inaugurated the Hamburger Bahnhof Museum in a converted railway terminal. Energy was high nonetheless, with 135 galleries from 24 countries. An interesting addition to this year's fair was Art Club Berlin, a comfortable rest stop where weary browsers could choose from program of over 100 artist videos.

Most galleries I spoke with said they were satisfied with sales, but that the administrative organization left something to be desired. Tokyo's Gallery Taka Ishii, for instance, arrived to find no lights or desk in its assigned space. Regardless of such glitches, most gallerists expressed a desire to return again next year. Just to be safe though, the '98 dates will be moved up a few weeks to coordinate with the earlier dates of the Cologne art fair.

On Nov. 6, the new Deutsche Guggenheim Berlin opened its doors with "Visions of Paris: Robert Delaunay's Series" of 30 Eiffel tower paintings. This European branch was made possible by the co-sponsorship of Deutsche Bank and is housed in the newly renovated DB building. Although quite a modest space of 3,800 square feet, the museum is -- for Germany -- a notable high-profile marriage of the corporate and cultural sectors. Gugg director Thomas Krens envisions pared-down exhibitions visiting from other Guggenheim venues, such as the James Rosenquist show slated for Bilbao next year. The Berlin Guggenheim has none of the glamour or spectacle of Bilbao, but will hopefully set an example of corporate sponsorship for the arts, still an uncommon practice in the city.

Not all new museums suggest Berlin is a progressive metropolis. Daniel Libeskind's dynamic Jewish Museum, which resembles a deconstructed star of David with violent slashes for windows, has been a finished project for months, but will not open until 1999 due to conflicting visions of the museum's identity. Amnan Barzel, who had been hired to direct the museum in 1994, is relinquishing his position as a result of clashes with the Stiftung Stadtmuseum, directed by Reiner Güntzer. He has been replaced by Michael Blumenthal, an American who was born in Berlin and who was treasury secretary during the Carter administration.

On the gallery front, 1997 heralded a mass migration to Berlin Mitte, establishing the neighborhood as the unarguable center of hip. The Hackescher Hof complex, which pre-war had housed a Jewish-run textile business and is now restored to its original splendor, stands as a microcosm of Mitte's future. The buildings converge in a series of courtyards that encase the choicest of boutiques, restaurants, bars and galleries in a self-contained bubble. The Gallery Contemporary Fine Arts, showing young art stars like Sigalit Landau, Sarah Lucas and Sean Landers, moved here from the formerly chic western center of Charlottenberg, as did the photographic gallery Bodo Niemann.

The constant clamor about the transformation of Mitte into the gallery Mecca of Germany would by now be a dreary topic if it weren't so startlingly true. Auguststrasse, the main drag of the of the gallery mile, home to such early Mitte pioneers as Gerd "Judy" Lybke of Eigen + Art and Friedrich Loock of Wohnmaschine have been joined this year by "szene" notables Barbara Thumm (formerly of the Berlin partnership Gebauer and Thumm) and Schipper and Krome from Cologne.

Wohnmaschine will be closed until April, when it reopens in a larger space on the same block. Werner Müller of Galerie Zwinger also came to Mitte after ten years in Kreuzberg (which had been the city's cutting-edge art neighborhood when the wall was in place). And it comes as no surprise that Galerie Neugerriemshneider, whose program is dominated by young L.A. artists like Rirkrit Tiravanija and Sharon Lockhart, is finally leaving Charlottenberg, thereby completing the concentration of commercial cool in Mitte.

As if the gallery glut weren't enough, Mitte is pulling another ace out of its sleeve with the summer reopening of Kunst Werke, directed by Claus Biesenbach. Closed the past two years for renovation, Kunst Werke is a highly reputed artist residency and gallery. The improved building boasts a 2,000-square-meter exhibition space, more studios, and a cafe designed by Dan Graham.

Biesenbach, who wields considerable cultural clout locally, has also been trying to mastermind a new Berlin Biennial. Formerly impeded by lack of space and money, a Biennial is now rumored for fall '98 in the Kunst Werke. The curators have already been assembled -- Biesenbach, the Guggenheim's Nancy Spector and Hans-Ulrich Obrist -- but the issue of funding continues to be a stumbling block.

There is power in numbers, and the onslaught of new spaces in Mitte is testimony to the belief that the area is a worthwhile investment. But what kind of crowd will it appeal to? It's anybody's guess. Many locals watch in horror as mom-and-pop groceries are replaced by shops which exclusively sell whiskey and cigars. The ecologically minded smoker could then be outfitted at a nearby organically grown-cotton clothing boutique. The unnatural speed at which Mitte is developing leaves ample room for bad taste with a big price tag.

Berlin is a sprawling city, though, and if Mitte gets too trendy for its own good there are plenty of alternative and noncommercial spots. Katherine Norbert runs exhibitions of local artists from "Die Box" out of her apartment and freelance curator Francesca Fergusson has held recent shows in untraditional spaces with an eye towards young British artists. The mainstream is lagging in the exploitation of new media, but Martin Conrads, principle founder of Convex TV, an on-line artist/funk magazine, organizes amazing computer-enhanced chill-out zones and technological installations.

I've recently come back to New York after curating "A Home Show: Sitting Up Erect or Reclining," which was premised on our relationship to domestic space and the act of moving. It was an exhibition of work by international artists such as Tom Fuhs, Alyssa Deluccia and Hunter Reynolds, artists who live in Berlin and share feelings of belonging to the city not unlike those that kept me there for two years. Berlin can be somewhat addictive and is infamous for attracting artists who continually find themselves being lured back to the pulse of this intriguing city. Its constant turnover and variety of creative energy gives Berlin a palpable edge which makes it an unusual and inspiring place to be.

MARY GOLDMAN is a critic and curator living in New York.