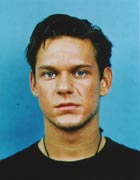 Eve Fowler
Untitled



© ArtNet Worldwide 1997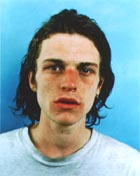 Eve Fowler
Untitled

















Rineke Dijkstra
Brighton, England
1992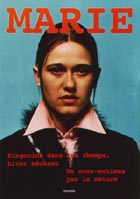 Bruno Bürgin and
Christian Schoch
"Cover Series"
1996



















Bruno Bürgin and
Christian Schoch
"Cover Series"
1996

Teenagers are the superstars of the nightly news: teens who seduce married men, teens who flush their babies down the toilet, teens who eviscerate their drinking buddies in Central Park. Lusting after adolescents has become something of a national obsession -- Nabakov's Humbert Humbert may have raised eyebrows in 1955, but today only a robot would fail to respond to nymphet sexuality.

Teenagers are also eminently photogenic, although most depictions of them by adults tend to either glamorize adolescence (a la Calvin Klein) or fetishize it (a la Richard Hamilton, Larry Clark and Jock Sturges, to mention just a few). Not surprisingly, art photographs of sexy teenagers get a lot of play at galleries these days, and the moral qualms they engender only intensify the semi-furtive pleasure of ogling forbidden fruit. Hang around one of these shows for an hour or two and you'll see a steady stream of taciturn middle-aged men who skulk in corners and studiously avoid eye contact, flannel shirts buttoned up to their chins and hands deep in their pockets.

"Adolescents" at Julie Saul this summer dared to sidestep the cheap thrills and schlocky voyeurism that vitiate most photographs of teens by adults. That's not to say that sex is absent from the show --- after all, sex and teenagers go together like ... well, teenagers and sex. But here the emphasis is on the "neutrality of the adolescent face," as Saul puts it in the press release, and on the subtle cues -- like clothing, hairstyle, grooming and posture -- that fill in the blanks of character and identity. Teenagers (like fashion victims and politicians) tenaciously cling to what Oscar Wilde famously declared to be "the truth of masks" in their maniacal efforts to answer the central question of identity: Who am I really?

The show is anchored by a selection of portraits by August Sander from his massive project "Citizens of the 20th Century," a documentary compendium of social "types" in Weimar Germany. Sander was interested, above all, in the accouterments of class identity, and his portraits of adolescents focus on the ritualized aspects of fashioning a self. We see, for example, the transparent pseudo-sophistication of a well-heeled high school student with a half-smoked cigarette dangling between two fingers brilliantly juxtaposed against the more overtly mask-like rigidity of a young military cadet in uniform.

This attentiveness to the intersection of taste and class is given a contemporary spin in an exceptionally strong group of portraits of rural Pennsylvania teens by Judith Joy Ross. Clearly Ross's portraits owe a great deal to the work of Diane Arbus, to her dark humor and unflinching frontal engagement with her subjects. But unlike Arbus, whose gaze illuminated her subjects' lives like a floodlight in a sewer, Ross sometimes lets her pubescent souls escape into the shadows: a boy slouches diffidently with an electric bass but hides behind his dark shaggy bangs; a pensive girl in a bathing suit and glasses poses obligingly but subtly averts her gaze under the unblinking scrutiny of the camera's eye. Ross goes easy on these small-town kids with bad haircuts, but her photographs also have an integrity and spirit of scrupulous observation that balances their visceral power as images of adolescent angst.

Arbus is represented here by several of her brilliant evocations of contained rage, such as the truculent Teenager with a Baseball Bat. But the selection also emphasizes the way Arbus's signature repetition -- her doubling and tripling within a single image -- gives uncanny form to the slippery and fragmented identities of adolescence, as in her image of teen triplets in their New Jersey bedroom (one self or three?) and her portrait of a girl at a fat farm holding up a snapshot of her chunkier self (the real me?).

The back wall of the gallery is devoted to works dealing with standardized vernacular of commercial portraiture. Eve Fowler's dead-on portraits of young male hustlers posed against plain blue backdrops imply a common ground between mug shots and yearbook photos, while Michael Syrop appropriates images of boys from actual 1970s yearbooks, arranging them in composite grids according to a mysterious set of formal criteria (the tilt of the head, hairstyle, facial expression).

The Swiss artists Bruno Bürgin and Christian Schoch caption portraits of pretty French girls with their first names and a brief statement about themselves in the form of bite-sized meditations on love, beauty, happiness, despair, or nothing in particular. While the series parodies the banal identity politics of Benetton ads, it also sweetly and half-seriously indulges the fantasy of cover-girl stardom.

Behind the cover-girl fantasy, however, lurks a nightmare world of excruciating self-consciousness and nebulous shame. This agonizing state is indelibly captured in an image by Dutch artist Rineke Dijkstra of a girl in a blue and white bathing suit posed on a beach in Belgium, her studied nonchalance betrayed by her arms inadvertently held stiff at her sides. Dijkstra's portraits of teens on beaches around the world have an elemental, almost mythic quality that very nearly transcends the carefully observed particulars of national identity.

A Polish boy in bright red swimming trunks seems almost tragically fragile as he stands lanky and pale against the sweeping stripes of sand, sea, and unnaturally deep blue sky. On rocky Brighton Beach, a young girl in a sopping wet sea-green dress nervously crosses her hands and placidly returns our gaze like an incarnation of Venus at the awkward age. These photographic glimpses into the hormonally fueled, tragicomic intensity of adolescence can make you stop and wonder: Why would anyone want to remain forever young?

"ADOLESCENTS" at Julie Saul Gallery, July 2-Sept. 6, 1997, 560 Broadway, New York, N.Y. 10012.


MIA FINEMAN is a New York writer.