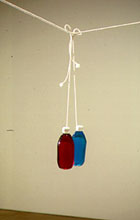 Red and Blue Thing
1995











Glass Square
1997






Red Hot Summer Line
1997







Crawl
1996-97





Tony Feher approaches the raw materials of his sculpture the way an alchemist approaches a hunk of lead. But instead of turning base metals into gold, Feher transmutes ordinary recyclables into exquisite compositions of liquid, light and translucent color. The cheapness of his materials -- bottles, jars, pieces of molded Styrofoam, plastic flowers and marbles -- reacts with the elegance of his compositions to produce seemingly effortless moments of beauty. His work has a paradoxical way of appearing simultaneously surprising and inevitable.

In his recent solo show at D'Amelio Terras in Chelsea, Feher deliberately acknowledged the continuity between his work and the "one thing after another" syntax of Minimalist sculpture. In Glass Square, for example, he arranged one hundred glass jars of different sizes in a neat grid on the floor -- an obvious nod to Carl Andre's floor pieces composed of firebricks or metal plates. But Feher gives the repetition, horizontality and modularity of Minimalism a playful and diffident spin, a heightened sensitivity to the look and feel of mass-market consumerism.

Feher's sculptures are controlled without being mannered, pretty without the protective and distancing veneer of kitsch. God, he reminds us, is in the details, and he offers a concentrated tutorial in the art of looking at the overlooked -- like the way beads of condensation form on the inside of plastic soda bottles, the way daylight filters through water and bounces off glass. In High Low, Feher accentuates the swirling indentations in a swatch of synthetic coffee-brown carpet by lining them with shiny marbles; in Red and Blue Thing (two plastic bottles suspended by a rope in mid-air) he casually exploits the jewel-like blue and red of clear fluids that happen to be Windex and transmission fluid. There's nothing heavy-handed about this work; sometimes Feher's interventions (like applying White-Out to intensify the brightness of the plastic bottle caps) are so subtle you might miss them altogether.

The delicacy and formal restraint that characterized most of the pieces in the show suddenly erupted into exuberant chaos in Crawl (House for a Green Bird), a sprawling arrangement of bottles, jars, pennies, cards, slide boxes and a photo-booth self-portrait that dominated one corner. And in the midst of it all was the stuffed green bird of the title, perched like an emblem of the fugitive beauty of the everyday that lies at the center of Feher's esthetic.


MIA FINEMAN is a New York writer.