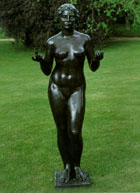 Nymph
1930





Seated Dina
1941





Pomona with Lowered Arms
1937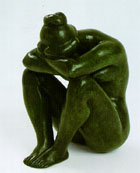 Night
1902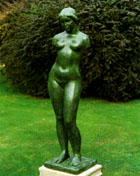 Harmony, 1st State
1940

"I am the first person to make sculpture," Aristide Maillol (1861-1944) once declared in a burst of Gallic bravado, staking out his claim as grand-pere of a modernist lineage whose future progeny would include Jean Arp and Henry Moore, David Smith and Richard Serra. With this well-chosen survey of sculptures, drawings and paintings ranging in date from 1890 to 1941, C&M Arts invites us to look again at Maillol's work and decide whether or not we agree with his own spectacularly confident self-assessment.

The exhibition, which includes seven nearly life-sized bronzes, eight mid-sized works and 12 statuettes, is impeccably installed. The works are spaced widely enough to view the sensuously robust, free-standing figures the way they were meant to be viewed -- in the round -- but they're close enough to take in several pieces with one sweeping gaze. The gallery has also produced an elegant catalogue that includes essays by Dina Vierny (Maillol's last model and proprietress of the Musee Maillol in Paris) and Robert Pincus-Witten, who urges us to acknowledge Maillol's latent formalism, to evaluate him as more than a mere "rhapsodist of womanhood."

Maillol may indeed be a crucial "missing link" in the evolution of organic abstraction in sculpture, but that's no reason to deny the opulent sensuality that distinguishes his efforts to translate feminine voluptuousness into the greenish-brown smoothness of polished bronze. Early in his career, Maillol discovered his own luscious-yet-robust feminine ideal which he spent the rest of his life refining, embellishing and marrying. The "Maillol type," with her voluptuous, meaty, dimpled roundness, her hair smoothed into a bulbous, mushroom-like bun, seems light-years away from our current ideal of stick-figure androgyny. The works on paper in this show afford an even more intimate and immediate view of Maillol's preoccupation with rounded female flesh. In Seated Dina (1941), a small drawing in a russety red chalk known as "sanguine," sensuality teeters on the edge of eroticism as his young model studies her right breast, tenderly cradling it in her hand.

Above all, Maillol was interested in the architectonics of the female body. Many of his great standing figures, such as Pomona with Lowered Arms (1937) or The Nymph (1930), evoke the relaxed composure and sublime imperturbability of fifth-century Greek kouros figures, their frontal symmetry enlivened only by the slightest tilt of the head, the subtlest hint of contrapposto. In his most celebrated works--seated figures such as Night and La Mediterranee, both represented here in statuette form -- he folds the body in on itself to create compact, geometrically simplified volumes that parallel the abstract ovoids of Brancusi and Arp.

Unlike many of his contemporaries, however, Maillol never took the radical leap into abstraction. The classically harmonious composure of his figures remained undisturbed through the turbulence of two worlds wars and half a century of frenetic change. This sense of aesthetic insulation is perhaps most dramatically born out by his last major work, Harmony, a monumentally serene nude included at C&M in its first state. From 1940 until his death in 1944, Maillol pursued his ideal of harmony in the midst of Nazi-occupied France, ending his long career on a wistful and nostalgic note.

Aristide Maillol at C&M Arts, Apr. 10-June 7, 1997, 45 East 78th Street, New York, NY 10021.



MIA FINEMAN is a New York writer.