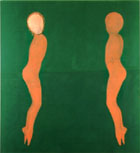 Nicola Tyson
Two Figures Jumping, 1997, oil and charcoal on canvas, 72 x 66 in.





© ArtNet Worldwide 1997






david ebony's
new york top ten


nicola tyson
at friedrich petzel

Mar. 15-Apr. 19, 1997


In this show Nicola Tyson presented seven large recent paintings in which she seems to fulfill her promise as a painter destined to keep alive a certain kind of figuration that many feared might have died with Francis Bacon. It's not that her work closely resembles that of Bacon -- it doesn't, except for a shared interest in compositions featuring a single centralized, extremely distorted figure set against monochrome grounds. It's just that Tyson is not afraid to take chances with the figure.

In Figure on All-Fours, for instance, a bright blue creature seems to be in the throes of some terrible mutation. Its stomach has turned into an elongated form that resembles a pitcher handle. In two self-portraits, with brightly colored backgrounds, one yellow, one red, Tyson depicts herself as a puppet-like figure, encased in a kind of suffocating sheath, her eyes peering cautiously out into space.

Sometimes, Tyson hints at a Hans Bellmer-esque perversity in her work, most notably in this show's canvas titled Figure on Tiled Floor, in which a phallic shape juts out from a truncated torso. At other times, she produces works of surprising delicacy, such as the unusual double figure study titled, Two Figures Jumping. In this elegant, symmetrical composition, sleek, faceless figures float in a sea of green. Like seahorses metamorphosing into ballerinas, these figures are denizens of a world ruled by Tyson's fertile imagination.