Common Ground 9
1997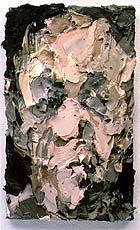 The Poet, Jonas
1998
The German painter David Stern, who recently moved to New York from Cologne, shows eight large and medium-sized canvases in this, his second solo in the Big Apple. These impastoed oils are inches thick. Stern says that the paintings will take about 200 years to dry completely. Luckily, the skin dries enough in just a few months so that viewers can appreciate these lush paintings before the two centuries are up.

In each work, the artist slathers on the pigment in globby masses, like swirling waves of ice cream or icing. But there is nothing sweet about the work. Stern uses paint as an abstract substance in a way that recalls the "matter paintings" by Dutch artist Bram Bogart, but Stern's colors are more subdued and his compositions are haunted by figures that have an intensity comparable to those of Soutine. Stern's personages -- often self- portraits -- struggle to emerge from the pigment. Trapped in the paint, they seem prone to a kind of existential dilemma like that of Giacometti's subjects. Although often compared with Auerbach's, Stern's figures appear to be more tightly locked into the paint than the Englishman's subjects. Where the visceral impact of Auerbach's characters is often mediated by the painted architectural or landscape surroundings, Stern aims for direct confrontation with the viewer.

Hanging just at the galley entrance, the six-foot-high canvas Common Ground 9, shows three figures standing against a red and black background. Engaging those who pass through the door, the figures exist in a painterly world as surely as the gallery visitor exists in the real one. And, after passing some time with Stern's work, one arrives at a place in which paint, flesh, light and air have evolved into a single, unidentifiable, and hitherto unknown substance.

David Stern, "Common Ground Series," Apr. 28-May 30, 1998, at Rosenberg + Kaufman Fine Art, 115 Wooster, New York, N.Y. 10012.