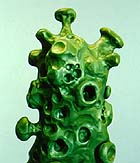 Untitled
1997










Untitled
1997
At first glance, this exhibition of works by New York artist Alexander Ross looks like the wacky high school science project of a gifted and eccentric student. The show includes everything from abstract oils to what looks like a paperweight. There are small plasticine sculptures and paper constructions displayed in a vitrine, and three-dimensional paper collages and photos hung on the wall. All of these works feature an image of what looks like compacted cell tissue viewed under a microscope. The varied green hues the artist uses, however, have a strangely visceral effect that has more to do with psychology than biology. Ross conveys in each work a sense of the struggle for survival that each living thing endures.

For me, the paintings, with their finely wrought surfaces and expertly modulated colors, stole the show. One untitled canvas presents what looks like a very "sci-fi" sculptural object placed directly in the center. It might also be a lump of living green coral, mold or fungus. Holes and knobs covering the object hint at an androgynous, self-germinating organism. In another painting, a group of bluish-green cell shapes covers the surface in a rhythmic pattern. Elsewhere, a painted paper wall construction could be a three-dimensional map showing the aerial view of verdant hills, like a schematic rendering of rice patties seen from the air. Another wall mounted construction suggests architecture, perhaps a design for a city housing project of innumerable octagonal units. In this brilliant show, Ross, creates a universe filled with its own peculiar light, air, laws of physics, life forms, architecture, logic and a strong sense of the absurd.

Alexander Ross at Feature, 76 Greene, NY NY 10012 (Jan. 6-Feb. 13, 1998).