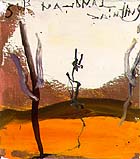 Sub-National Painting
1998





KTNN: Product Shot (CD and Catalog)
1998
Painter and musician Brad Kahlhamer presents "KTNN," an exhibition and accompanying music CD and catalogue in which he captures the Arizona of his youth. KTNN is a radio station from Window Rock, Ariz., known as the Voice of the Navajo Nation. Kahlhamer recalls looking out over the desert, mesmerized by the brilliant light, and by the acerbic strains of the station's country, rock and blues fare, interspersed with static-ridden banter in Navaho and English, a sample of which appears on his six-song CD.

Kahlhamer's raspy singing voice is a kind of stylized blend of Hank Williams, Tom Waits and Captain Beefheart. Accompanied by a twanging guitar, cello and percussion, Kahlhamer warbles about lost youth, endless highways and spiritual awakening. On Raccoon Boy, Mahoney Harris delivers in her New Zealand accent a monologue about the artist's youth. It is an eloquent tale of a boy, his dog and a ritual romp that ends in a harrowing wilderness encounter with a pack of wild pigs. The story is as mundane as dirt, and the approach recalls Patti Smith's Piss Factory, but without the anger. The piece hints at the pop-mystical soul-searching mood of Procol Harum's prologue to In Held Twas In I from "Shine On Brightly" (1968).

While the music element is an important aspect of this exhibition -- the CD plays continuously in the gallery and you can purchase one for $20 (it's a limited edition) -- the brilliantly colored paintings can certainly stand on their own. Large canvases (up to 7-by-10 feet) such as C.B.S. (Clear Blue Skies) are sweeping Ab-Ex-styled sagas revealing both an interior and exterior search. Intimately scaled works, such as Sub-National Painting, are epic in scope as well. Here, in the limitless expanses of a blinding white cactus desert a ghostly apparition appears. From Kahlhamer's frantic black lines, a tall spindly creature materializes from thin air.

Brad Kahlhammer, "KTNN," Apr. 25-June 6, 1998, at Bronwyn Keenan, 3 Crosby Street, New York, N.Y. 10013.