Airplane with large yellow Propeller
1990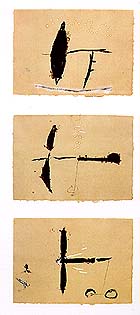 Avions negres
1991
Riera I Arago is a 43-year-old artist from Barcelona with several museum exhibitions to his credit in Europe and Japan. He makes his New York debut with this show. In spite of the relatively small exhibition space, he manages to convey in the sculptures, paintings and drawings on view a clear indication of the range and scope of his art, as well as a certain mood that stays with one long after leaving the show.

Arago's images in two and three dimensions center on machines and weaponry, specifically, a missile or submarine-like form and the airplane, particularly the propellers. A group of works on paper feature an airplane propeller rendered in aggressive, and poignant brushstrokes. The small canvas Zeppelin I aral, painted with similarly abbreviated brushwork, shows an elongated white missile suspended on tall thin supports stuck in the sand along the shore. The canvas Mar Verd is an unsettling scene, in the vein of a Surrealist seascape. Here on the shore is a thin broken crucifix.

The cross shape is echoed in most of the sculptures, and the sea motif recurs in three shallow bronze basins set on the floor. Partly filled with water, each basin contains one or more submerged submarines or missile-like objects. Tall, standing sculptures of rusted iron and bronze and one work with long rows of propeller like forms on wheels recall Twombly sculptures. In some ways, Arago's varied surface textures belong to the tradition of Tàpies and Spanish informal painting. But Arago, with his harrowing, post-apocalyptic vision, has developed a unique visual vocabulary.

Riera I Arago, May 2-June 3, 1998, at Joan Prats, 568 Broadway, New York, N.Y. 10012.


DAVID EBONY is assistant managing editor of Art in America.