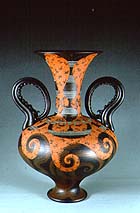 Octopus

Wake
It seems that Greg Payce, a young ceramist from Calgary, Canada, quietly breezed into town, unheralded, for his New York solo debut. Those fortunate enough to see the show, however, have been much impressed by this amazing new talent. He is a master craftsman, as evidenced by the refined forms of his earthenware vessels and the intricate glazing and elaborate decorations of his pots and jars. But that is not all. What separates him from most other ceramists is his dynamic sense of sculpture. He conceptualizes his earthy medium to push it new heights. In several works on view he creates what he terms "virtual" vases, formed by the negative spaces in between the pots he has arranged on shelves. Most of the vessels are inspired by ancient ceramics. Payce recently won a Canada Council grant to study ancient pottery in Italy and Greece. Among the witty pieces on view here, the Octopus vase is based on Minoan pottery. The work features delicate layers of glaze and patterns of interwoven spiral shapes. These shapes are echoed in the handles, shaped like the long curving tentacles of a black octopus. In Wake, the artist presents a row of tall vessels with dense matte black surfaces. According to the artist, the forms are based on Italian Renaissance apothecary jars. The spaces in between the jars reveal carefully rendered profiles of identical male figures.

Greg Payce at Nancy Margolis, Dec. 16, 1997 - Jan. 17, 1998, 560 Broadway, Ste. 302, New York, NY 10012.

DAVID EBONY is assistant managing editor of Art in America.