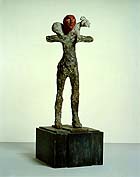 Sheperd
1986
at Michael Werner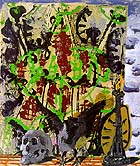 Still Life
1997
at Knoedler
This double-barreled exhibition by Markus Lüpertz -- large new paintings at Knoedler and monumental sculptures and works on paper at Werner -- reaffirms his reputation as one of Germany's most dynamic artists. He is, along with Baselitz, Penck, Polke and Kiefer, one of the original German Neo-Expressionist honchos who are credited with revitalizing German painting in the 1970s and '80s. He also helped bring painting out from under the formidable shadow of Joseph Beuys, who, until his death in 1986, was unquestionably the world's most famous and influential German artist. Lüpertz was born in Czechoslovakia in 1941, but soon after World War II, he moved with his parents to West Germany. Today, he lives and works in Düsseldorf and Berlin, and, as evidenced by these exhibitions, is producing the best work of his career.

Each of the dozen or so paintings on view is a landscape of sorts. In most of them, black, leafless trees and dark gray skies establish a pensive and intense mood. Superimposed over the landscapes is a thickly impastoed bright green and orange grid, like misshapen lattice. The artificial-looking grid could be seen as a symbol of industrial development, contrasting in a jarring way with the tree forms. My favorite painting is the brutally rendered but elegantly poetic Still Life. Most of this large canvas is covered with abstract patterns of slashing brushstrokes in green and brown, but near the bottom are dark and deft brushstrokes that define three forms: a bird about to take flight, a lit candlestick and a human skull. This emotionally charged memento mori conveys an almost palpable sense of angst.

The painted bronzes and works on paper on view at Werner are similarly intense. All of the sculptures are crudely carved images of standing male nudes. One of the most unforgettable, Shepherd, shows a tall figure with a red face and huge eyes, carrying a lamb on his shoulders. The work recalls Picasso's famous statue of a man holding a lamb, a graceful symbol of peace. But in Lüpertz's work, both figure and lamb seem undomesticated. The sculpture appears to be the creation of some brutal civilization for which the concept of peace is relatively new.

Markus Lüpertz at Knoedler, 19 E 70, NY NY 10021 (Dec. 4, 1997-Jan. 10, 1998) and at Werner, 21 E 67, NY NY 10021 (Dec. 3, 1997-Jan. 24, 1998).