Shipwreck
1996





Happy Thoughts
1996




Swimmers
1996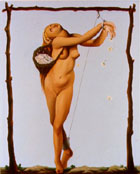 Spring Fling
1996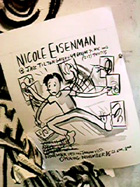 Jack Tilton Factory
Outlet Invite
1996





Marshmallow faces from Airport
1996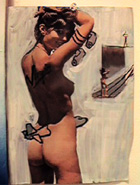 Detail from Airport
Nicole Eisenman has been something of a phenom at least since the 1995 Whitney Biennial, where her two installations of pictures -- including a floor-to-ceiling mural showing the museum literally in ruins -- wrested figuration -- History Painting even -- away from whomever it was that had it and claimed it instead for a sensibility that is firmly rooted in underground cartooning, that exults in a play of the imagination that is almost hallucinatory, and that is outspokenly and sexually lesbian. Her new show at Jack Tilton includes unframed sketches and more polished drawings, collages made from magazine pages and largeish pseudo-serious paintings, and mixed medium installations that combine painting with toys and other props.

Eisenman's imagination often surfaces in moments of inspired destruction. The installation piece Airport chronicles a journey for both passengers and the airline -- none other than TWA -- beginning with a happy departure and parodies of advertising full of shiny, sexy promise, then moving on to the boozy, in-flight pleasure, and concluding with imminent crash. The fiery end is depicted simultaneously as horror, in a drawing of dead and dying figures, and as tragi-comic, in the mess of a dolly and her charred plane on the floor. Another drawing, Cats at Wintergarden, is lighter, portraying everyone's fantasy of that damn musical going up in flames, cats and audience members fleeing.

Taking center stage at the rear of the main gallery is Ship Wreck, an installation that is centered around a mural of doomed mateys -- including a self-portrait of Eisenman -- sitting in their hold playing cards. On the floor below swirls a rambling, wooden whirlpool of canned oysters, toy boats, sandals and kitschy reproductions of ships and yachts. In the eye of the storm is a drawing of a mosh pit. Disaster is tempered by comedy.

Eisenman's work is the visual equivalent to tearing down the ivory tower of art history and rebuilding it as a trailer park. Her compositions might pair some fuzzy yellow duckies straight from a childhood picture book with dancing Breughel peasants, or portray two shitting and pissing cowgirls surrounded by a rococo frame. These subversive nods to art history are nowhere more apparent than in the group of canvases in the back gallery. Referencing figurative paintings by Picasso and Matisse among others, Eisenman has refashioned the canonical female nude into a contemporary analysis of sexism. Woman in Chains is a silkily painted pastiche of one of Ingres' limp neoclassical nudes, captured not by the effusive persuasion of the gods, but literally bound hand and foot with rope.

Any conventions of allegory are stripped away; reading between the lines is hardly necessary here. The naked Angel of the Late Pass is straight out of a girlie show. She smiles at the beaming children below her, who reach up for a gift from their savior. Sex can bring bondage, but also freedom.

Nicole Eisenman at Jack Tilton Gallery, Nov. 19, 1996-Jan. 11, 1997, 49 Greene Street, New York, N.Y. 10013.


MEGHAN DAILEY is a New York art historian and critic.