Rosebud
1972

















Slant
1966













Dunstable Reel
1970





Ascona
1972











Ruminations
1972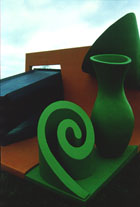 Ruminations
1997















The sun never sets on British sculpture. Thanks to a worldwide fascination whetted by the British Council that dates back to the Council's first triumph, when Henry Moore won the Golden Lion for sculpture at the 1948 Venice Biennale, there always seems to be something grand happening to a British sculptor somewhere. Twenty years to the month since Moore was honored by a full-blown retrospective at the Forte di Belvedere, Michelangelo's fort in the hills above Florence, it's the turn of Phillip King. True to form, his show, curated by the director of the Yorkshire Sculpture Park, Peter Murray, is sponsored by the Henry Moore Foundation and the British Council. His exhibition opened there in the same week as this year's Venice Biennale and runs to the end of September.

It's hard work to pull off a retrospective at such a venue. It's a rare enough accolade to be invited: only a dozen or so sculptors have been so far. Moore was actually the first, back in 1972, so for any British sculptor that legacy adds to the burden. But the real challenge begins once the show is up and running, and the work has to compete, visually, with one of the most sublime views in civilization.

With 30 large pieces spread around its terraces and a further 70 works arranged over three floors of the fort, this is the most comprehensive retrospective of Phillip King's career. He emerges as a highly distinctive and innovative sculptor whose drive for expression moves restlessly across a range of materials and forms. In the 1960s he handles abstraction in welded steel with supreme confidence, at home in the language of nuts and bolts, but he soon moves on to wacky synthetic materials in appropriately eccentric colours. He is a playful artist, unfettered by avant-garde strictures, ready to readmit the figure and symbolism and craft in highly idiosyncratic, sometimes off-the-wall images and startling sculptural inventions.

But how does this unfolding personal development stand comparison with the Duomo, not to mention the rolling Tuscan hills forming the back view? At first, King's synthetic materials and open forms can seem like hopelessly brash intrusions upon a beautiful scene. A patient and generous eye can soon make sense, however, not just of King's sculpture but of its audacious setting, too.

Ascona, a silver painted steel abstraction of 1972 from the Ulster Museum, has the awesome honour of framing Brunelleschi's dome. A loose grid within which various sail-like forms float and expand it draws in its surrounding space, although Florence does not wait for an invitation. Against the odds, though, King's sculpture gently hints at a new way to read this immortal view. King's set of irregular but purposeful lines begin to clarify the glorious Florentine haze into definable architectonic shapes, as the silver elements in the modern sculpture find an equivalent in the marble ribs of Brunelleschi's cupola. The rusts and ochres of the city recede and a sense of structure emerges instead.

Phillip King was born in Tunisia in 1934 and although he moved with his family to England when he was 12, the exoticism and sensuality of his art have often been related to his North African upbringing. Like a number of leading British sculptors, he worked as an assistant to Moore early in his career, but of more lasting influence was his relationship with another of Moore's workers, Anthony Caro. This comes out in the commitment to abstraction which defined the sculptural revolution of the 1960s, when Caro, King and others sought a decisive break with the figurative tradition to which Moore still so proudly belonged. It is because Moore was such a humanist, drawing as much from Michelangelo as from primitivism or Picasso, that his landmark 1972 show at the Belvedere was so resonant. Caro, ever anxious of his relationship to Moore in the public's mind, has avoided the Belvedere; instead, on the 20th anniversary of Moore's exhibition there he staged a retrospective at the equally impressive Trajan Market in Rome.

King's career has shadowed Caro's in several respects, breaking with expressive figuration, opting for radical abstraction, and reverting to symbolism at similar moments. But he is no poor man's Caro: his voice is uniquely and distinctly his own. This is most apparent in his use of unusual materials that nonetheless work supremely well for sculpture: slate and steel cable, for instance, in Rock Place, a work from the mid-1970s which is gently suggestive of a torso fragment, equally oriental or classical in form. His excitement at new materials continues with a work made especially for this exhibition, Watching Green, which pits a giant green vase and spiral against blue and orange architectural shapes.

For a moment, this work was forced into an uncomfortable comparison with the giant clay pots at the entrance to the fort galleries whose elegance and simple grandeur could not be rivaled, but it emerged, once inside, that King is also a consummate master of traditional sculptural materials. He has been working in ceramic in Japan since 1993, and some of the most satisfying pieces in the whole show were the recent vessel shapes in unglazed ceramic, such as Bodhisattva, 1995. Its ironic that an artist celebrated for his wild forms and colors should nonetheless be most memorable in a pared-down, traditional form, redolent of the human figure and worked in a timeless material. But this, ultimately, is what earns him his place in Florence.


Phillip King at Forte di Belvedere, Florence, Italy, June 7-Sept. 1997. Photos courtesy Erica Bolton & Jane Quinn, 8 Pottery Lane, London W11 4LZ England.


DAVID COHEN is a London-based art historian and writer.