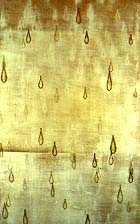 Dan Devening
Arid
1997







Rebecca Shore
#43
1996







Rebecca Shore
#3
1997







Diane Simpson
Chaise
1979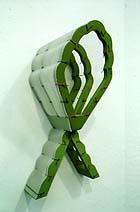 Diane Simpson
Kerchief
1996






Mike Baur
Immigrant
1996







Kurt Schultz
Chaotic Notions
(video still)
1996







Kurt Schultz
Chaotic Notions
(video still)
1996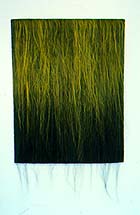 Tita Vinther
Summer Meadow






Astrid Andreasen
Faeroese Children-Sweaters with Colored Spots






Bárdur Jákupsson
Birdcliffs II






Michael Kessler
Tracing Minds
1997






Michael Kessler
35
1997






2625 West Division Street, Chicago






2625 West Division Street, Chicago







2625 West Division Street, Chicago
One of the liveliest shows this season was "Dot, Dash, X & Grid" at the Evanston Art Center in the northern suburbs during September and October. The works by Dan Devening, Rebecca Shore and Diane Simpson are tied together "through the artists' interest in pattern and structure as well as their attraction to the physicality of the process of making art," says Michelle Rowe-Shields, who curated the show.

Net-like Patterns
In his paintings, Dan Devening lays down a ground of soft, mottled colors, then unites the surface with net-like patterns or repeating shapes. The result is a formal, quietly beautiful color field. In some works, the artist paints the ground, places the canvas face up over push pins arrayed in rows, and rolls paint over the rounded heads to get a pattern that seems to burst from within.

Rebecca Shore's small, bright paintings of dots, dashes and grids recall Bauhaus color studies. These works are so cheerful that it's easy to overlook the great care Shore takes with her combinations of shape and color.

Diane Simpson, sculptor and draftswoman, has explored the forms of women's clothing through most of her career. She develops sculptural ideas on grid paper and carries this ordering pattern into her meticulously-crafted three-dimensional work.

Outdoors, the Evanston Arts Center showed Mike Baur's monumental concrete and steel Immigrant (1996). Baur's sculptures, which recall urban ruins, are masterful constructions in rebar and cast concrete. Immigrant, whose shape suggests the decaying hull of a beached vessel, was inspired by the Haitian immigration to Florida, the artist says.

Chaotic Notions
ISEA '97, the 8th International Symposium on Electronic Art, came to town in September with workshops, lectures, performances and exhibitions at the School of the Art Institute of Chicago, the Chicago Cultural Center, the Illinois Art Gallery, Artemisia Gallery and Northern Illinois University Gallery. We saw the exhibitions, but were unable to attend the sessions. Maybe that would have helped. The electronic art was a disaster. Many pieces were simply oversized contraptions that produced ho-hum visual effects like colored light projections. Others were insufferably garrulous, with scribbled texts everywhere and tape-recorded blather from the artist. Many people worked very hard to make ISEA '97 happen. Couldn't the artists have done their share?

The best electronic art we saw was Chaotic Notions, a lyrical video/sound piece by Kurt Schultz at the Northern Illinois University Gallery. The artist provides a pedestal-mounted video monitor flanked by speakers. Soft, vaguely musical sounds come and go on the audio track. Pale-colored video images suggesting land forms, organisms, spheres and triangles float in deep space.

Schultz created Chaotic Notions with "television animation tools," he says. He started with the audio track, which he likens to a "garden hose" that can "spray out little particles of sound or make them into a solid stream." Next, he arranged the visual elements in a "musical flow," allowing for the workings of "chance" and "accident."

Islands in the Mist
One of Chicago's most venturesome artists, both in the work she makes and the way she lives, is Olivia Petrides. Daughter of a big-game biologist, she grew up in Kenya, Uganda, South Africa and Michigan. Later, when she became an artist, Petrides illustrated Peterson's Field Guide to Western Trees in collaboration with her father. A Fulbright research grant took her to Iceland in 1993, where she made landscape sketches which provided raw material for semi-abstract paintings she later produced in Chicago.

Petrides spent the summer of 1995 in Denmark's Faeroe Islands, a "wild and pristine" archipelago of 18 volcanic islands (population 45,000), midway between Iceland and Scotland in the North Atlantic. Fishing, sheep herding, and tourism support the Faeroes, which, she writes, are "storm-ridden or befogged 250 days of the year." Petrides found "a landscape of great beauty" in the islands characterized by "sheer coastal cliffs, crashing surf, fantastic sea stacks, dark grottoes, sea caves, cascading waterfalls, green valleys, vast colonies of seabirds and many spiral-horned sheep."

She also discovered six excellent artists -- Astrid Andreasen, Bárdur Jákupsson, Tróndur Patursson, Gudrid Poulsen, Ingálvur av Reyni and Tita Vinther -- and brought their work to Artemisia Gallery in October. "It's important to have small voices in the world heard," she states.

Summer Meadow is a wool and horsehair construction by Tita Vinther, a weaver who was trained in Denmark and Finland. This tactile piece suggests the type of wild grass that grows in northern latitudes.

Astrid Andreasen's Faeroese Children-Sweaters with Colored Spots (1997) is an amusing knitted hanging about ten feet tall. Using wool from local sheep, Andreasen employs traditional knitting techniques and patterns from the Faeroes in her work. This artist has also designed postage stamps for the Faeroes.

Bádur Jákupsson's expressionist oils are inspired by the steep cliffs of the islands. As director of the National Art Gallery, he has illustrated a field guide to Faeroese vegetation and designed sets for theater and opera.

Forty to fifty layers
Michael Kessler had his fifth solo exhibition at Klein Art Works early in fall. Filtered Space -- the title of one piece in this powerful show -- is a good description of what we see in his paintings.

Working on a table, Kessler begins with wood panels that are custom-made for his use. He gessoes the raw surface, then makes a meandering gestural mark with paint in a squeeze bottle. Next he takes the piece outdoors, throws water and paint on it, scrapes the surface with a squeegee-like aluminum blade, and lets it dry. He lays down 40 to 50 layers of paint before he is done.

What we get is a deep-layered, luminously-colored surface, formally organized into vertical color blocks of varying width. Kessler's painting/scraping process creates tremendous tension and continuous movement in the picture plane. The imagery suggests landscape, patterns in textiles, and much else.

Barrio Monument
We can all become so jaded about artists, dealers, and shows that we lose touch with art's power to move people. Even when a work is pedestrian by art-world standards, its presence can strengthen an entire community. So it is with a statue of Puerto Rican revolutionary Pedro Albizu-Campos that went up last summer at 2625 West Division Street in the heart of Chicago's Puerto Rican barrio.

Several years ago, alarmed at neighborhood blight and worried about creeping gentrification, José Lopez, director of the Puerto Rican Cultural Center, took action. Working with community allies, he got funding to build two 39-ft.-high steel sculptures of the Puerto Rican flag, which were installed on Division Street at either of the six-block-long strip of Puerto Rican shops and restaurants. Since the flags went up, he says, 56 new businesses have opened on the strip to rejuvenate a declining area. Concrete benches were also built where people play dominoes during the summer.

The next project was a statue of Pedro Albizu-Campos (1891-1964), a revolutionary advocate of Puerto Rican independence. Albizu-Campos spent much of his adult life (1936-47; 1950-64) in jail after urging violent overthrow of the U.S. administration in Puerto Rico, leading a Nationalist uprising in 1950, and being implicated in the attempted assassination of President Harry Truman (1950) and an armed attack on the U.S. House of Representatives (1954).

Fabricated in Puerto Rico and Chicago, the Albizu-Campos statue was first proposed for a Chicago park which is surrounded by Puerto Rican housing. After a fierce battle, this scheme was blocked by a Cuban anti-communist in the city council and the statue ended up in a church basement. Early in 1997, roughly $116,000 became available to purchase an empty lot on Division Street, design a setting for the sculpture, and build it.

As constructed, the lot features a garage made to look like a casita (rural house) at the back and the pedestal-mounted statue in the center. Surrounding it is a tiled space suggesting a batey (village common), decorative stonework in the pattern of the Puerto Rican flag, and a steel fence whose front gates also have a Puerto Rican flag design.

Participants in design and construction were ArchiTreasures, a Chicago not-for-profit that works in the neighborhoods; and the City of Chicago, which paid for materials and salaries. Grunt work -- and some of the design -- was done by local high school students who were paid until funds ran out. A neighborhood policeman built most of the casita and community volunteers did electrical, concrete, bricklaying and welding. One man taught his son how to weld as they erected the fence.

Mary Seyfarth, a sculptor and college art teacher, spent a memorable summer at the site. "We started with a stinking, filthy lot," she says, "filled in the basement of the building which had been there, made a trench, and poured concrete on the hottest Saturday of the year. There were 20 high school students to help at the beginning, but they soon dwindled to six. Sometimes we shanghaied kids from the street. Salsa music was going all day long and there was constant foul language."

When the job was done, wood chips were scattered on the bare earth to "cover all the crud," says Seyfarth. Then there was a big party with speeches, conga drums, and dancing. The community is proud of the statue and nobody has disturbed it.

VICTOR M. CASSIDY is an art journalist based in Chicago.