Watts Riots, 1966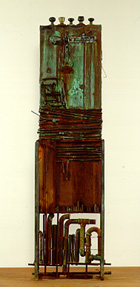 Sculpture Defined (detail), 1989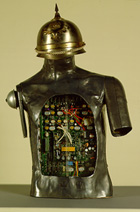 Sir Watts II, 1996








Black, Brown and Beige (Duke Ellington), 1989

noah purifoy

at the california
african american
museum




by Clayton Campbell


Noah Purifoy has been a significant force in making Los Angeles the truly multicultural city that it has become, both in his role as first director of the Watts Tower Arts Center and also in his work with the California Arts Council to implement arts programs within schools, prisons and other institutions. Now, "Outside and in the Open: A Retrospective of Assemblage, Sculpture and Installations" at the California African American Museum highlights his own protean artistic efforts, ranking him with Keinholtz and Rauschenberg as a master of the modernist ready-made.
Echoing both Duchamp and Cornell, Purifoy's sculpture is filtered through a distinctly African American sensibility. Now 79 years of age, Purifoy was born in rural Alabama in 1917, and gave up his job as a social worker to become an artist in 1951. A good example of his early work is Watts Riots (1966), an assemblage of charred wood that reflected the scorched psyche of the African American community as well as Purifoy's view of the terrible conditions in Watts. Purifoy describes this period by saying, "I was searching for my own idea and had been studying the Dada movement...the debris from the riot is what finally launched me on my own course."
There is a gap in the exhibition. Purifoy destroyed much of the early assemblages and ceased working in his middle years for about a decade. After moving from the inner city to the desert redoubt of Joshua Tree, he resumed and continues to work as if making up for lost time. He revisits early themes as in Sir Watts II (1996). Almost a reliquary for diminished dreams, it is a signal sculpture that references a dehumanized, militarized cultural landscape spawning circuitry, computers, organization and ossification of spontaneity.
Other early works explore the use of a wide range of materials and objects now commonplace in contemporary art. He used books as in 1967's Media...Mixed (book), a material favored by younger artists like Ann Hamilton. Pieces such as For Lady Bird and Zulu No. 4 (not dated) blur the line between craft and fine art, skillfully utilizing fabrics, macramé, yarns and other "craft" material. The shamanistic tone of Purifoy's intuitive processes parallels those of another contemporary genius, Joseph Beuys.
The retrospective points out a major change in the spirit and tone of Purifoy's pieces after his move to the desert. Removed from the cramped and gritty inner city studio, fully connecting to the mysteries of "Nature," the elderly Purifoy is infused with energy and vigor. Sculpture Defined (detail) is a construction of rusted metal and patinaed copper, twisted car parts, door knobs and welds. It stands like a totem, as do Gas Station and Spaceman -- steles of wood and mixed media, mythic in intent, reminiscent of ancient monolith monuments, yet anthropologically unspecified.
The retrospective allows the display of portions of large pieces such as The Kirby Express. A Rube Goldbergian contraption, this faux, fantastic "railway" is composed of reconfigured vacuum cleaners, pots, bicycle wheels and beer kegs. Likewise the "Tombstone Series," a grouping of blasted, melted boxes from whose surfaces figures either protrude or are revealed in incisive cutaways, effectively following assemblage to its logical modernist conclusions, a summation of all the possibilities this particular visual language has to offer.
Black, Brown and Beige (After Duke Ellington) from 1989 elegantly closes out the show. A large tableau of ethnic references, it "travels" the viewer to Japan and Zaire, China to the Easter Islands, from Harlem to Paris, a worldly wise effort evoking a global musicality of speaking tongues, chanting in rhythmic persuasiveness.
The Noah Purifoy retrospective will travel nationally to the African American Museum in Dallas, the Museum of African American History in Detroit and the DuSable Museum in Chicago.


CLAYTON CAMPBELL is an artist, critic and director of the 18th Street Arts Complex in Santa Monica, Cal.