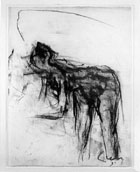 Untitled
1990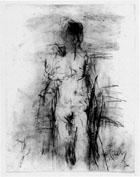 Untitled
1990
new york reviews
by michael brennan
eugene leroy


at the new york studio school
Consider this: Eugene Leroy had his first solo show in 1937, and his early-but-mature drawings, such as Le jeune homme a la vitre, date from 1927. He is now 87, a few years younger than de Kooning, and although he has exhibited well and widely throughout Europe during the last 30 years, this is the first time a show solely dedicated to his drawings has come to America. It's an excellent and revealing opportunity to experience the base of Leroy's hand and thought, to see the underpinning of his often impacted paintings -- I don't believe anyone has ever over-painted more heavily than Leroy and still painted a picture: not Kossof, Kiefer nor Auerbach -- so to see these drawings, many in charcoal, closer to the model, is a unique invitation into the oeuvre of an artist who began painting in a French art world that still clung to a 19th-century vision of the avant-garde before World War II, and who was recently rediscovered in the `80s when the desire for any kind of expressionism seemed insatiable, and who has now given us paintings near the end of the century that simultaneously seem radical and old-master-like.
Because of his inconsistent and untimely "discovery" in the marketplace, Leroy's work, with its clotted surface, and as Henning Weidemann carefully observed, its "geology of color," Leroy is often unfairly and weakly compared to Gerhard Richter. This may appear so in reproduction, but Leroy's paintings are infinitely denser and contain no element of Pop whatsoever. This list of disparities among painters is endless. However, in spite of their different intentions, they may be inspired by a similar impulse, but from a different perspective. Eugene Leroy comments at the end of his statement for the show, called "The Absolute Tone":
The great danger, almost as much with books, is to have seen too much of what is beautiful and what is not beautiful, and the big job is not just to paint beautifully so that it will be beautiful, not to make a good painting. I think I didn't want to make a good painting, I just wanted to paint. These are the latest statements from Leroy, who doesn't know better than to keep making statements.
Compared to Gerhard Richter's two separate comments from interviews in The Daily Practice of Painting:
(Jasper) Johns was holding on to a culture of painting that had to do with Cezanne, and I rejected that. That's why I painted from photographs, just in order to have nothing to do with the art of "peinture," which makes any kind of contemporary statement impossible....Early on, at the Academy, I would have loved to paint like the artists I admired at the time: Manet, Cezanne or Velazquez. But I couldn't. And later on I realized that its a good thing that I can't, because that's beside the point. I'm sure that's what he meant by "bonne peinture." I can't even remember what it is -- presumably something like pure painting.
So both Leroy and Richter speak of some kind of Duchampian distancing from the culture and discourse of painting. A distancing, in the opinion of Richter, that apparently an American artist like Johns, who was also inspired by Duchamp, just doesn't get. Meanwhile Leroy totally glorifies good painting both in his words and in his paint. Consider the following excerpt from Leroy's dialogue with the sculptor Alain Kirili:
EL: I had found a book on Victor Hugo with a Rembrandt in black and white. From that moment my life was changed.
AK: In Rembrandt it's a question of light.
EL: No -- of humanity.
Leroy prides himself on his understanding and the pleasure he derives from the art of Rembrandt, Hugo Van Der Goes, Mondrian, etc., but he is not interested in being a good painter. Georg Baselitz is not interested in good painting either. Richter painted paintings after Titian in the `70s, but even now an idea like humanity barely lingers at the edges of his paintings of skulls, and more recently images of his new wife breast feeding. Other issues in Richter's work seem more immediate than humanity. Humanity, however, inhabits the work of Eugene Leroy, in spite of the artist or the time. Humanity is the issue that makes Leroy's work interesting, and it doesn't come from a photograph of the model, it comes from drawing from the model.
Again quoting Leroy, this time regarding color choice:
The gold leaf is the touchstone. I was thinking that tempera painted with gouache by the Russians achieved the same effect, which is to say an absolute tone, the point of reference around which things had to be organized.
Leroy's drawings are monochrome, but his handling of charcoal follows this same arrangement. Leroy works from an unposed figure, determined by light and usually drawn from the darkened background space surrounding the model and the page. The works are heavily drawn and yet they capture some kind of fleeting light, just enough to register a finely drawn kneecap or nipple. The material in the drawings is lighter by nature, and obviously less tortured than Leroy's paint, although still sculpted with that same relentless charge of his hand. The 30 or so drawings have an immediacy, they retain their studio feel, perhaps because they are all unmatted behind glass. The show seems lively and less like a museum presentation.
Leroy's work may strike New Yorkers as old world, and we can conjure up all kinds of complaints. But more importantly I think everyone should reconsider the richness of Leroy's work, its personal presence, a how that seems like such an outstanding quality right now. It's difficult to dismiss an old man whose studio is ten times dirtier that Francis Bacon's was. Leroy's words provide an appropriate ending:
So, what most strikes me is the value. I now realize something, even with Rubens -- and this is something I've lived with nearly all of my life: that you can paint with clichés just as you can talk with them, and that those who claim to be thinkers can't avoid clichés. Right now, I would like to learn to do a nude, but I would learn to do it thanks to the window. Yes, that is how a nude would be done.
New York Studio School, Jan. 16-Mar. 1, 1997, 8 West 8th Street, New York, N.Y. 10011.