© ArtNet Worldwide 1997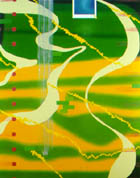 Prime Painting #18: (P.I.P.)
1997





Prime Painting #17:
(Double LIe)
1997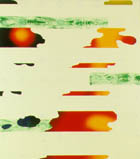 Commercial Painting #3:
(Out of Memory)
1997




Prime Painting #5:
(Double Vision)
1996
Earlier this year Jeremy Adams installed a sweeping mosaic of colorful Polaroids on TZ'Art's "testwall," a notable expanse of wall primarily viewable from the street through the gallery windows. A close look revealed that the blurry, glowing light in all of these Polaroids came from close-up shots of a color TV screen. It was World Series season then, and I remember spotting Derek Jeter's Yankee jersey in one picture. We've all stuck our face closely on televisions' glass tube, and as Adams' photo-examination reveals, the television is one of the few things in this world where the closer you get, the less you see.

Adams' large abstract paintings, done in oil and alkyd, suggest another as-yet-unseen dimension, one of auratic cathode delight. Adams' preoccupation with digital technology translates in his paintings to a pictorial suggestion of transmitted space and the in-betweeness implied by free-flying frequencies and dislocated images. Commercial Painting #4: (Ragtime) seems to capture this pre-described wave-riding phantasm pretty well.

Prime Painting #18:(P.I.P.), too, seems to bend and swell in its own radioactive storm of preassembled image bits (Prime implying prime time programming and Commercial its regularly timed interval). Here Adams has painted one of his own Polaroids a la Jasper Johns, and dropped it down from the top with painted strips of masking tape. Another painting, Prime Painting #17:(Double Lie), is slightly reminiscent of Larry Poons, but spookier, with Trinitron bricks swimming in the mix. The glowing patches seem to grow dim against the background's blue, in a way that recalls how static electricity moves along with your fingertips and then fades in pools, which is what you see in the dark if you pass your hand across the television screen right after you have turned off the set.

Other paintings in this show, like Prime Painting #15:(Ten Times No) and Comm. Painting #3:(Out of Memory), seem, with their lightly ascending broad bands of sunburst red, orange and yellow, to mimic the vertical scrolling pattern of television. The corpuscular blobs of Prime Painting #5:(Double Vision) are edged with the blue and red highlights of old-time 3-D outlines. Jeremy Adams has revealed a spectral dance of rays, invisible and airborne, always ready to reappear or dissolve in front of our eyes.

Jeremy Adams at TZ'Art & Co., 28 Wooster Street, New York, N.Y. 10013.